When all the news is in
BNTX rallied 12% on Monday, up more than 150% YTD
Recent rally unfolded amid string of "bullish" headlines
Earnings scheduled for next week
"Don't try to catch a falling knife" is a sound bit of market wisdom, but given a stock can only fall to zero while its upside is theoretically unlimited, it's surprising something like "Don't stand in the way of a rising missile" isn't quoted more often.
Just as bargain-hunting investors will sometimes swoop in on a stock after it's taken a significant beating, others will look to fade explosive rallies. It's a difficult game, in the best of circumstances. But BioNTech's (BNTX) appearance on the LiveAction scan for high put-call ratios Monday morning may have had some traders wondering whether profit-takers, hedgers, and short sellers were becoming more active in the wake of the stock's 12% intraday jump, which helped put it up 120% since March 29—and roughly 67% above its average Street analyst price target:1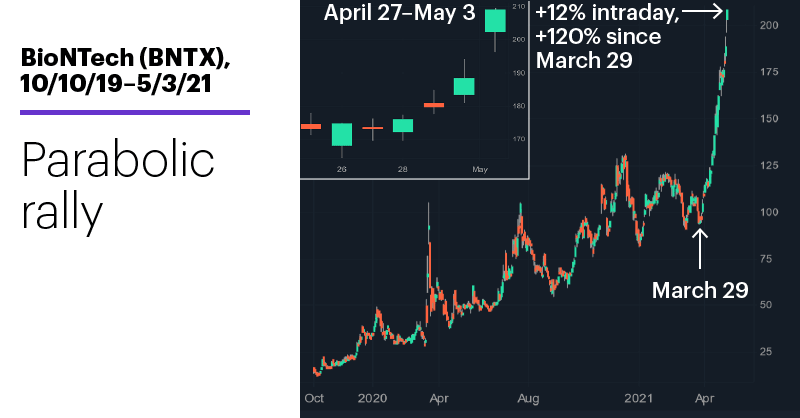 Source: Power E*TRADE
---
The following chart shows BNTX's year-to-date (YTD) gains along with those of its vaccine partner Pfizer (PFE), and the other big vax winner Moderna (MRNA). While Pfizer hasn't done much this year, MRNA has rallied nearly 80%, and came within a few cents of its all-time high yesterday. But that return has paled next to BNTX's YTD gain.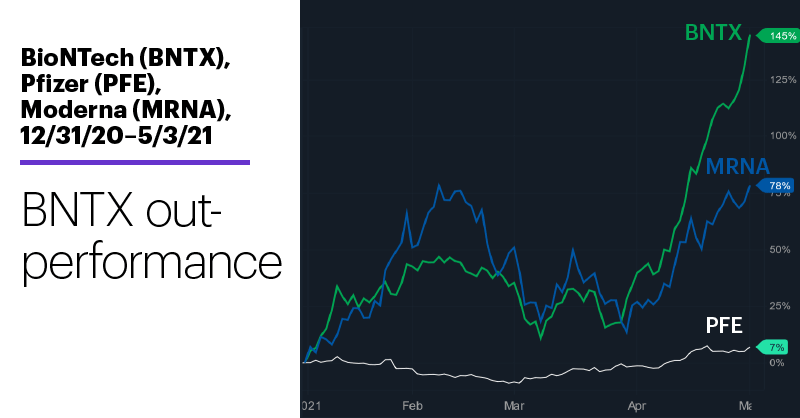 Source: Power E*TRADE
---
While BNTX's move over the past month or so would certainly appear to qualify as a get-out-of-the-way missile launch, experienced traders who have seen many moves like this tend to keep two general principles in mind: First, no trend lasts forever, and second, it's impossible to know when a trend will end.
That said, some traders may have also noted that BNTX has been in the news lately—most recently on Friday after the company asked for European authorization of its COVID vaccine for teenagers (a review the European Medicines Agency said it would expedite),2 and yesterday on reports that it was in discussions to supply vaccine to COVID-ravaged India.3 Throw in its upcoming earnings, currently scheduled for Monday, May 10, and you have the recipe for the type of high-volatility move BNTX has experienced.
When a stock has been subjected to a run of bad news, at some point all the people who want to sell will have sold—i.e., all the bad news will be "out there" and priced into the market. Similarly, after a stretch of bullish headlines, there reaches a point when there's no more good news on the horizon to entice new buyers.
While it's impossible to know when the news spigot will turn off and a move will run its course, many  traders like to keep an eye on extreme rallies and sell-offs because of their potential to signal price exhaustion.
Final note: BNTX began trading only in October 2019, and its earnings-day price moves over its past four releases are -1.3%, -7.4%, +7.6%, and +8.9%. As of yesterday, the options market was pricing in an earnings-day move of +/-9%.
Market Mover Update: After some soggy trading last week, June gold futures (GCM1) started out this week with its biggest up day in more than two weeks, rallying more than 1.5% intraday to $1.798.90/ounce. June WTI crude oil futures (CLM1) also resumed their upside push, climbing back above $64/barrel. And May corn futures (ZCK1) hit a new contract high (758.25) for the ninth time in the past 10 days—running their two-week gain to 29%—before closing lower.
Today's numbers include (all times ET): Trade Balance (7:30 a.m.), Factory Orders (9 a.m.).
Today's earnings include: Activision Blizzard (ATVI), Verisk Analytics (VRSK), Hyatt Hotels (H), CVS Health (CVS), Vulcan Materials (VMC), Cardlytics (CDLX), Unitil (UTL), Global Payments (GPN), Zillow (ZG), Virgin Galactic (SPCE), Match Group (MTCH), LGI Homes (LGIH).
Click here to log on to your account or learn more about E*TRADE's trading platforms, or follow the Company on Twitter, @ETRADE, for useful trading and investing insights.
---
1 TipRanks. BioNTech SE Stock Forecast & Price Targets. 5/3/21.
2 TheStreet.com. BioNTech Jumps on EU Drug Regulator's Review of Covid Vaccine for Kids. 4/30/21.
3 Reuters. India's vaccinations plummet as coronavirus infections soar. 5/3/21.
What to read next...
05/03/21
Stocks extend consolidation to a second week despite new records.
---
04/30/21
Thursday's intraday sell-off pattern in the Nasdaq 100 has a surprising track record.
---
04/29/21
After a 15% correction last month, crude has bubbled back to test recent highs.
---