News and price action
CRSP down 19% in 4 days after releasing clinical trial results
Gene editor rallied 38% in two weeks leading to Oct. 19 record high
Prices pulled back to recent consolidation
One of the realities of the pharma and biotech industry is that, more so than most other businesses, the stakes are often very high. Not just monetarily—although fortunes can be lost or made if an initially promising therapy ends up failing in clinical trials, or exceeds expectations—but in terms of real-life consequences.
Setbacks on the road to developing potentially life-changing—even life-saving—treatments can be much more psychologically and emotionally powerful than, say, the negative attention a software company may receive after releasing a buggy app.
Right now traders may be wondering if biotech Crispr Therapeutics (CRSP), one of the leaders in the gene-editing space, may be experiencing this phenomenon after releasing clinical trial data on Wednesday that showed positive results in clearing up hard-to-treat blood cancers, but also included the unfortunate news that one of the trial subjects had died (apparently from a viral infection).1
Shares of CRSP tumbled nearly 14% on Wednesday, and were down an additional 4% halfway through yesterday's trading session, bringing their loss from last Friday's record close to more than 19%: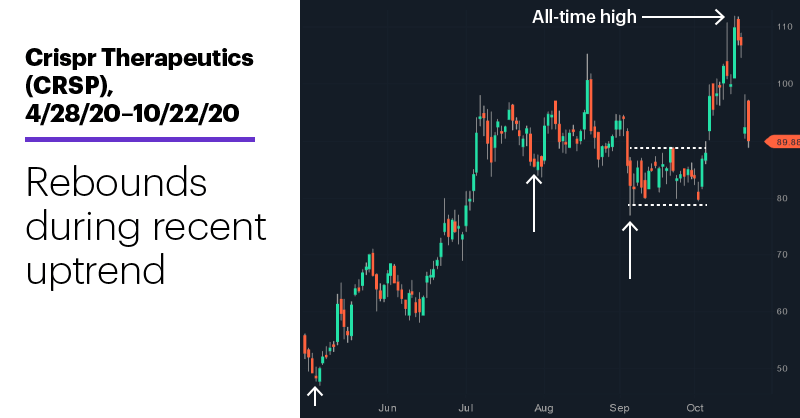 Source: Power E*TRADE
---
The pullback reached the implied support of the trading range that preceded the stock's 38% breakout rally to those highs, which was just the most recent leg of a 217% rally off the March lows.
Traders who were bullish about the long-term promise of CRSP's cutting-edge gene-editing therapies—and specifically the potential suggested by this week's overall trial results—may view the recent pullback as an opportunity to re-enter a stock that, for all its volatility, has performed very well this year and is one of the leaders in its space.
In addition to the potential price support of the September-October range, the stock has tended to bounce back, more often than not, relatively soon after setbacks like the one it's experienced this week2—the first chart marks three recent examples with arrows.
The chart below offers some additional perspective, though. Unlike the first chart, which represents a mostly up-trending period, here we see more mixed results after five examples that occurred when the stock was mostly moving lower: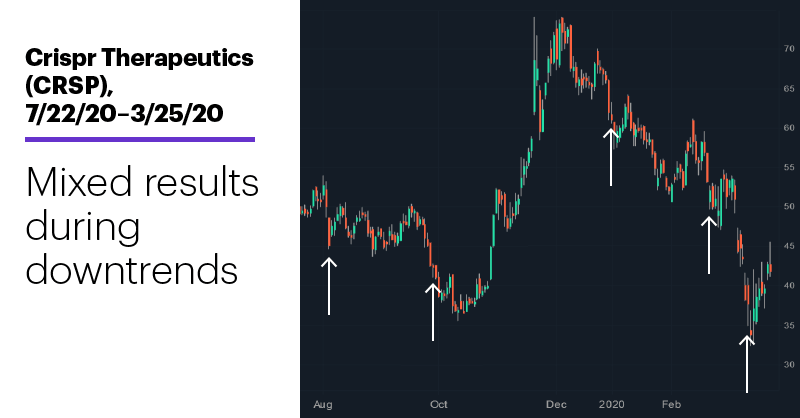 Source: U.S. Census Bureau
---
Although only one signal (late-September 2019) was followed immediately by several more days of sharp selling, in most cases there was at least some additional downside follow-through before the stock bounced.
One of the questions facing traders, then, is one that can't be answered by analyzing a chart: Did CRSP's recent news merely disrupt a longer-term uptrend, or potentially end it? But even bulls who lean toward the idea of a temporary disruption still need to be mindful of managing risk in the high-volatility biotech space.
Note: Crispr Therapeutics is scheduled to release earnings on Monday, October 26.
Market Mover Update: After pulling back to support around $69–$70 on Monday (for the seventh time since July), Wynn Resorts has bounced nearly 10% (see "Laying out the cards").
Today's numbers (all times ET):  PMI Composite Flash (9:45 a.m.).
Today's earnings include: American Express (AXP), Illinois Tool Works (ITW).
Click here to log on to your account or learn more about E*TRADE's trading platforms, or follow the Company on Twitter, @ETRADE, for useful trading and investing insights.  
---
1 Barron's. Crispr Therapeutics' Gene-Edited Treatment Stopped Cancer in Some Patients. 10/21/20.
2 Based on Crispr Therapeutics (CRSP) daily price data, 10/19/16–10/22/20. "Setback" refers to a day that 1) made a lower close and low, and 2) immediately followed a day with a 5% or larger close-to-close decline. Stock was higher five days later 64% of the time (25 instances). Supporting document available upon request.