News and momentum
SONO up more than 20% in three days at Monday's high
Surge accompanied back-to-back bullish news items
Analysis suggesting potential for pause or pullback?
Monday morning consumer electronics stock Sonos (SONO) appeared on multiple scans with bullish overtones, including biggest percentage gainers for the day (+11.6% in early trading) and high call volume (more than 15 times average).
At yesterday's high of $42.57, the stock had gained more than 20% over the past three days—a breakout move that unfolded as SONO crushed its earnings numbers (Morgan Stanley upped its price target along the way)1 and received a favorable preliminary ruling in its patent infringement lawsuit against Alphabet:2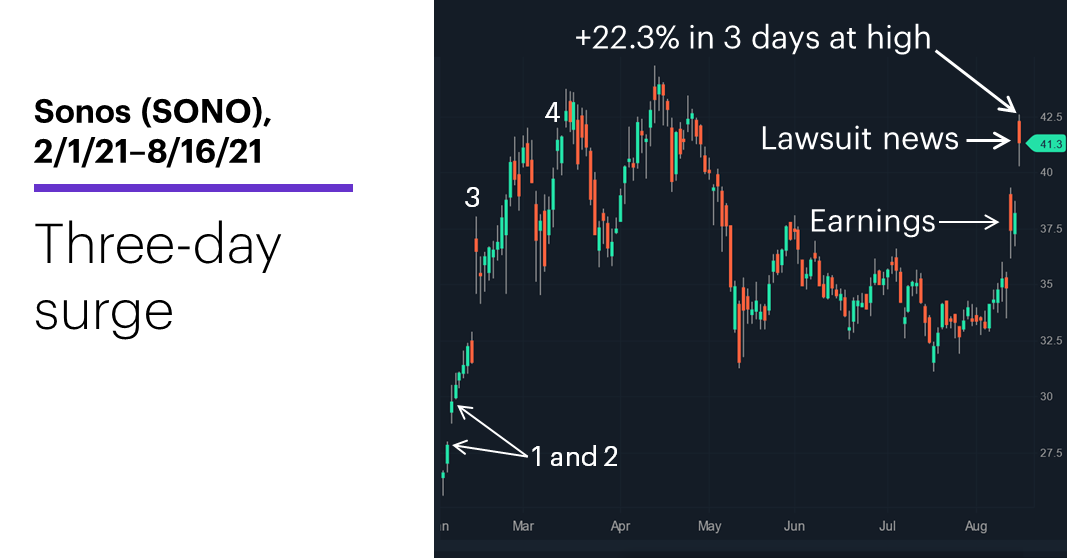 Source: Power E*TRADE (For illustrative purposes. Not a recommendation.)
---
That's a lot of good news, no doubt about it. Aside from the fact that the lawsuit dates back to January 2020 and is likely still far from over (Alphabet has vowed to keep fighting, despite Friday's news3), experienced traders know exceptionally large moves are often susceptible to near-term reversals or pauses regardless of the longer-term trend.
In this case, the recent price history provides a few examples. The bars numbered 1–4 mark other days this year (February 3, February 4, February 11, March 11) that were similar to yesterday: The stock traded above the highest high of at least the previous five days and jumped more than 15% over the final three days. The stock didn't pause at all after the first two examples, but it pulled back briefly after the third one and turned lower a couple of days after the fourth one. Overall, a bit of a mixed bag.
But the following chart shows five other examples from 2020 (June 8, June 17, June 23, July 16, and November 19):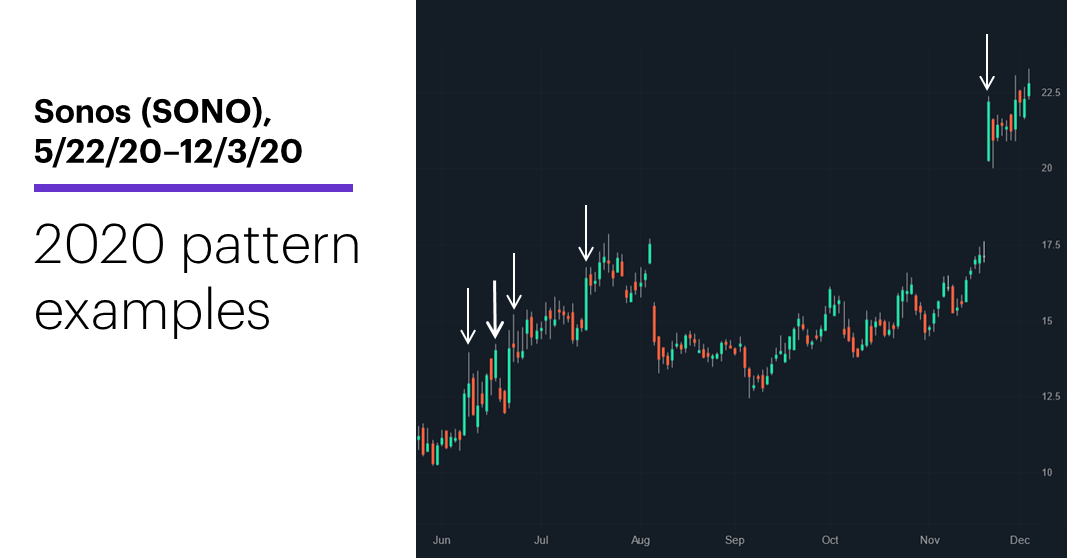 Source: Power E*TRADE (For illustrative purposes. Not a recommendation.)
---
The price action after these examples is a little more representative of SONO's typical performance after days like yesterday. Although the only significant downswing came five days after the July example, in every case there was at least a one- or two-day pullback, even if the stock ultimately pushed higher. That jibes with the average results from 23 other instances of days like Monday, dating back to 2018:
1. After five days, SONO was lower (12 times) more often than it was higher (11 times).
2. Most of that loss often occurred in the first day after the pattern, which had an average return of -2.2%.4
When a stock has been selling off and all the news is bad, it's often a good idea to pause and ask, "What other bearish stories could be around the corner?" Similarly, after a run of bullish headlines it's fair to consider the likelihood that other near-term catalysts will extend a price surge.
Just because you can't think of any doesn't mean there can't be surprises, either way, but markets that have been feeding off news momentum can sometimes lose energy when the plate is suddenly empty.
Market Mover Update: October WTI crude oil (CLV1) started out the week with a sharp downturn below $66/barrel that approached the support level the market tested on August 9 (see "Commodity crunch").
Today's numbers include (all times ET): Retail Sales (8:30 a.m.), Industrial Production and Capacity Utilization (9:15 a.m.), Business Inventories (10 a.m.), NAHB Housing Market Index (10 a.m.).
Today's earnings include: Agilent (A), Home Depot (HD), Walmart (WMT), Krispy Kreme (DNUT).
Click here to log on to your account or learn more about E*TRADE's trading platforms, or follow the Company on Twitter, @ETRADE, for useful trading and investing insights.
---
1 StreetInsider.com. Sonos Inc. (SONO) PT Raised to $51 as Morgan Stanley Sees One of the Most Attractive Consumer Stocks. 8/12/21.
2 TechCrunch.com. Google infringed on five Sonos patents, according to preliminary ruling. 8/13/21.
3 TheVerge.com. A judge has ruled that Google infringed on Sonos' patents. 8/13/21.
4 Reflects Sonos (SONO) daily price data, 8/2/18 – 8/13/21. Price pattern consists of a day that with the highest high and closing price of the past five days, which also marks at least a 20% gain over the past three days (close to high). Supporting document available upon request.
What to read next...
08/16/21
Stocks grind out another weekly gain as latest inflation data paints mixed picture.
---
08/13/21
Chinese tech provides potential lessons in why traders may use options to help manage risk in volatile stocks.
---
08/12/21
Trading ramps up in tech stock's soon-to-expire call options as shares stage intraday breakout.
---