New month, new quarter, new highs
New records for S&P 500, but tech leads
March closes strong, Q1 second-best since 2013
This week: FOMC minutes, inflation data
Despite some recent bouts of interest-rate-driven volatility, the US stock market enters the first full week of April at new highs after wrapping up its best month since November and a better-than-average first quarter.
The S&P 500's (SPX) first-ever foray above 4,000 on Thursday ensured April would be the sixth-consecutive month the broad-market index hit a new all-time high:
Source: Power E*TRADE
---
The headline: Stocks roll into April as infrastructure debate begins.
The fine print: The week's biggest news was the Biden Administration's infrastructure-spending plan—$2 trillion worth of projects that appeared to goose various corners of the market when it was announced last Wednesday. But it's a long way from being a done deal, judging by the immediate criticisms launched from both the left ("Not big enough!") and right ("Too big, and forget about raising corporate taxes to help pay for it!").1
The numbers: 916,000, the number of jobs the US economy added in March—the most since August 2020 and 241,000 more than estimated. Also, the ISM manufacturing index shot up to 64.7 in March, up from 60.8 in February and its highest reading since December 1983.2
The scorecard: The SPX and Dow both hit new records last week, but the Nasdaq 100 (NDX) led the pack as tech got some of its groove back: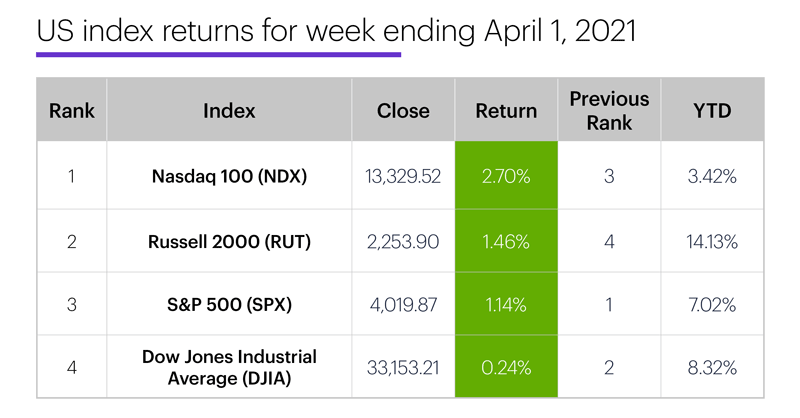 Source (data): Power E*TRADE
---
Sector roundup: The strongest S&P 500 sectors last week were information technology (+4.7%), communication services (+3%), and consumer discretionary (+3%). The weakest sectors were consumer staples (1%), utilities (1.1%), and health care (1.4%).
Highlight reel: Humanigen (HGEN) +54% to $21.61 on Monday, Microvision (MVIS) +51% to $18.55 on Wednesday. On the downside, GSX Techedu (GSX) -19% to $31.78 on Monday, Vaxcyte (PCVX) -18% to $18.66 on Tuesday.
Futures action: The Suez canal may have reopened last week, but May WTI crude oil (CLK1) is still stuck in a two-week trading range after closing Friday at $61.45/barrel. After testing its one-year low of $1,676.20/ounce on Tuesday, June gold (GCM1) bounced to end the week at $1,728.40.
Last week's biggest futures up moves: April bitcoin (BTCJ1) +13.8%, April ethanol (ZKJ1) +6.1%, April platinum (PLJ1) +4.8%. Last week's biggest futures down moves: April VIX (VXJ1) -9.8%, May canola (RSK1) -5.2%, May soybean oil (ZLK1) -5.2%.
Coming this week
This week's numbers:
●Monday: Final Markit Services PMI, ISM Non-Manufacturing Index, Factory Orders
●Tuesday: JOLTs (job openings), Consumer Inflation Expectations
●Wednesday: Balance of Trade, FOMC minutes, Consumer Credit
●Thursday: Weekly jobless claims
●Friday: Producer Price Index (PPI), Wholesale Inventories
The earnings calendar is light before Q1 reporting season kicks off next week:
●Monday: Duck Creek Technologies (DCT), Greenbrier Companies (GBX)
●Tuesday: Smart Global (SGH), Paychex (PAYX)
●Wednesday: MSC Industrial (MSM), Simply Good Foods (SMPL), Lamb Weston (LW), RPM International (RPM), Schnitzer Steel (SCHN)
●Thursday: WD-40 (WDFC), Conagra (CAG), Constellation Brands (STZ), Levi Strauss (LEVI)
●Friday: JinkSolar (JKS)
The Active Trader Commentary updates earnings announcements, IPOs, and economic report times each morning.
Post-Easter blues?
Following up on "April's surprising market performance," which noted (among other things) the stock market's tendency to rally the day before Good Friday, here's something else seasonal-pattern traders may be keeping in mind:
●The Monday and Friday following Easter were the least likely days of the week to be positive—the SPX closed lower more than half the time on both days.3
Quarter for your thoughts. Despite notable pullbacks in January and February, as well as randomly scattered sell-off days when Treasury yields jumped, the first three months of 2021 turned out to be a pretty respectable Q1.
In fact, the SPX's 5.8% return was its second-best Q1 since 2013, well above the 62-year median Q1 return of 1.7%, and even a little better than the median positive Q1 return of 5.5%.4 And although most people following the market wouldn't be surprised to hear that energy (+29.3%) was the strongest S&P 500 sector, they may raise an eyebrow to discover that tech wasn't the weakest sector. That distinction went to consumer staples (+0.5%).
Click here to log on to your account or learn more about E*TRADE's trading platforms, or follow the Company on Twitter, @ETRADE, for useful trading and investing insights.
---
1 Politico. POLITICO Playbook: Fault lines form on Biden's massive infrastructure plan. 3/31/21.
2 Reuters. U.S. manufacturing sector index races to 37-year high in March—ISM. 4/1/21
3 Reflects S&P 500 (SPX) daily closing prices, March 1960–April 2020. Supporting document available upon request.
4 Based on S&P 500 (SPX) monthly closing prices, December 1959–March 2021. Supporting document available upon request.
What to read next...
04/01/21
EV-related stocks get a jolt as the Biden administration rolls out infrastructure plan.
---