Never a dull moment
Pinterest breaks out as users soar
PINS earnings scheduled for early Feb.
TSLA rally kept burning, options feel the heat
Even on the dullest of days, there's almost always something happening in some corner of the market.
Actually, yesterday, which was a fairly tepid day for the major US stock indexes, you didn't even have to look that hard.
Around noon ET yesterday, 2019 IPO darling Pinterest (PINS) had more than four times its average total options volume, and more than six times its average call options volume—no surprise, since the stock had popped more than 11%:
Source: Power E*TRADE
---
The apparent catalyst was a report that Pinterest had become the third-biggest social media platform in the US, and was positioned to hold that spot into 2022.1
PINS was one of last year's hottest IPOs, and early on it traded like one, rallying from $24.40 to $34.26 (+40%) in its first six days as a public company last April. After a deep correction, the stock clawed its way to a record high of $36.83 in late August before sliding more than 50% (to below $18) in December, a sell-off that was highlighted by a big earnings miss—and down gap—at the end of October. Earlier this month, there was some chatter about the fact that hedge funds had upped their stakes in PINS in recent months, and Street analysts still thought the company was in position to crank up its advertising revenues.2
Yesterday's news appeared to back that position, and the stock's explosion pushed shares back into the gap, the upper boundary of which is around $25—a near-term target chart traders may have in their sights. But experienced traders leaning toward the buy side may be inclined to let the stock give back some of its surge before making a play. (And all interested traders will likely be circling the company's early February earnings announcement.)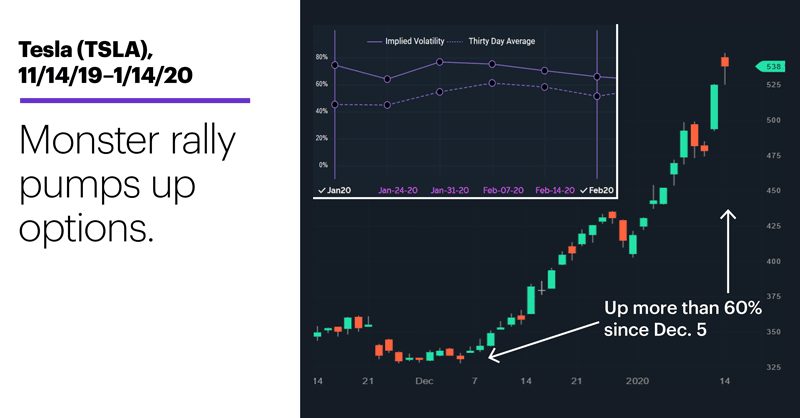 Source: Power E*TRADE
---
And despite the kickoff of Q4 reporting season with some huge numbers yesterday, it was difficult for the spotlight to stray very far from Tesla (TSLA). Since early May 2018, when the stock was trading a little below $300 and CEO Elon Musk said the "short burn of the century" was coming, TSLA has rallied around 200% (albeit after first dropping below $180 in June 2019), including a roughly 64% moonshot since December 5 (chart above).
The chart inset shows TSLA options implied volatility (solid line) was above average (dashed line), a signal that options prices, especially calls, could be exceptionally high. For example, the February $675 call—a strike price around 25% above yesterday's stock price—was trading above $1,000 yesterday.
With TSLA earnings slated for the end of January, there's a good chance both stock and options traders will have plenty to watch between now and then.
Market Mover Update: The first high-profile earnings of the new season crossed the ticker yesterday—JPMorgan Chase (JPM), Citigroup (C), and Delta (DAL) crushed theirs (and airlines got a boost across the board), while Wells Fargo (WFC) came up short. More big banks are on tap today.
Today's numbers (all times ET): Producer Price Index, PPI (8:30 a.m.), Empire State Manufacturing Survey (8:30 a.m.), Atlanta Fed Business Inflation Expectations (10 a.m.), EIA Petroleum Status Report (10:30 a.m.), Beige Book (2 p.m.).
Today's earnings include: Alcoa (AA), Bank of America (BAC), BlackRock (BLK), U.S. Bancorp (USB), PNC Financial Services (PNC), UnitedHealth (UNH), Goldman Sachs (GS).
Click here to log on to your account or learn more about E*TRADE's trading platforms, or follow the Company on Twitter, @ETRADE, for useful trading and investing insights. 
---
1 MarketWatch.com. Pinterest stock surges 10% after eMarketer says it has passed Snapchat in users. 1/14/20.
2 Bloomberg.com. Pinterest Bulls See a Marketer's Goldmine in the Making. 1/3/20.
What to read next...
01/14/20
Heavy options activity and volatility highlight potential trader interest in healthcare stock.
---
01/13/20
Stocks shrug off US–Iran confrontation, scale new heights in first full week of 2020.
---
01/10/20
Can a rebounding stock get an extra boost from its sector?
---