Pivots and head fakes
The NDX fell more than 3% Tuesday, rallied more than 3% Thursday
Similar moves concentrated in market's most volatile periods
Short-term returns were volatile after pivot
The Nasdaq 100's (NDX) 3.5% Thursday rally marked a rather remarkable turnaround from two days earlier, when the tech index suffered its second-biggest one-day loss (-3.9%) since 2020 and fell to its lowest level in nearly a year: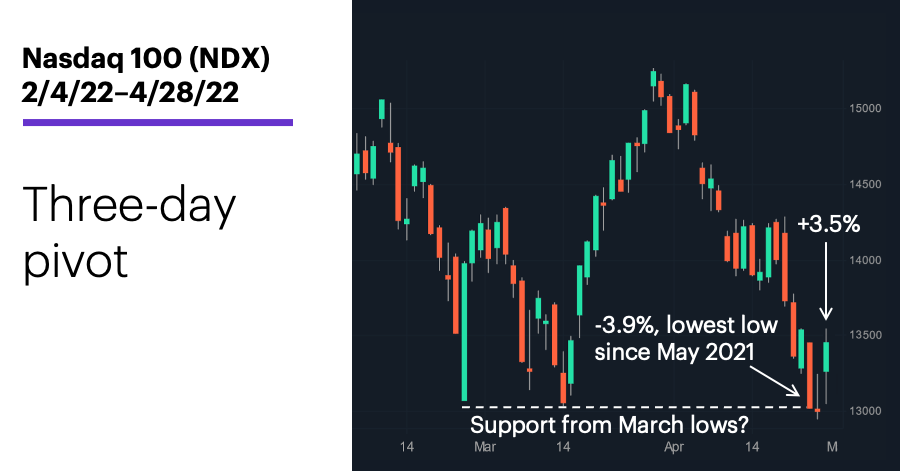 Source (data): Power E*TRADE. (For illustrative purposes. Not a recommendation.)
---
Many chart watchers likely noticed this pivot occurred at the support level implied by the index's March lows—something that may have led more than a few of them to consider the possibility that another rebound could be in the making.
Since October 1985, the NDX has made similar moves (a 3%-or-larger rally two days after a 3%-or-larger loss, separated by a day making the lowest low in at least two weeks) 31 other times.1 And some of these were, in fact, followed by rallies. But not all, and not necessarily right away.
First, it's no coincidence that the last time the NDX made a similar move was in March 2020. The most recent ones before that were in December 2018, August 2015, May 2010, November 2008, and October 2008. If those dates don't ring any bells, one look at a price chart will confirm these were among the market's most volatile episodes of the past several years.
And that volatility was evident in the NDX's price action immediately after these pivots:
1. The NDX closed lower the next day (i.e., the day after the 3%-plus up day) 61% of the time.
2. After five days, the NDX was lower 64% of the time, with a median return of -1.9%.
Also, the performance didn't vary much even if the pivot size was 2.5% instead of 3%, or the index fell to a one-week (or four-week) low instead of a two-week low.
In other words, rather than reacting emotionally to a price move, analyzing what the market has done in similar circumstances in the past can be a good way to provide perspective and insight into market dynamics.  We believe this is especially important in volatile market conditions.
Today's numbers include (all times ET): Personal Income and Outlays (8:30 a.m.), Employment Cost Index (8:30 a.m.), Chicago PMI (9:45 a.m.), Consumer Sentiment (10 a.m.).
Today's earnings include: American Express (AXP), Schlumberger (SLB), Verizon (VZ), Kimberly-Clark (KMB), Cleveland-Cliffs (CLF), Newmont (NEM).
Click here to log on to your account or learn more about E*TRADE's trading platforms, or follow the Company on Twitter, @ETRADE, for useful trading and investing insights.
---
1 All figures reflect Nasdaq 100 (NDX) daily prices, 10/1/85–4/28/22. Supporting document available upon request.
What to read next...
04/28/22
In the market, have April showers been followed by May flowers?
---
04/25/22
Market stumbles into last week of April amid inflation and interest rate concerns.
---
04/22/22
Recent consolidation shows why traders sometimes tweak a popular non-directional options spread.
---