Natural gas back in energy spotlight
Natural gas futures up more than 35% in 9 days
Market recouped half of sell-off after June's 12-year high
Geopolitics, supply disruptions, weather have churned market
Like silver relative to gold, natural gas often plays second fiddle to crude oil in the minds of traders and investors. It's understandable: Not only is trade volume in oil typically much higher than in natural gas, crude is at the center of the inflation story that has dominated financial and economic discussions in 2022.
But natural gas has arguably been the more compelling of the two energy markets this year. Last week August natural gas (NGQ2) was the week's biggest gainer in the US futures market, and as of Monday morning it had gained more than two-and-a-half times as much as August WTI crude oil futures (CLQ2) year to date, despite a major correction last month: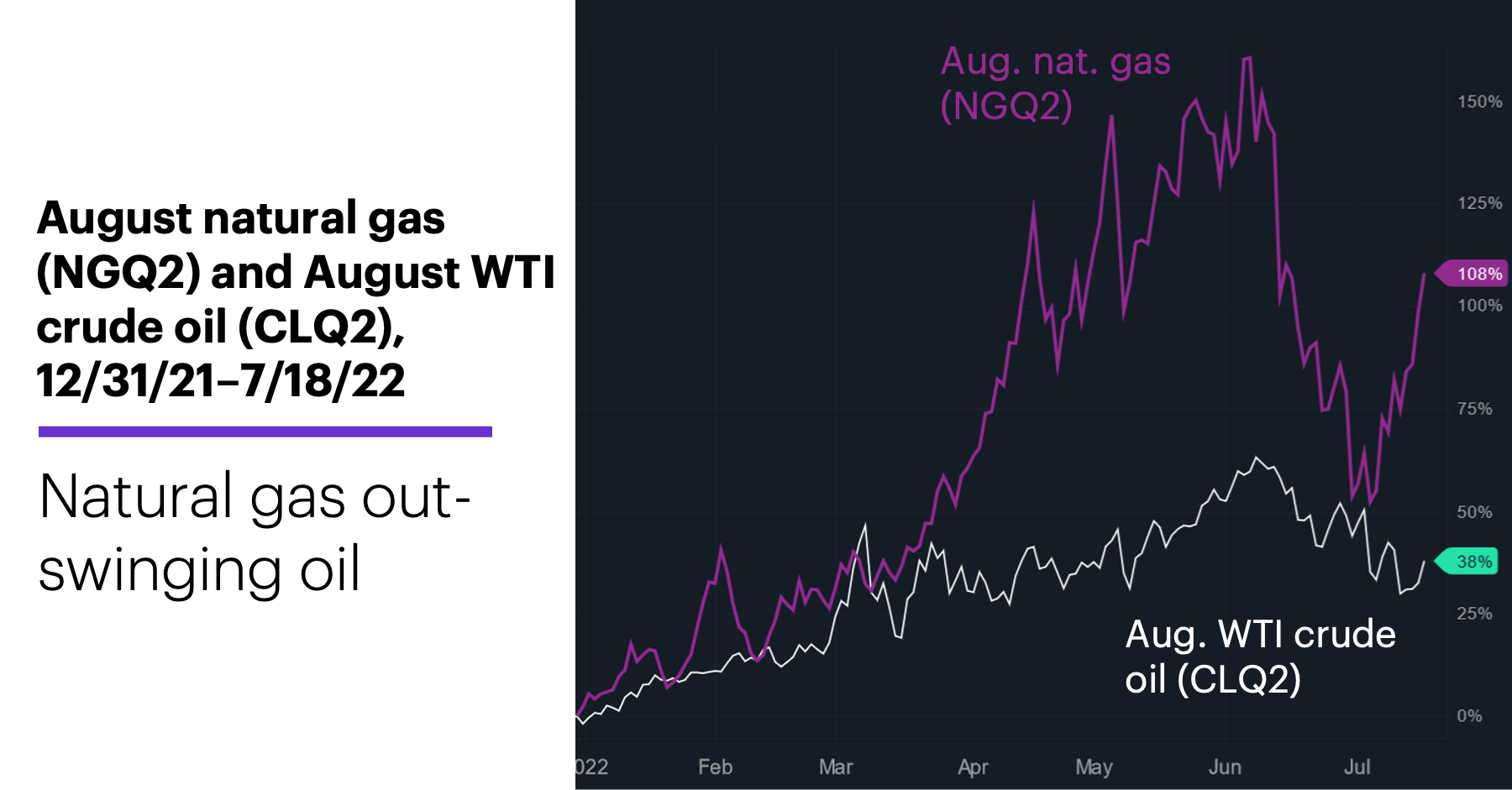 Source: Power E*TRADE. (For illustrative purposes. Not a recommendation.)
---
Russia's invasion of Ukraine has been the most notable driver of energy prices this year—Russia is Europe's primary source of both crude oil and natural gas—but the story has more layers than many people may think. Consider the following crosscurrents:
1. Russia has already cut off natural gas supplies to Poland and Bulgaria, and has threatened to shut the valve on others.
2. The European Union announced plans to reduce its dependence on Russian oil and gas by two-thirds this year and to eliminate it in five years.1
3. In the first four months of this year, the US exported 74% of its liquefied natural gas (LNG) to Europe—more than double the percentage from last year.2  
4. However, LNG exports have been hampered by an early-June fire that knocked out the second-largest US export facility—thus exacerbating the shortage in Europe while increasing supply (and weighing on prices) in the US. The facility may not be fully online until later this year.3
5. Most recently, near-term forecasts for potential record heat in the US and Europe have been cited as catalysts for this month's upturn in natural gas prices.4 (Although many people think of natural gas primarily supplying heat in winter, it's used to power electric plants that power air conditioning during the summer.)
The result of these overlapping catalysts is apparent in the NGQ2 price chart. After rallying 137% between February 10 and June 8—a move that pushed prices to their highest level since July 2008—prices retreated 43% by July 5 before rebounding 36% in less than two weeks as of yesterday: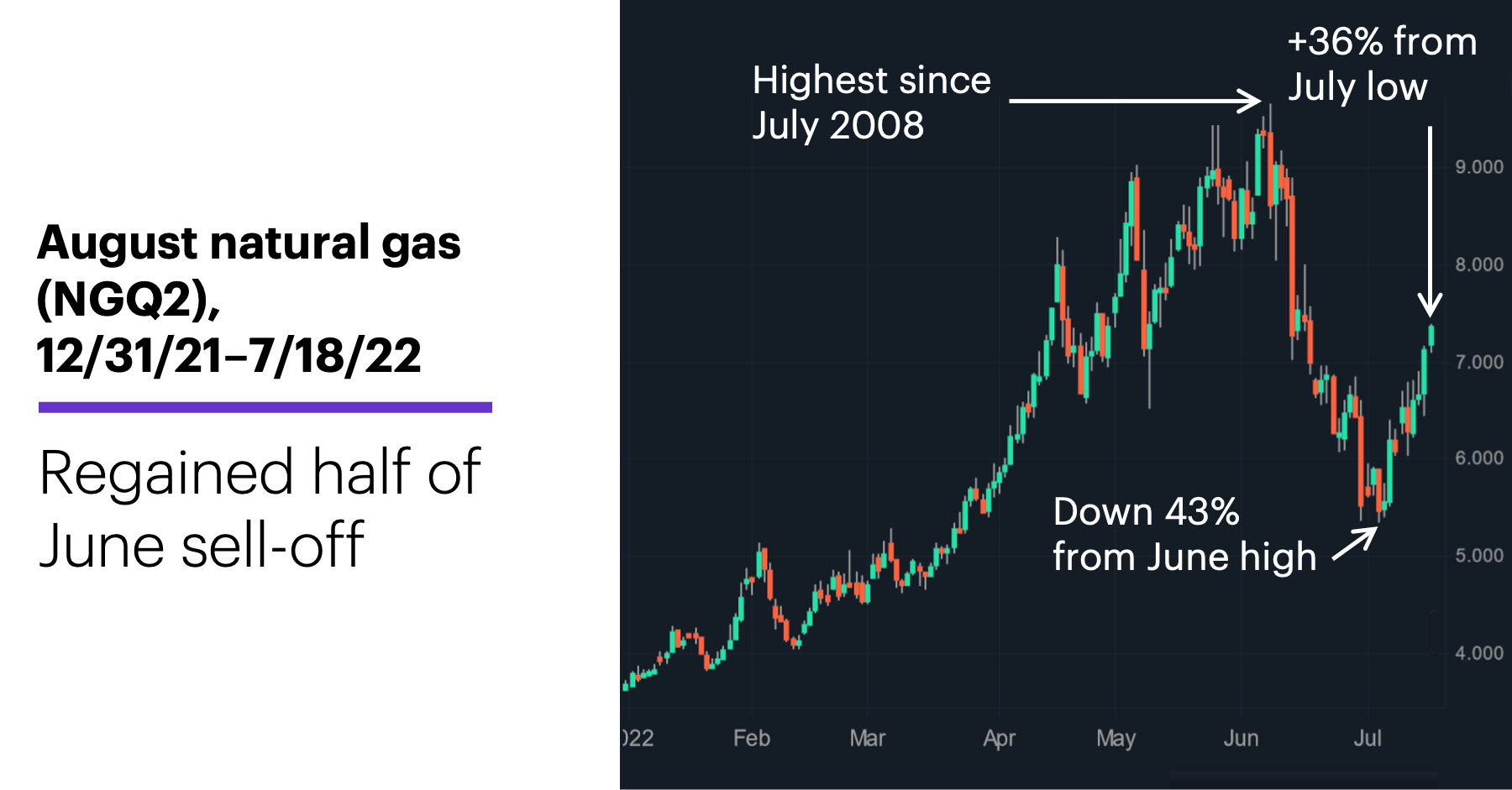 Source: Power E*TRADE. (For illustrative purposes. Not a recommendation.)
---
In April, Morgan Stanley & Co. strategists wrote that phasing out Russian gas supplies—gradually, over a period of years—was the "base case" for the European gas market. But at the end of June, they noted the flow of Russian gas into Europe had fallen by two-thirds in just a few months. Their analysis suggests that Europe may not have 80% of its natural gas inventories filled by November, in which case supplies would be below five-year seasonal lows toward the end of the year. 5
Supply and demand dictate prices, but the line connecting the two isn't always a straight one. Europe wants to cut its reliance on Russian energy, but can't afford to cut the cord immediately. Meanwhile, the US wants to send more gas to Europe, but has been hampered by damage to its export facility, which means the US is sitting on more supply.
Meanwhile, the "conditions on the ground" change daily. If nothing else, traders shouldn't expect the price swings that have characterized the natural gas market this year to end any time soon.
Market Mover Update: After yesterday's 2.5%-plus rally, Wynn Resorts (WYNN) is up more than 7% since July 11's headline-induced sell-off (see "Price leading the news?").
Today's numbers include (all times ET): Housing Starts and Building Permits (8:30 a.m.).
Today's earnings include: Lockheed Martin (LMT), Hasbro (HAS), Citizens Financial Group (CFG), Halliburton (HAL), Johnson & Johnson (JNJ), Silvergate Capital (SI), Cal-Maine Foods (CALM), Netflix (NFLX), J.B. Hunt Transport (JBHT).
Click here to log on to your account or learn more about E*TRADE's trading platforms, or follow the Company on Twitter, @ETRADE, for useful trading and investing insights.
---
1 APNews.com. New gas pipeline boosts Europe's bid to ease Russian supply. 4/29/22.
2 U.S. Energy Information Agency. U.S. liquefied natural gas exports to Europe increased during the first 4 months of 2022. 6/7/22.
3 Reuters.com. U.S. regulator bars Freeport LNG plant restart over safety concerns. 7/1/22.
4 SPGlobal.com. NYMEX August natural gas futures rally amid storage-driven short-squeeze. 7/7/22.
5 Morgan Stanley Research. Disturbance In The Flow, There Is. 6/29/22.
Important note regarding economic sanctions. This event may involve the discussion of country/ies which are generally the subject of selective sanctions programs administered or enforced by the U.S. Department of the Treasury's Office of Foreign Assets Control ("OFAC"), the European Union and/or by other countries or multi-national bodies. The content of this presentation is for informational purposes and does not represent Morgan Stanley's view as to whether or not any of the Persons, instruments or investments discussed are or may become subject to sanctions. Any references in this presentation to entities or instruments that may be covered by such sanctions should not be read as recommending or advising on any investment activities involving such entities or instruments. You are solely responsible for ensuring that your investment activities in relation to any sanctioned country/ies are carried out in compliance with applicable sanctions.
What to read next...
07/18/22
Stocks stage late rally, but still came up short last week amid another round of inflation data.
---
07/15/22
Digging beneath the surface of an upside price reversal and big call options positions.
---
07/14/22
"Quality" vs. accuracy: In trading, it's not just about how often you're right, but how your winners measure up to your losers.
---