Reversal of fortune
NDX up more than 1% before sliding 1.7% intraday on Thursday
Early rally followed this week's blockbuster Big Tech earnings
Signal of fading bullish momentum or red herring?
Markets often blur the line between perception and reality—especially in the moment when conditions are volatile and emotions are high—but yesterday highlighted how big the gap between the two can sometimes be.
You could almost feel the consternation Thursday morning as the Nasdaq 100 (NDX) gave up an early 1.2% gain and slid into negative territory about an hour into the trading session: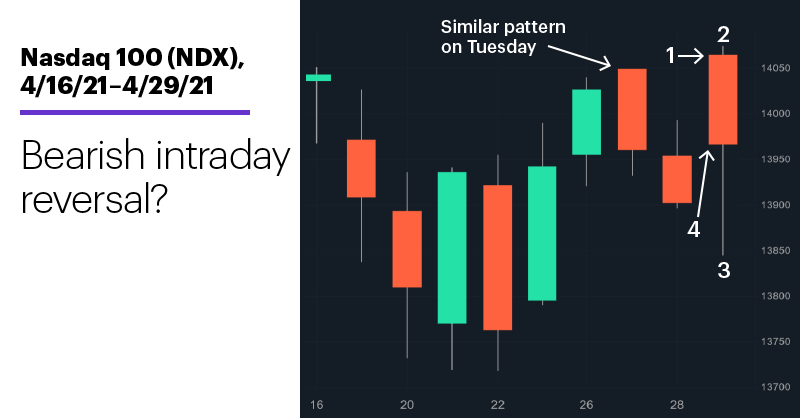 Source: Power E*TRADE
---
Not only had the tech index retreated from a new all-time intraday high, it was fresh off the previous afternoon's huge earnings beats from Apple (AAPL) and Facebook (FB), not to mention the morning's buzz surrounding the second-best GDP reading (6.4%) since 2003. And to make matters worse, the NDX had done almost the same thing on Tuesday and followed through with a down day on Wednesday.
To some, the implication was likely clear: Only shaky markets give up intraday gains like that, and what happened Wednesday shows this type of intraday reversal leads to more selling, at least in the short term.
Maybe. As it turns out, the NDX rebounded from its 1.7% intraday sell-off to close in the upper half of the day's range, although still well below the day's high. Nonetheless, a good way to find out if such off-the-cuff assessments hold water is to crunch some numbers—i.e., look at what the market's done not just after one similar episode, but many.
First, let's nail down a couple of performance benchmarks: Over the past 36 years, the NDX has closed higher 54.8% of the time, with a median daily return of 0.12%. Now let's look at what it's done after days like yesterday and Tuesday, which we'll define as a day that (refer to chart):
1. Opens above the previous day's close.
2. Makes a higher high.
3. Falls into negative territory for the day, at least temporarily.
4. Closes below the open.
That's not the only way to describe Tuesday's and Thursday's price action, but it captures the key aspects of initial strength giving way to weakness. The NDX has had 425 other days like this since 1985, and here's what it did the day after them:1
1. Closed higher 57% of the time—two percentage points better than its historical benchmark.
2. Posted a median gain of 0.16%—slightly better than its benchmark daily return.
But let's assume we are missing some of the key characteristics of yesterday's price action—say, the fact that the NDX was up more than 1% before it sold off and that it traded above the highs of at least the past 20 days. There were 58 other days like this, and here's what the NDX did after them:
1. Closed higher 62% of the time.
2. Posted a median gain of 0.3%.
The point is not that the NDX couldn't decline today—it could, and could keep dropping—it's simply that Thursday's price action, as bearish as it may have felt (especially at the day's low), doesn't have a track record of being followed by a next-day sell-off.
In other words, if the NDX has a bad day today, don't blame it on yesterday's trading pattern.
Market Mover Update: June WTI crude oil futures (CLM1) jumped nearly 3% intraday on Thursday to a 32-day high of $65.47 (see "Oil makes a push").
Today's numbers include (all times ET): Employment Cost Index (8:30 a.m.), Personal Income and Outlays (8:30 a.m.), Chicago PMI (9:45 a.m.), Consumer Sentiment (10 a.m.).
Today's earnings include: Phillips 66 (PSX), AbbVie (ABBV), Exxon Mobil (XOM), Colgate-Palmolive (CL), Clorox (CLX), Chevron (CVX).
Click here to log on to your account or learn more about E*TRADE's trading platforms, or follow the Company on Twitter, @ETRADE, for useful trading and investing insights.
---
1 All figures based on Nasdaq 100 (NDX) daily prices, 10/1/85–4/29/21. Supporting document available upon request.
What to read next...
04/29/21
After a 15% correction last month, crude has bubbled back to test recent highs.
---
04/28/21
Luxury stock's options highlight interesting price discrepancies during key trading period.
---
04/27/21
Will this household-name stock's earnings announcement break it out of its range?
---