Name that pullback
This week's S&P 500 pullback was its biggest since October
Index fell roughly 2.5% over the course of three days
Today's price action may indicate likelihood of more near-term gains
In case you've forgotten what one looks like, that three-day slide from last Friday through Tuesday is a little thing called a "pullback."
They've been pretty rare lately—and this one is by far the biggest in more than two months—but weaker-than-expected manufacturing data on Monday and maybe-a-trade-deal-won't-happen-after-all headlines on Tuesday helped drop the S&P 500 (SPX) 2.6% below its November 27 record close: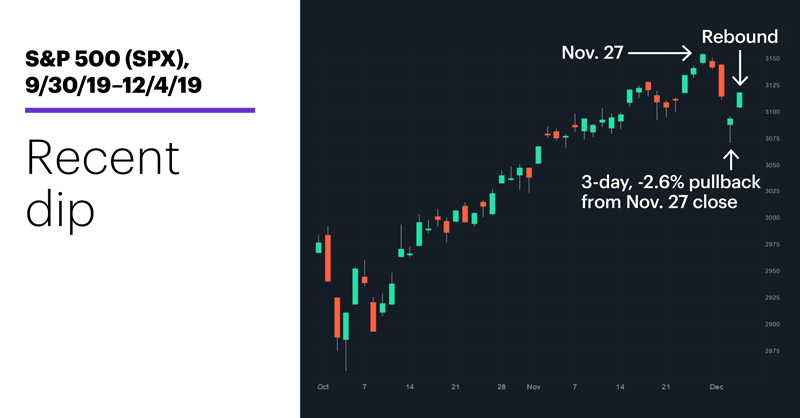 Source: Power E*TRADE
---
After reversing to the upside to close above its open on Tuesday (but still down for the day), yesterday the SPX followed through with a solid rally that may have left many traders thinking the market gods had stuck a fork in the pullback, and it was time to start pondering the possibility of future record highs.
Another twist in the trade story would be all it would take to derail yesterday's bullishness—which, in a complete 180 from Tuesday, took place amid positive reports from the negotiating table1—but rather than guess about the next story to cross the wire, a good way to get a roadmap for what may unfold over the next several days is to simply find out what the SPX has done after other pullbacks like this.
To sum up the price action, as of yesterday the SPX had:
1. made a significant new high (in this case, the record high from Nov. 27).
2. closed down three straight days after it.
3. fallen 2.6% from that high (at Tuesday's low).
4. closed up the next day.
That describes the SPX's price action from November 27 through yesterday—pretty straightforward. Since 1989 there were 54 other pullbacks that fit this general pattern.2 The following chart compares the SPX's average five-day returns after these dips to its average five-day return for the entire period: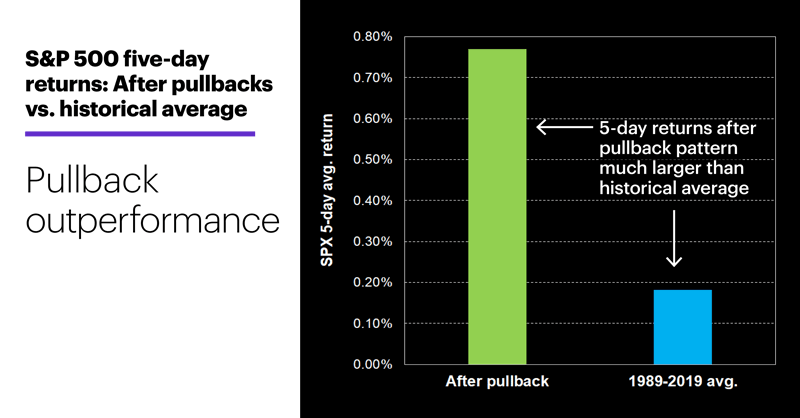 Data source: Power E*TRADE
---
In other words, while the SPX has typically gained a little less than 0.2%, on average, in a five-day period, its average five-day gain after the pullbacks was closer to 0.8%.
What's more, the SPX rallied in the five days after the pullback pattern 68% of the time, while its overall odds of closing higher in any given five-day period were only 57.5%. So, overall, bulls who had their interest piqued by yesterday's bounce were in tune with the market's historical performance tendencies, even if they didn't know it.
Finally, there appears to be a bit of a correlation between how the SPX does the first day after the pattern described here (i.e., today) and whether it posts a net gain or loss over the entire five-day period: When the SPX closed higher that day, it also posted a five-day gain 22 times, but if it closed lower the first day, it was up after five days only 14 times.
Whether things play out according to the numbers this time remains to be seen—in addition to trade-related volatility, a negative surprise from Friday's jobs report could potentially upset the apple cart. But it's always helpful to be able to factor in the market's historical tendencies when making a trade decision.
Market Mover Update: Luckin Coffee (LK) must have been drinking decaf yesterday, as it gave back Monday's upsurge—and then some (see "A whole latte price action").
Today's numbers (all times ET): Eurozone GDP (5 a.m.), International Trade (8:30 a.m.), Factory Orders (10 a.m.), EIA Natural Gas Report (10:30 a.m.).
Today's earnings include: Ulta Beauty (ULTA), Tiffany (TIF), Dollar General (DG), Zoom Video Communications (ZM), Kroger (KR), Crowdstrike (CRWD), DocuSign (DOCU).
Click here to log on to your account or learn more about E*TRADE's trading platforms, or follow the Company on Twitter, @ETRADE, for useful trading and investing insights. Online stock, ETF, and options trades are now commission-free.
---
1 Reuters. Trump says trade talks with China going 'very well'. 12/4/19.
2 Based on daily S&P 500 prices, 1/3/90–12/4/19. Pattern parameters: a 10-day (or longer) high close followed by 1) a two- to four-day decline between 2-4%, 2) a higher close the next day. Supporting document available upon request.
What to read next...
12/04/19
Is China's big cup of joe poised to cool, or is it just starting to heat up?
---
12/03/19
Huge stock move was even bigger for options yesterday.
---