The name of the game
Sports-betting site DraftKings has soared in recent weeks
Some investors see potential for US sports-wagering to catch up with global levels
Stock's recent pullback is first meaningful decline since March
Professional sports in the US are still on hold, but the stock of sports-betting company DraftKings (DKNG) is up around 37% since May 21 and more than 250% since March 12.
Go figure.
And these gaudy returns are in place even after the stock pulled back roughly 12% from Tuesday's record high of $44.79: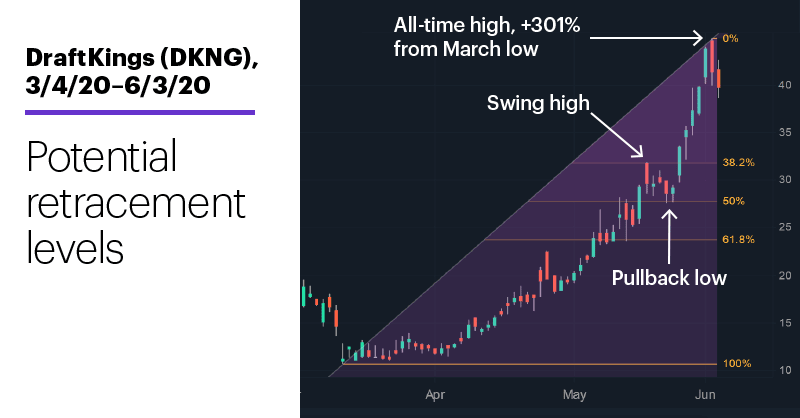 Source: Power E*TRADE
---
Before delving into the market action, some obscure trading background is in order: DKNG officially began trading on April 24 after completing a merger with Diamond Eagle Acquisition, a Special Purpose Acquisition Company (SPAC) that went public in 2019. A SPAC has no commercial operations of its own; its sole purpose is to provide a vehicle through which another company—in this case DraftKings—can raise capital and begin trading without an IPO or direct listing. In other words, Diamond Eagle went public and began trading in 2019—essentially, proxy for DraftKings; when the merger was completed, Diamond Eagle effectively disappeared and the stock became DKNG on April 24.
But the price movement prior to that date still reflects DKNG, so while the stock is up "only" around 106% since April 24, the rally from its March 12 close of $11.17 to Tuesday's high was more on the order of 300%. (The stock got a nice bump in May when news emerged that hedge fund maestro George Soros was an investor, along with the Walt Disney Co.1)
Despite the live sports hiatus, much of DKNG's buzz appears to surround the gaming industry's high hopes for online sports betting in the US (which was legalized only last year and lags behind much of the rest of the world), and the stock's dominant position in its field. DraftKings has been around since 2012, when it started as a fantasy sports league platform, to which it has now layered sports betting (and affiliations with multiple pro sports leagues) and other casino games.
And unlike casinos on the Las Vegas strip, DKNG doesn't have to worry about customers practicing appropriate social distancing.
Buzz aside, many traders may see this week's sharp pullback (which has unfolded as the broad market has rallied) as a sign that DKNG may have gotten a little ahead of itself. Regardless of whether we're talking about potential short-sellers anticipating more downside or bulls looking for advantageous entry points, many have likely noticed the connection between prominent Fibonacci retracement levels and recent highs and lows that may have otherwise functioned as price support: For example, the May swing high coincides with the 38.2% retracement level, while the swing low just a few days later is near the 50% retracement level.
While there's no guarantee the stock will pull back to these levels—or stop at them if it does—it's good to know where other traders may be placing their bets.
Market Mover Update: Speaking of IPOs, yesterday kicked off trading in a high-profile name: Warner Music Group (WMG), which has one of the world's largest rosters of recording artists. Yesterday's IPO marked a return to public trading for WMG, which initially went public in 2005 but was taken private in 2011.2
The stock enjoyed a strong first day, closing at $30.12, up 20.5% from its announced IPO price and 11.4% above its open: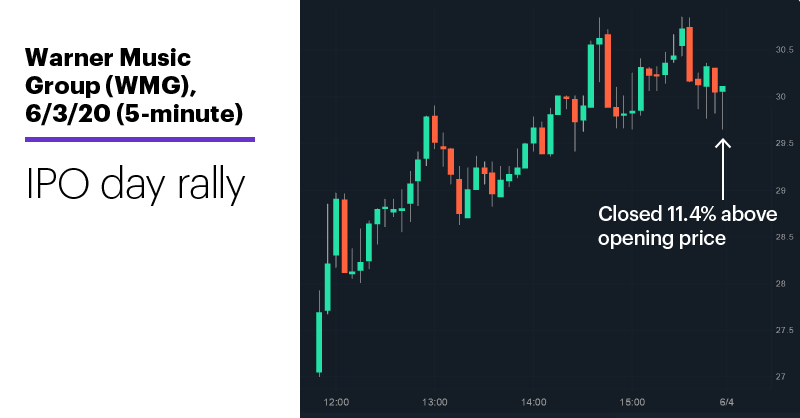 Source: Power E*TRADE
---
The Nasdaq 100 (NDX) rallied to within 7 points of its all-time high yesterday, even though tech has lagged the broad market in recent weeks.
Boeing (BA) jumped more than 12% yesterday as news emerged that hedge fund Third Point had taken a major position in the stock.3 The stock has rallied more than 40% since May 15 (see "Rotation watch").
Finally, with their third-straight contract high yesterday, July rice futures (RRN0) have jumped 35% in the first three days of June. Hey, it's the world's most popular grain.
Today's numbers (all times ET): International Trade (8:30 a.m.), Jobless Claims (8:30 a.m.), Productivity and Costs (8:30 a.m.), Fed Balance Sheet (4:30 p.m.).
Today's earnings include: Broadcom (AVGO), J.M. Smucker (SJM), Ciena (CIEN), DocuSign (DOCU), Gap (GPS), PagerDuty (PD), Slack Technologies (WORK).
Click here to log on to your account or learn more about E*TRADE's trading platforms, or follow the Company on Twitter, @ETRADE, for useful trading and investing insights.  
---
1 Forbes. Soaring DraftKings Stock Makes Israeli Entrepreneur A Billionaire. 5/18/20.
2 MarketWatch.com. U.S. IPO market to reopen with a bang as the biggest deal of the year prices. 6/3/20.
3 Reuters. US STOCKS-Wall Street rises on Boeing, economic recovery hopes. 6/3/20.
What to read next...
06/03/20
Heavy call options activity highlights potential put strategy.
---
06/02/20
Will resurgent grocery stock enter buy zone after last week's earnings beat?
---
06/01/20
Stocks made a strong push in late May as recovery optimism outweighed renewed US-China tensions.
---