December rolls on
Small caps lead latest swing to new highs
Energy stocks retreat despite continued oil rally
This week: GDP, housing numbers…then closed for Christmas
Headline economic data came in weaker than expected, COVID cases continued to stress the capacity of the health care system, and the US stock market still managed to gain ground last week, setting a couple of new records in the process.
The S&P 500's (SPX) Tuesday–Thursday surge turned out to be enough to offset pullbacks on Monday and Friday—the latter almost getting erased by a furious late-day rally: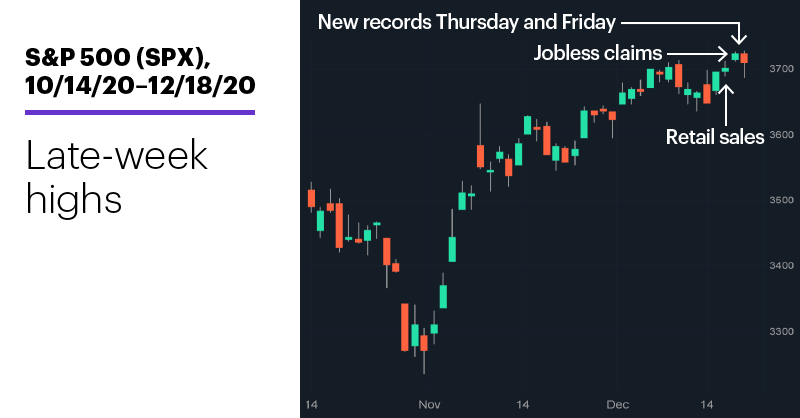 Source: Power E*TRADE
---
The headline: December rally continues, small caps score again.
The fine print: Once again we may have seen the counterintuitive phenomenon of stocks going on the bid because key data hinted at a potential economic slowdown. With a stimulus deal still appearing to be the market's primary psychological driver, last week's soft retail sales number and higher-than-expected jobless claims may have encouraged bulls—the logic being that Congress will be prompted to get a deal done.
The number: $120 billion, the amount of money the Federal Reserve committed to spend on buying bonds each month—to help "support to the economy until the recovery is complete," as Fed Chairman Jerome Powell said after last Wednesday's FOMC meeting.1
The scorecard: Small caps continued their full-court press: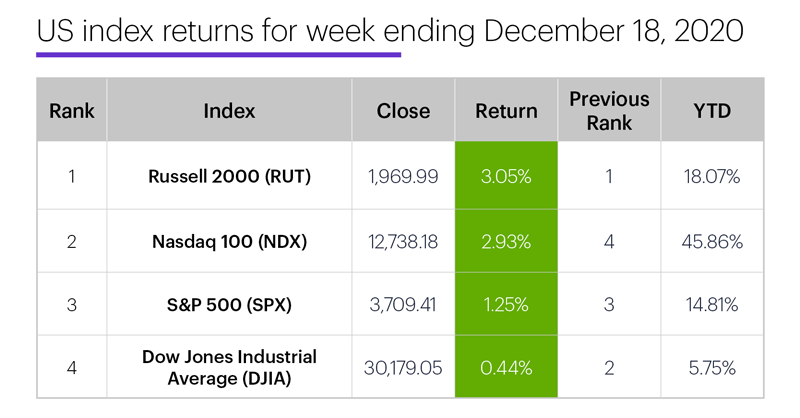 Source (data): Power E*TRADE
---
Sector roundup: The strongest S&P 500 sectors last week were information technology (+2.8%), consumer discretionary (+2.3%), and materials (+1.6%). The weakest sectors were energy (-4.3%), communication services (-0.7%), and industrials (-0.2%).
Highlight reel: On Tuesday Prevail Therapeutics (PRVL) jumped 82% to $22.75, while Mesoblast (MESO) tumbled 32% to $9.27 on Friday.
Futures action: February WTI crude oil (CLG1) pushed higher every day last week, closing Friday at a nearly 10-month high of $49.24. February gold (GCG1) rallied more than $55 on the week to $1,888.90/ounce. March US dollar index futures (DXH1) extended their slide, falling to a new contract low of 89.73 on Thursday.
Last week's biggest futures up moves: December bitcoin (BTCZ0) +26.5%, March silver (SIH1) +7.7%, January soybean meal (ZMF1) +6.6%. Biggest down moves: March cocoa (CCH1) -4.4%, January milk (DCF1) -3.7%, January VIX (VXF1) -3.6%.
Coming this week
The economic calendar is surprisingly crowded, given US stock exchanges close early on Thursday and don't open again until Monday:
●Tuesday: GDP (Q3 final), Consumer Confidence, Existing Home Sales
●Wednesday: Personal Income and Spending, PCE Price Index, FHFA House Price Index, New Home Sales, Consumer Sentiment (final)
●Thursday: Durable Goods Orders, US equity markets close at 1 p.m. ET.
This week's earnings include:
●Monday: Calavo Growers (CVGW), FactSet (FDS)
●Tuesday: CarMax (KMX), Cintas (CTAS)
●Wednesday: Paychex (PAYX)
Go to the E*TRADE market calendar for an up-to-date earnings schedule and complete list of splits, dividends, IPOs, and economic reports. The Active Trader Commentary also lists earnings announcements, IPOs, and economic report times each morning.
Market Mover Update: So far, December's doing its bit to take 2020 out on a high note. The S&P 500 is up around 2.4% so far this month, and if the year had ended Friday, its annual return would have been 14.8%—placing it comfortably in the top half of yearly gains since 1960.
Not bad, considering the SPX was down 32% on the year in March.
Click here to log on to your account or learn more about E*TRADE's trading platforms, or follow the Company on Twitter, @ETRADE, for useful trading and investing insights.
---
1 CNBC.com. Fed commits to keep buying bonds until the economy gets back to full employment. 12/16/20.
What to read next...
12/18/20
A trading range breakdown—and intraday rebound—could have traders wondering whether some short-sellers got caught leaning the wrong way.
---
12/17/20
Online auctioneer's upside reversal this week potentially disrupted a four-month downtrend.
---
12/16/20
Stock's recent retreat may be the prescription some bulls were looking for.
---