The momentum paradox
TTWO's Tuesday rally pushed shares to six-week high
Large open position in soon-to-expire call options
Similar moves sometimes followed by short-term weakness
While traders often expect momentum to immediately beget more momentum, the data suggest markets don't always work that way.
For example, since 1960, the S&P 500's (SPX) average return the day after a 3%-or-larger up day is -0.2%, while its average return the day after a -3%-or-larger down day is +0.4%.
Those results really aren't as counterintuitive as they may seem. After all, if a piece of bullish news prompts an unusually high number of investors and traders to buy a stock today, it makes sense that there will be fewer potential buyers tomorrow. As a result, prices sometimes stall or reverse in the near term.
That dynamic may have been on the minds of some traders yesterday who were watching gaming stock Take-Two Interactive Software (TTWO), which appeared on the LiveAction scan for unusual open interest (OI):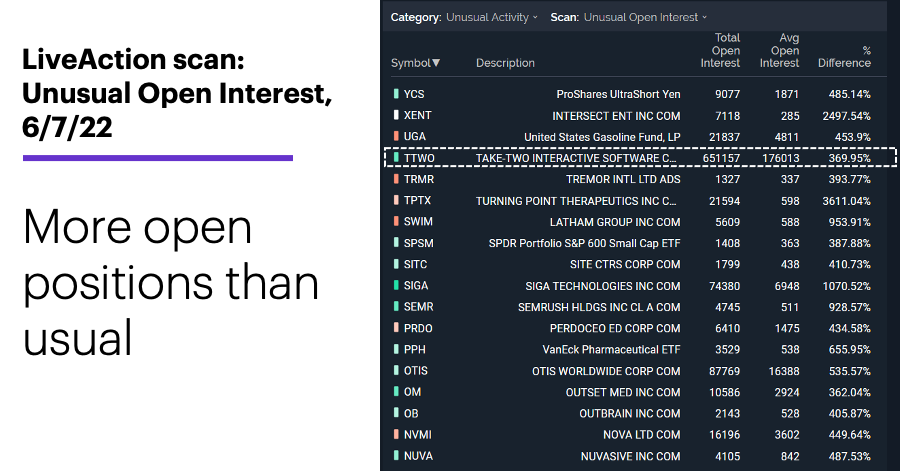 Source: Power E*TRADE. (For illustrative purposes. Not a recommendation.)
---
While TTWO had sizable open positions in several options, well over a third of its OI consisted of 12,500 contracts in the June $130 calls and 12,400 contracts in the June $150 calls. Also, call volume was heavier than usual in early trading, with most of the activity in calls expiring this Friday and on June 17.
Meanwhile, the stock rallied more than 6% intraday on Tuesday to hits its highest price ($134.82) since April 25—just a little more than three weeks after it had fallen to its lowest level since March 2020: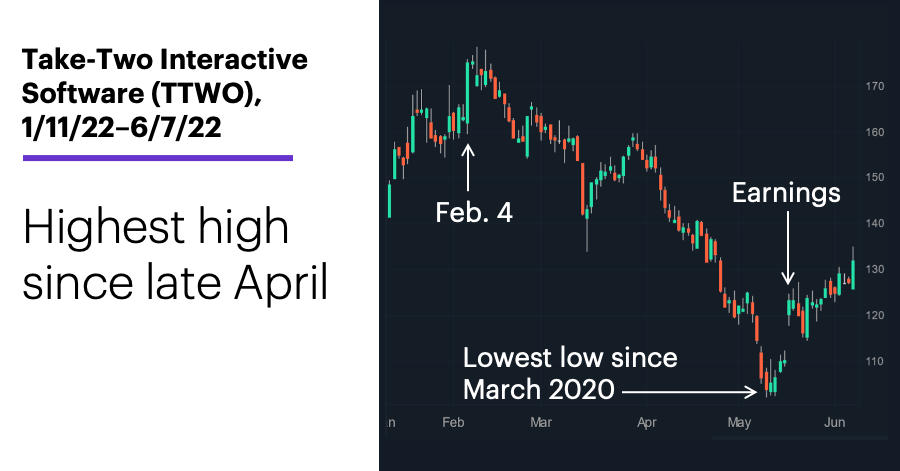 Source: Power E*TRADE. (For illustrative purposes. Not a recommendation.)
---
Before looking more closely at yesterday's price action, the stock's behavior around its most recent earnings release bears mentioning. On May 17, TTWO jumped 12% after posting its numbers, and as of yesterday it had climbed an additional 6%—conceivably an example of bullish momentum begetting more momentum. But notice that in the interim it pulled back as much as 7.2% (at May 23's low)—an example of the way price "overshoots" sometimes self-correct in the near term.
Now, it we look specifically at what TTWO has done after other days like Tuesday—rallied 5% or more intraday and closed at its highest level in at least 20 trading days (one month)—we see a similar tendency toward short-term weakness. After five days, the stock was lower more than half the time, with a median return of -0.5%.1 (The most recent example of a day fitting yesterday's pattern was February 4.)
Sustained price moves, up or down, require fuel in the form of additional (or more aggressive) buyers or sellers. Big one-day price moves can mean more traders and investors than usual have piled into a market—and that can sometimes mean the tank has temporarily run dry.
Market Mover Update: Amazon (AMZN) posted a healthy rally on Monday on its first day of post-split trading (although it closed well off its highs), but it lost ground yesterday despite a broad-market rally.
Today's numbers include (all times ET): Mortgage Applications (7 a.m.), Preliminary Wholesale Inventories (10 a.m.), EIA Petroleum Status Report (10:30 a.m.).
Today's earnings include: Campbell Soup (CPB), Thor Industries (THO), Ollie's Bargain Outlet (OLLI), Five Below (FIVE).
Click here to log on to your account or learn more about E*TRADE's trading platforms, or follow the Company on Twitter, @ETRADE, for useful trading and investing insights.
---
1 All figures reflect Take-Two Interactive Software (TTWO) daily price data, 4/15/97–6/7/22. Supporting document available upon request.
What to read next...
06/07/22
Those attracted to this year's energy rally should remember that fast markets don't always reward fast traders.
---
06/06/22
Stocks pull back, oil jumps as markets move into June.
---
05/31/22
Stocks have a shot at a positive month after stopping seven-week skid.
---