Sifting through mixed messages
LCII fell nearly 8% intraday Tuesday, recouped most of loss by close
Options action: Put-call ratio topped 110
Potential for a head fake?
The markets—especially when they're volatile—often seem to want to lure traders into making rushed decisions before an "opportunity" disappears. It's a temptation they would be wise to avoid.
Consider what happened yesterday in LCI Industries (LCII), which manufactures components for RVs and other large vehicles (buses, etc.). It landed on yesterday's LiveAction scan for high put-call ratios, with 114.5 puts trading for every call around midday: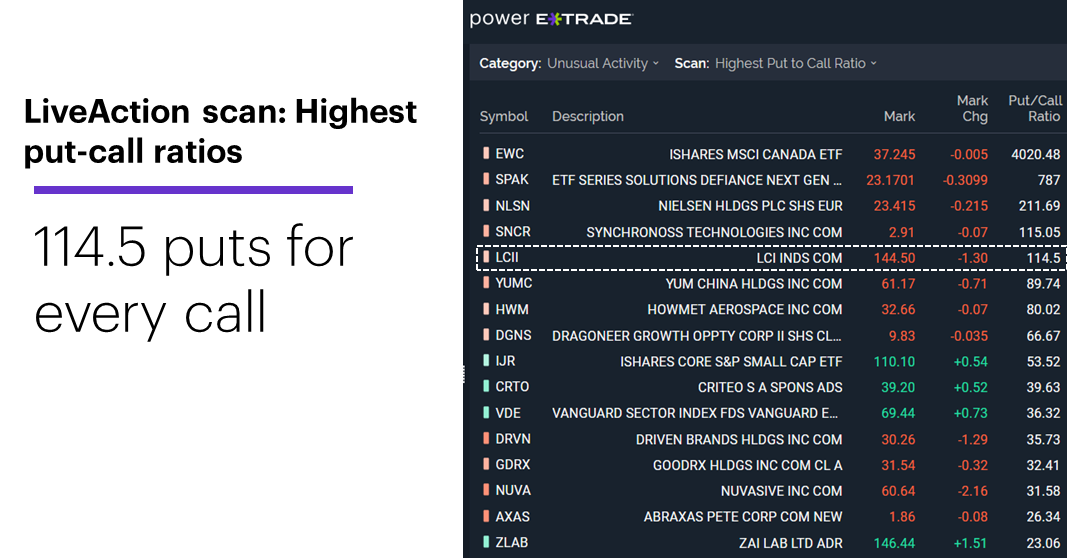 Source: Power E*TRADE (For illustrative purposes. Not a recommendation.)
---
At the time, that was actually the highest put-call ratio for any individual stock trading above $25/share.
Two general observations about high put-call ratios:
1. Since puts are more often used to take short positions than long ones, a high put-call ratio is sometimes seen as a sign of bearish sentiment.
2. However, exceptionally high put-call ratios are sometimes viewed as the opposite: a signal that bearish sentiment could be reaching an extreme (i.e., highlighting a potential low), especially if the market in question has fallen dramatically and/or for a long time.
With those thoughts in mind, let's take a look at LCII's chart, which shows the stock fell nearly 8% intraday yesterday before rallying to trim that loss to around 1.5% by 2 p.m. ET: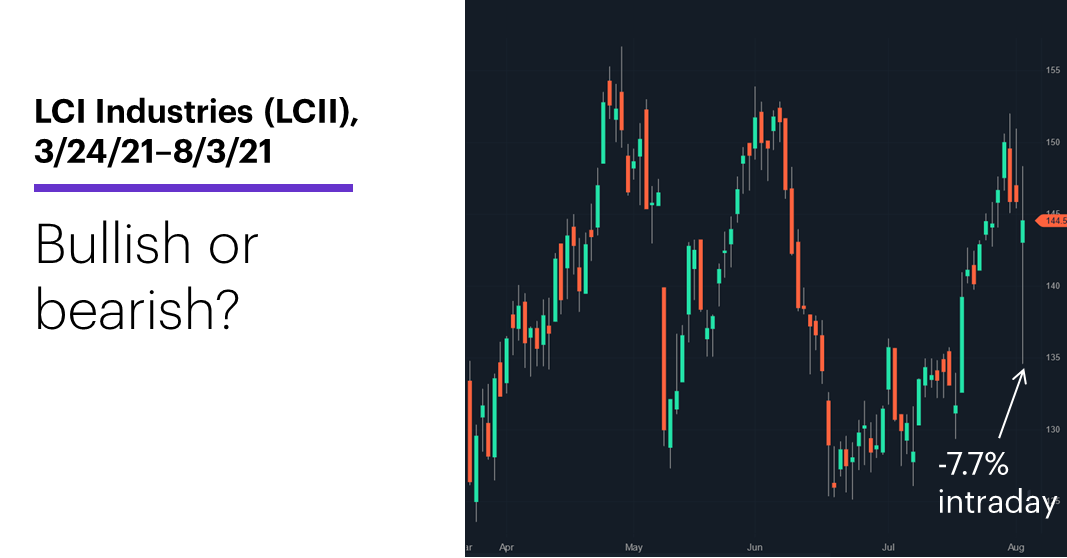 Source: Power E*TRADE (For illustrative purposes. Not a recommendation.)
---
The culprit for that volatility, as one might suspect, was earnings (the company topped revenues but missed its headline earnings number1).
Some traders may look at this type of sharp sell-off and intraday rebound—especially when accompanied by a high put-call ratio—as an indication of potential "bearish capitulation" and a mini short squeeze: Sellers rushed in first on the initial news, but got stampeded by bulls who took control of the price action later in the day.
But the fact that LCII has not been in an extended or extreme downtrend—it's actually relatively close to the highs of its multi-month consolidation—may throw a little cold water on the idea that yesterday's put-call ratio marked a potential panic-selling low. Also, traders who looked at similar intraday reversals would have found out that the stock was lower a week after them as many times as it was higher (the most recent example occurred on February 9).2
Volatile price moves can sometimes lead traders to make knee-jerk decisions, but traders who take the time to put all the available information into context sometimes find out a situation isn't always what it appears to be at first glance.
The final five months: How has the stock market tended to perform in the final five months of the year after strong January-July rallies like this year's? The following table shows the average August-December return after the nine-biggest January-July returns since 1960 is 2.2%—less than the average return for all August-Decembers: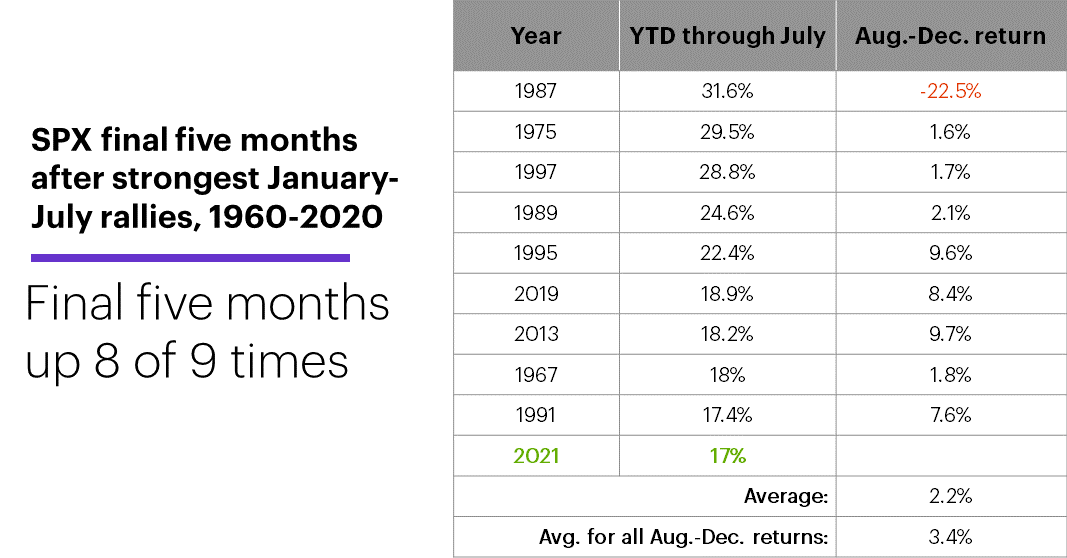 Source (data): Power E*TRADE. (For illustrative purposes. Not a recommendation.)
---
But look a little closer and you'll notice that only one of those returns was negative—1987, the year of the Black Monday crash. Take that away, and the average August-December return for the other eight years jumps to 5.3%
Market Mover Update: Despite ongoing regulatory threats, Chinese stocks have stabilized in recent days after the MSCI China index tumbled to a 13-month low last week. Morgan Stanley analysts shared some insights on the factors traders may want to keep in mind when considering the potential for a rebound in Chinese stocks.
Even though crude oil sold off for a second-straight day on Tuesday, energy stocks were the strongest S&P 500 sector—thanks to some big gains by ConocoPhillips (COP) and Phillips 66 (PSX), which released earnings in the pre-market, and Occidental Petroleum (OXY), which announced after the bell.
Today's numbers include (all times ET): Mortgage Applications (7 a.m.), ADP Employment Report (8:15 a.m.), PMI Composite Final (9:45 a.m.), ISM Services Index (10 a.m.), EIA Petroleum Status Report (10:30 a.m.).
Today's earnings include: AMC Entertainment (AMC), Electronic Arts (EA), Royal Caribbean Cruises (RCL), CVS Health (CVS), Vulcan Materials (VMC), Kraft Heinz (KHC), General Motors (GM), ETSY (ETSY), Q2 (QTWO), Uber (UBER).
Today's IPOs include: Worksport (WKSP), Better Being (BBCO).
Click here to log on to your account or learn more about E*TRADE's trading platforms, or follow the Company on Twitter, @ETRADE, for useful trading and investing insights.
---
1 StreetInsider.com. LCI Industries (LCII) Earnings. 8/3/21.
2 Reflects LCI Industries (LCII) daily price data, 9/12/89–8/3/21. Referenced price pattern ("similar intraday reversals) is a day the stock 1) trades down at least 5% intraday but closes above the opening price and less than 2% below the previous close (36 instances). Supporting document available upon request.
What to read next...
08/03/21
Sometimes markets react to news, but other times they can appear to be anticipating it.
---
08/02/21
Stocks tread water the final week of July, but still closed out the month near record highs.
---
07/29/21
Big options trades cross the tape as retailer hovers near key level.
---