Minding the gaps
CRM gapped lower after announcing acquisition of Slack
Pullback filled huge August up gap
Traders eyeing possible closure of recent down gap?
When Salesforce (CRM) showed up on a scan for relatively low implied volatility (IV) yesterday morning, it was a potential signal to traders to look for option-buying opportunities, since low IV often means lower options prices.
Salesforce's call options were certainly cheaper than they were toward the end of last month, thanks to a sharp sell-off beginning on November 25 that peaked with the December 1–2 down gap after CRM released earnings—and announced a $27.7 billion deal to acquire workplace communications company Slack (WORK):1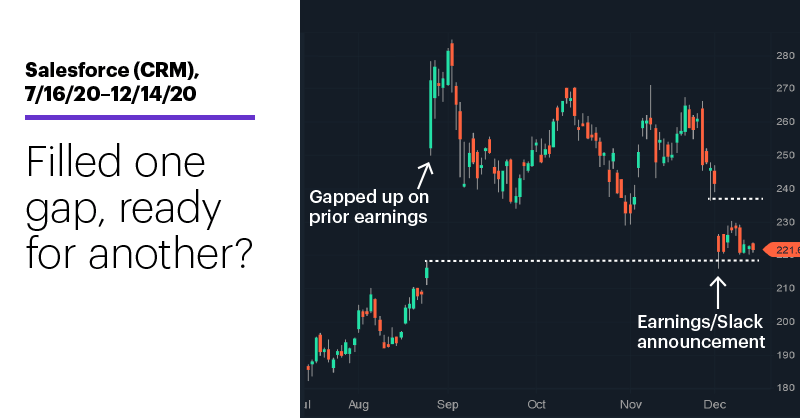 Source: Power E*TRADE
---
The stock's stabilization since December 2 after a 22% decline from its September high helps explain why its IV has declined. But there are three other things to note about the recent price action:
1. CRM crushed its headline earnings number ($1.74 per share vs. the $0.75 estimate) and topped revenue forecasts, too.2 But because big acquisitions often mean big expenditures and temporary business disruptions, investors often discount the prices of the company doing the buying—which may at least partially explain the December 2 down gap.
2. That gap-creating drop just happened to fill the huge up gap the stock made after its previous earnings release in August.
3. The stock has held above the December 2 sell-off low for the better part of two weeks, which may encourage bulls to use this level as a risk point (i.e., to exit long positions if the stock breaks below it).
Because many technicians often look for prices to reverse direction after filling gaps, traders who watched the stock stabilize after closing the August down gap may see the more recent up gap (the top of which is marked by the short dashed line around $236) as a near-term price target in a potentially oversold stock. A rally to that level would represent a relatively modest 7% bounce from the stock's level early yesterday afternoon around $221.
For some perspective on the options side of things, yesterday a February $220 call was trading around 14.50 ($1,450)—pricey, perhaps, but less than half of where it closed on November 30 (31.85). That means a rally back to that level would represent a 120% gain.
The following chart shows a February $220–$240 call spread (long the lower-strike call and short the higher-strike call)—the type of limited-risk, limited reward strategy that more conservative bullish  traders may be considering:
Source: Power E*TRADE
---
The position's maximum risk is $775 (the cost to put on the spread) no matter how far prices drop, while it has a maximum potential profit of $1,225, no matter how far above $240 the stock rallies. It has the potential to return at least some profit if the stock is trading between the two strikes before expiration.
Market Mover Update: Dycom (DY) fell more than 3% yesterday, but not before hitting a 26-month high and extending its December rally to more than 26% after closing November at a seven-week low of $63.33 (see "Industrial strength small-cap action").
Today's numbers (all times ET): Producer Price Index, PPI (8:30 a.m.), Consumer Sentiment (10 a.m.).
Click here to log on to your account or learn more about E*TRADE's trading platforms, or follow the Company on Twitter, @ETRADE, for useful trading and investing insights.  
---
1 The Wall Street Journal. Salesforce Confirms Deal to Buy Slack for $27.7 Billion. 12/1/20.
2 StreetInsider.com. Salesforce (CRM) Tops Q3 EPS by 99c, Offers Q4 Guidance and FY22 Guidance. 12/1/20.
What to read next...
12/14/20
Tech and large caps may have slumped last week (after hitting new records, of course), but small caps maintained their bullish stance.
---
12/11/20
Unusual options action shines light on stock as it approaches key resistance.
---
12/10/20
Two trading ranges highlight potential inflection points.
---