Stormy start to May
Stocks rock, roll, then roll some more amid rate hike and jobs report
Energy sector rides oil's latest upswing
This week: Inflation (CPI and PPI), consumer sentiment
The US stock market's losing streak now stands at five weeks after bears wrested a busy, volatile first week of May from the bulls.
The S&P 500 (SPX) jumped 3% on Wednesday (its best day since May 2020) as the Federal Reserve hiked interest rates by 0.5%, then tumbled 3.6% on Thursday (its second-worst day since June 2020). But Friday's drop—despite a stronger-than-expected jobs report—knocked the week out of the plus column and dropped the SPX to a new correction closing low: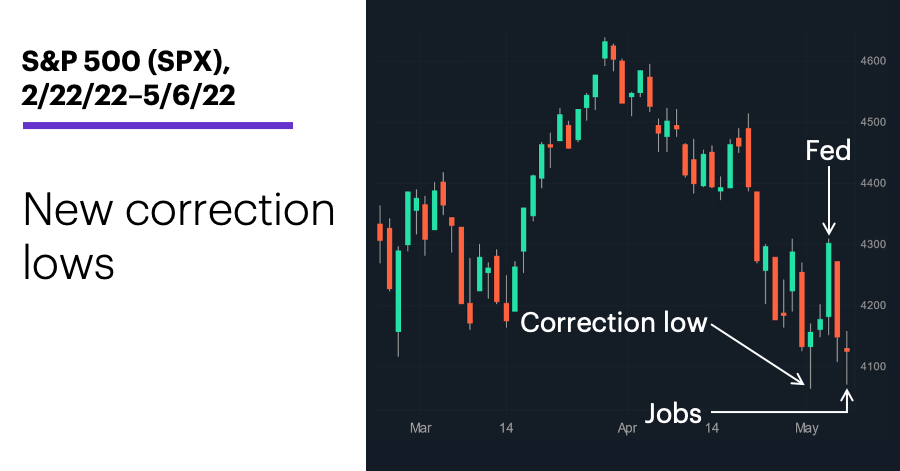 Source: Power E*TRADE. (For illustrative purposes. Not a recommendation.)
---
The headline: Stocks test correction lows to start May.
The fine print: The big stories may have been the Fed's first 0.5% rate hike since 2000 and the monthly jobs report, but on Thursday the Bureau of Labor Statistics reported that worker productivity fell 7.5% in Q1—the biggest drop in nearly 75 years—while labor costs increased 11.6%, more than they have since Q3 1982.1
The number: 428,000, the number of new jobs the US economy added in April—above the 400,000 estimate.
The move: The US 10-year T-note yield cracked the 3% threshold last week for the first time since December 2, 2018, and Friday's peak of 3.13% was its highest level since November 15, 2018.
The quote: "A 75 basis point increase isn't something the committee is actively considering." Federal Reserve Chairman Jerome Powell downplaying the odds of a 0.75% rate hike for the next few policy meetings—a statement widely credited as the catalyst for Wednesday's huge rally.2
The scorecard: The SPX and the Dow Jones Industrial Average (DJIA) posted the week's smallest losses: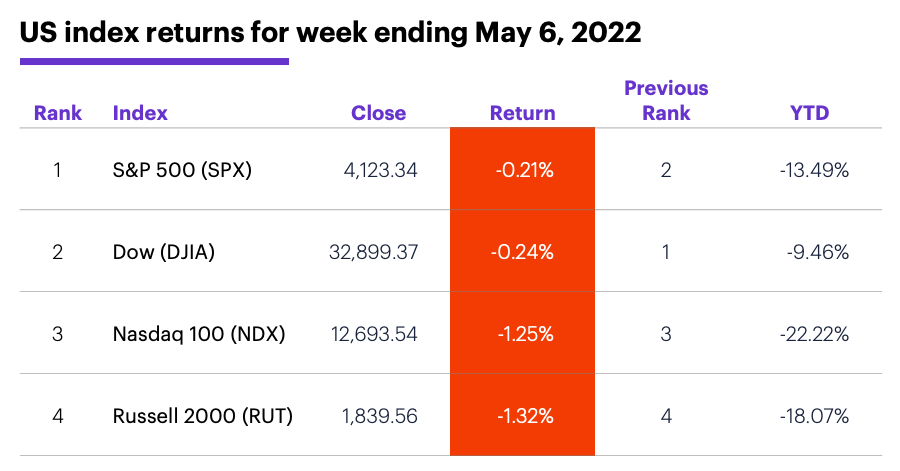 Source (data): Power E*TRADE. (For illustrative purposes. Not a recommendation.)
---
Sector roundup: The strongest S&P 500 sectors last week were energy (+10.2%), utilities (+1.4%), and communication services (+1.2%). The weakest sectors were real estate (-3.8%), consumer discretionary (-3.2%), and consumer staples (-1.4%).
Highlight reel: TransMedics (TMDX) +40% to $30.69, Super Micro Computer (SMCI) +31% to $56.72, Tupperware Brands (TUP) -32% to $12.15, and Lyft (LYFT) -30% to $21.56—all on Wednesday. The Joint Corp. (JYNT) -38.% to $17.41 on Friday.
Futures action: As OPEC and its allies announced a relatively small production increase for next month (432,000 barrels/day),3 June WTI crude oil (CLM2) closed Friday at a six-week high of $109.77/barrel. After falling to a nearly three-month low of $1,849.70 last Wednesday, June gold (GCM2) ended the week modestly lower at $1,882.80/ounce. Biggest up moves: June natural gas (NGM2) +10.9%, June Russian ruble (R6M2) +10.3%. Biggest down moves: June palladium (PAM2) -11.6%, July lumber (LBSN2) -9.4%.
Coming this week
Inflation data headlines this week's economic calendar:
●Today: Wholesale Inventories, Consumer Inflation Expectations
●Tuesday: NFIB Small Business Optimism Index
●Wednesday: Consumer Price Index (CPI)
●Thursday: Producer Price Index (PPI)
●Friday: Import Price Index, Michigan Consumer Sentiment (preliminary)

This week's earnings include:
●Today: BioNTech (BNTX), Microchip (MCHP), Tyson Foods (TSN), Lemonade (LMND), RingCentral (RNG), Blink Charging (BLNK), XPO Logistics (XPO), Upstart (UPST), Palantir (PLTR)
●Tuesday: Warner Music (WMG), Peloton (PTON), Hyatt Hotels (H), Trade Desk (TTD), Coinbase (COIN), Roblox (RBLX), Electronic Arts (EA), Li Auto (LI)
●Wednesday: Toyota (TM), Wendy's (WEN), Beyond Meat (BYND), Rivian (RIVN), Bumble (BMBL), Disney (DIS), Coupang (CPNG)
●Thursday: Tapestry (TPR), BRC (BRCC), Veru (VERU), Squarespace (SQSP), Toast (TOST), Duolingo (DUOL)
●Friday: Honda Motor (HMC), New York City REIT (NYC)

Check the Active Trader Commentary each morning for an updated list of earnings announcements, IPOs, economic reports, and other market events.
Checking in on earnings season. So far, Q1 reporting season appears to be reflecting some of Morgan Stanley's slowdown forecast.4 As of April 29, the S&P 500's "blended" year-over year earnings growth rate (actual results plus estimates for unreleased earnings) was around 7.1%—which, if it turns out to be the end result for the quarter, would be the lowest rate since the fourth quarter of 2020.5
Dollar for your thoughts. Last week the US dollar index (DXY) hit its highest level since December 2002, and is up more than 8% for the year. Morgan Stanley Wealth Management recently pointed out that while a stronger dollar may benefit companies and consumers in the near term because it would makes imports cheaper (potentially easing inflationary pressures), on a longer-term basis it could further tighten financial conditions—complicating the Fed's goal of taming inflation without slowing the economy.6
Five-week losing streaks...and the VIX. Since 1957, the SPX has closed lower in five consecutive weeks 26 other times—the last time in 2011. In 13 of those cases, the index closed higher the next week 13 times (although seven of these instances occurred before 1970) and lower 10 times. There have been only three other instances of the losing streak extending beyond six weeks without an interruption—1980 (seven weeks), 2001 (eight weeks), and 1971 (nine weeks).
Finally, while the SPX closed lower last Friday and for the week, the Cboe Volatility Index (VIX) matched it with lower closes of its own, which implies the options market was expecting less volatility even though stocks had fallen to fresh lows
Click here to log on to your account or learn more about E*TRADE's trading platforms, or follow the Company on Twitter, @ETRADE, for useful trading and investing insights.
---
1 CNBC.com. Worker output fell 7.5% in the first quarter, the biggest decline since 1947. 5/5/22.
2 The Wall Street Journal. Stock Indexes Close Sharply Higher After Powell Pours Cold Water on Idea of Larger Rate Increase. 5/4/22.
3 Reuters.com. OPEC+ sticks to modest oil output hike despite price rally. 5/5/22.
4 MorganStanley.com. U.S. Stocks and the Oncoming Slowdown. 4/25/22.
5 FactSet.com. Earnings Insight. 4/29/22.
6 MorganStanley.com. Why Investors Need to Watch the Rising Dollar. 5/3/22.
What to read next...
05/06/22
Formerly high-flying cybersecurity stock's volatility at one-year high as sell-off nears key levels.
---
05/05/22
Consumer defensive stock's put volume jumps with a week to go until earnings.
---
05/04/22
Industrial stock tests support after pulling back from March record highs.
---