Solid as a rock, or shaky foundation?
On Monday USCR jumped to its highest level since February
Stock has more than tripled since mid-March
Many of the stock's longer-term breakouts have common theme
If you wanted to put together a "usual suspects" list for stocks that are likely to have heavy options volume on any given day, you'd probably want to start with: the largest of large caps (regardless of sector), big tech, recent hot IPOs, companies releasing earnings, and any merger or takeover names.
So, when you a see a ticker that doesn't necessarily fit neatly into one of these categories, it can sometimes tip you off to overlooked market action.
Example: U.S. Concrete's (USCR) appearance yesterday on the scan for unusual options volume: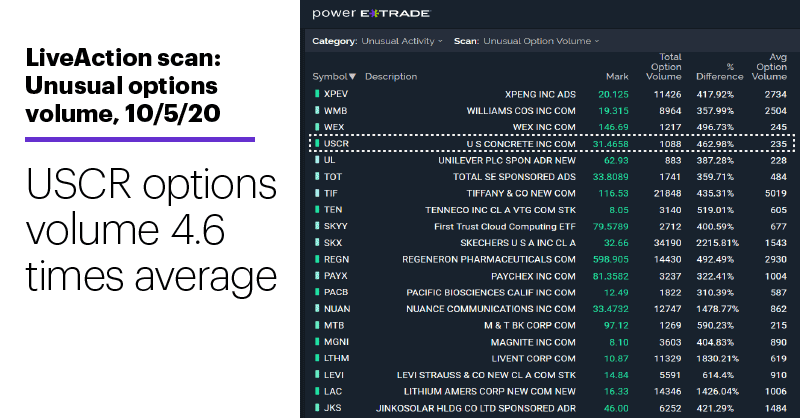 Source: Power E*TRADE
---
In early trading, USCR options volume was running around 4.6 times average—not exceptionally high, but given USCR has average daily stock volume of around 280,000 and is in the less-than-sexy materials sector (yes, it makes concrete, crushed stone, and the like), some traders may have wondered if something unusual was going on.
While no one's going to mistake USCR and its cohorts for cloud stocks or biotech, the truth is that the materials sector has been on an undeniable momentum roll recently—it's been one of the three-strongest S&P 500 sectors over the past six-month, three-month, and one-month time windows.
The strongest industry within it? Construction materials—the territory of companies like USCR, which supplies raw materials for, among other things, the housing boom that unexpectedly emerged during the pandemic. In addition to all the monthly housing-market data that have come in above expectations (especially over the past two months), last week's construction spending number for August was double the consensus forecast (1.4% vs. 0.7%), and the July number was revised upward from 0.1% to 0.7%.1
The following chart shows USCR is up more than 220% from its March low, with yesterday's 6%-plus surge breaking the stock out to a 153-day high.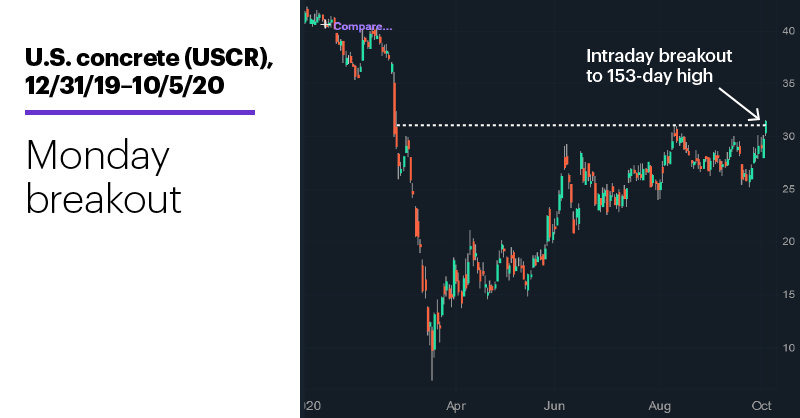 Source: U.S. Census Bureau
---
While longer-term players who anticipate sustained sector tailwinds may be eying a challenge to the stock's pre-pandemic highs after yesterday's breakout, traders understand the road to any target is likely to have many twists and turns. In this case, those who crunched the numbers may have discovered that USCR's past upside breakouts of this size have some interesting characteristics:
1. Five days after 153-day (or longer) upside breakouts, USCR was lower 62% of the time.
2. Its median return after five days was -0.34%.2
In other words, more often than not USCR was weaker than average after these breakouts—in the short-term. (It's just one example, but the last one occurred on September 27 of last year—check out the chart.) That may give bullish traders (and investors) reason to consider long-side trades only after the stock has given back some of its recent gains.
The risk of waiting for a pullback in a market with strong upside momentum is that a retreat may not happen until the move has run its course. But long-time traders understand that since tomorrow's another day—there will always be other opportunities—there's no point in rushing into trades that may put you immediately in the hole.
Market Mover Update: Regeneron (REGN) appeared to get a boost from its COVID treatment being used on President Trump—the stock rallied nearly 10% intraday on Monday, although it pulled back later in the session.
Gold followed through on last week's rebound, with December futures (GCZ0) rallying above $1,920 yesterday. CarMax (KMX) posted its third-straight up day since falling to a nearly three-month low (see "Where the earnings rubber meets the trading road").
Today's numbers (all times ET): Balance of Trade (8:30 a.m.), JOLTS (10 a.m.), Fed Chairman Jerome Powell speaks at the National Association for Business Economics annual meeting (10:40 a.m.).
Today's earnings include: Levi Strauss (LEVI), Paychex (PAYX).
Click here to log on to your account or learn more about E*TRADE's trading platforms, or follow the Company on Twitter, @ETRADE, for useful trading and investing insights.  
---
1 Econoday. Construction Spending. 10/5/20.
2 Based on U.S. Concrete (USCR) daily price data, 10/15/10–10/5/20, and reflecting the following breakout pattern: The first day (if part of a series) with a high and closing price above the maximum high and closing prices of the past 153 trading days. Supporting document available upon request.

What to read next...
10/05/20
The market rebounded last week, but not without more volatility amid a White House coronavirus outbreak and the latest jobs data.
---
10/02/20
Traders lean toward energy stock's put options as crude oil market approaches key level.
---
10/01/20
Semiconductor stock's recent underperformance may be attracting the attention of opportunistic contrarians.
---