A materials issue
Materials sector +20% YTD despite recent retreat
Big merger may draw attention to related stocks
Heavy call options volume in consolidating FTAI
If the materials sector hadn't already been the second-strongest S&P 500 sector over the past year, it would probably still be getting a fair amount of attention because of anticipation over future infrastructure spending.
While the Capitol Hill tug-of-war over the size of the package continues, most market watchers expect some sort of deal to be struck, including Morgan Stanley analysts, who see the potential for a longer-term infrastructure "supercycle"—something that could, arguably, keep upside pressure on the stocks of companies supplying the raw materials for these projects.
A couple of those names were very much in the news yesterday: Vulcan Materials (VMC) announced it would buy U.S. Concrete (USCR) for $1.3 billion,1 sending the latter stock up 29% on the day.
While that may be one long-side play that's come and gone, what may have interested some traders was the positioning of other stocks in the space—such as Martin Marietta (MLM), which, like many materials stocks (including VMC), has pulled back after setting multi-year or record highs in early May: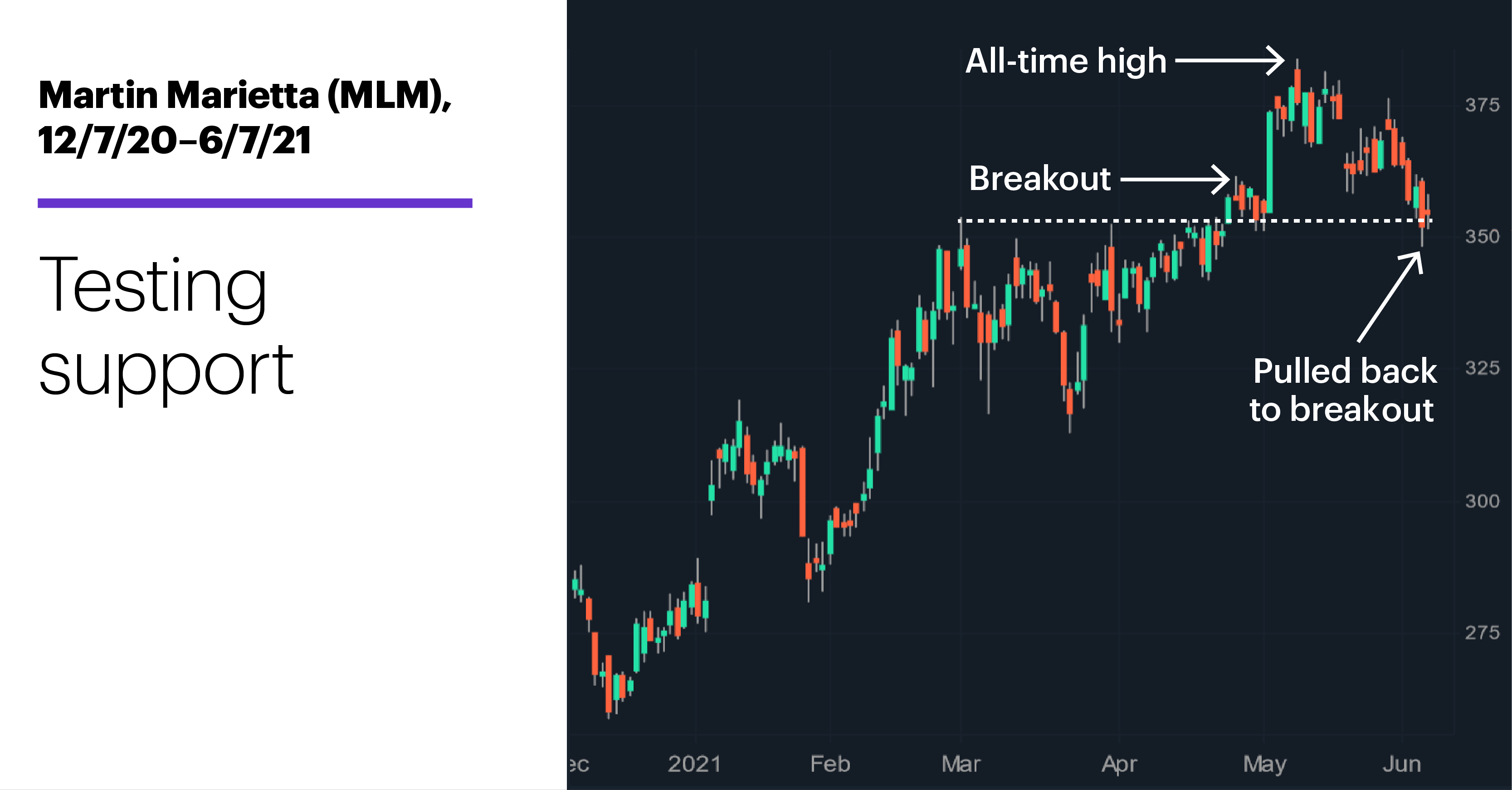 Source: Power E*TRADE
---
This chart shows MLM recently pulled back to a conspicuous price level: the potential support of its late-April breakout level (roughly $352–$353). As discussed in "Playing the breakout," while there's no guarantee prices will hold at these points (or even test them in the first place), many traders watch them in anticipation of potential price pivots.
A final note on options: While implied volatility (IV) for MLM's June options was well above average yesterday, IV for July options was running a little below its 30-day average.
Market Mover Update: On the topic of infrastructure, Fortress Transportation and Infrastructure (FTAI), which has average daily stock volume of less than 500,000 shares, had call options volume yesterday in excess of 14,000 contracts (representing 1.4 million shares of stock)—nearly 43 times average.
The eye-grabbing prints were 4,000-contract trades in both the August $32 and $40 calls. Although it's impossible to know whether a large trader was putting on a bullish vertical spread, the stock eventually rallied more than 3% intraday and climbed closer to the upper boundary of its two-and-a-half-month trading range: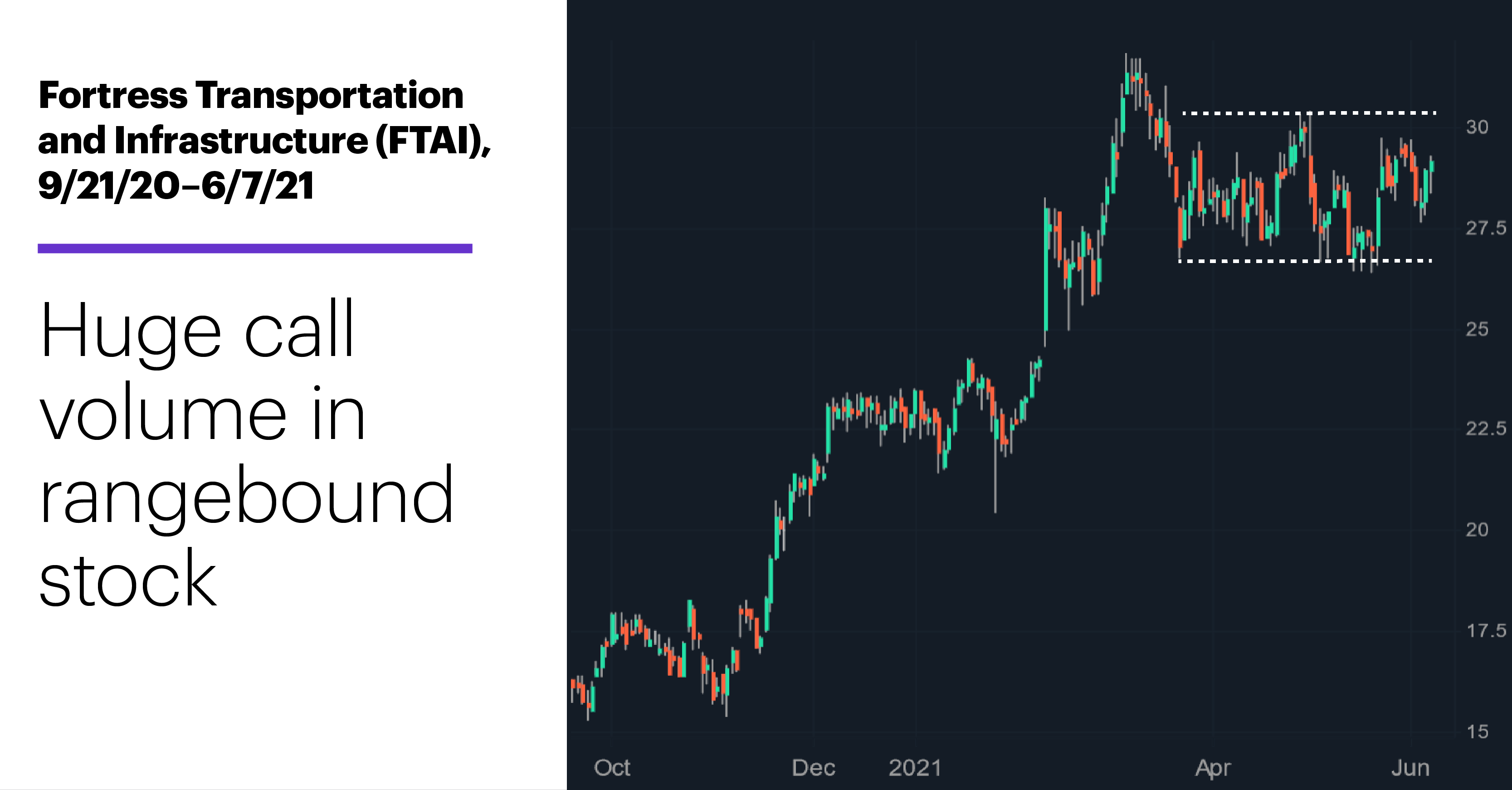 Source: Power E*TRADE
---
Yesterday the Food and Drug Administration approved Biogen's (BIIB) Alzheimer's drug, aducanumab,2 and the stock didn't disappoint: Shares shot up as much as $182 (64%) intraday, shattering BIIB's six-month trading range (see "Volatility and market expectations").
Today's numbers include (all times ET): NFIB Small Business Optimism Index (6 a.m.), International Trade in Goods and Services (8:30 a.m.), JOLTS (10 a.m.).
Today's earnings include: UiPath (PATH), Casey's General Stores (CASY),
Click here to log on to your account or learn more about E*TRADE's trading platforms, or follow the Company on Twitter, @ETRADE, for useful trading and investing insights.
---
1 MarketWatch.com. U.S. Concrete stock surges after Vulcan Materials buyout deal valued at $1.29 billion. 6/7/21.
2 Bloomberg.com. Biogen Alzheimer's Drug Approved in Disease Landmark. 6/7/21.
What to read next...
06/03/21
A real estate stock breaks out: Missed opportunity or signal for future setup?
---
06/02/21
Traders may have started paying more attention to silver (and silver stocks) recently, as the "other precious metal" has again been outperforming gold.
---
06/01/21
Stocks close out May on up note, head into June with two-week win streak.
---