Material issue
Materials/industrials have performed well in Dec. in recent years
Other individual stocks have shown tendency to outperform at year-end
Potential sweet spot: Stocks with bullish setups in favored sectors
December may be a traditionally bullish month for the stock market (in some respects, the most bullish month), but last year's year-end dumpster fire is a good reminder that there's no such thing as a sure thing. But even when a bullish December unfolds, it doesn't mean traders can simply throw darts and expect to cash in by New Year's Eve.
One approach some experienced short-term traders may take is to look at areas of the market (or individual stocks) that have shown a tendency to outperform at the end of the year, and see if any of them are currently indicating they could potentially do the same this year.
In other words, the goal is not to buy a poorly performing sector or stock simply because it's sometimes done well in past Decembers, but to find specific names exhibiting upside momentum that also have the bonus of being in a corner of the market with a possible year-end bias.
One study, for example, showed that two sectors, industrials and materials, have performed a little better than others in December over the past 20 years.1 That's not a huge sample size (and it's worth noting that industrials stocks were at the bottom of last week's sector pile), but it could lure momentum-seeking traders to certain stocks—say, materials bellwether Martin Marietta (MLM):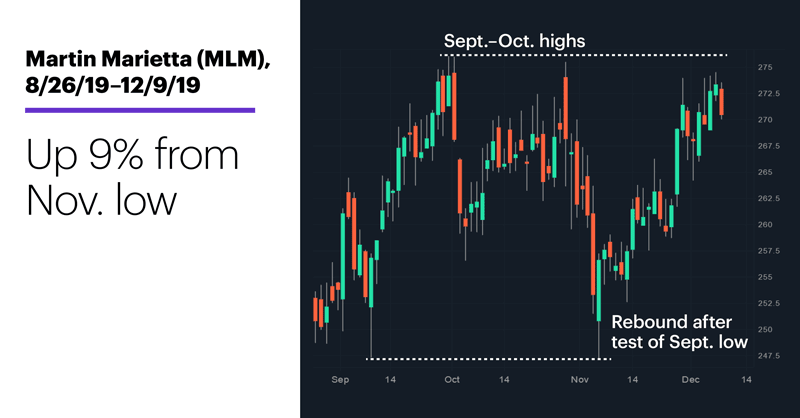 Source: Power E*TRADE
---
MLM is conspicuous in that it's already up more than 55% in 2019 (regular readers may remember it being mentioned once or twice in this space over the past year), and also because it recently rallied close to its September–October (and all-time) highs. The most recent upswing marks the second time in the past couple of months MLM has knocked on the door of its September 30 all-time high of $275.99—and the first since the stock mounted a roughly 9% rally after testing its September low.
But there are also individual stocks that have shown more late-year bullish momentum than others (regardless of sector), including consumer staples giant Procter & Gamble (PG)—one of several names that have outperformed the S&P 500 over the past five Decembers.2
Unlike some of the other stocks on this list, though, PG has (like MLM) made a recent run toward its record highs after spending almost the entire year in an uptrend (+35% year to date):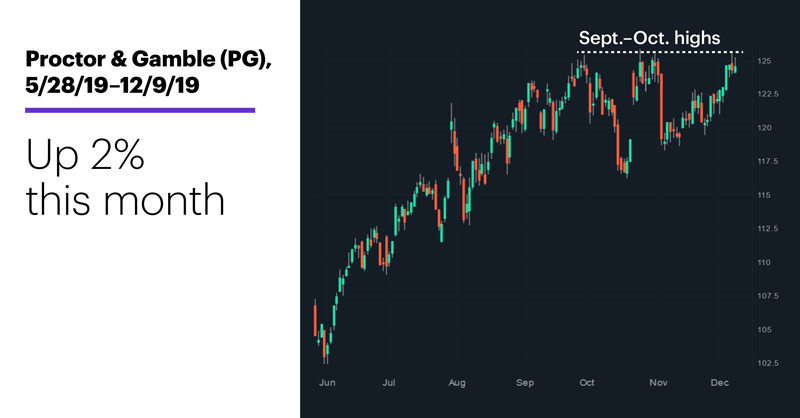 Source: Power E*TRADE
---
While momentum traders may look at charts like these and start thinking about immediate upside breakout potential, patient bulls may opt to look for buying opportunities after a pullback. (Yesterday MLM and PG were trading below Friday's highs).
Both stocks recently bumped their heads on the resistance of their recent record highs, but resistance nonetheless remains resistance until it's broken. New highs are never guaranteed, but sometimes it's the third (or fourth...) time that turns out to be the charm.
Market Mover Update: Another stock that has outperformed in December over the past five years is Home Depot (HD), which rallied more than 1% yesterday as the broad market struggled (see "Hardware stock seeks to rehab trend"). Luckin Coffee (LK) also perked up yesterday, jumping more than 3% intraday (see "A whole latte price action").
Today's numbers (all times ET): Productivity and Costs (8:30 a.m.), FOMC meeting starts.
Today's earnings include: Autozone (AZO), Dave & Buster's (PLAY), Designer Brands (DBI), Ollie's Bargain Outlet (OLLI), Progressive (PGR), Cantel Medical (CMD), HD Supply (HDS).
Click here to log on to your account or learn more about E*TRADE's trading platforms, or follow the Company on Twitter, @ETRADE, for useful trading and investing insights. Online stock, ETF, and options trades1 are now commission-free.
---
1 CXOAdvisory.com. Sector Performance by Calendar Month. 1/2/19.
2 Investor's Business Daily. Now's The Best Time To Own Stocks (Especially These Eight). 12/3/19.
What to read next...
12/09/19
Stocks rebound from first real pullback since October.
---
12/06/19
Home Depot made the news a couple of weeks ago, but things may be more interesting now that it's no longer in the spotlight.
---
12/05/19
Was yesterday's rebound a head fake or the end of the dip? We crunch some numbers to help find out.
---