Market upswing, Fed in the wings
Russell 2000 posts biggest weekly gain since 2016
SPX, Dow less than 1% from records amid trade-war truce
This week: Four letters—F-O-M-C
Heading into this week's key Federal Reserve announcement, the S&P 500 (SPX) rolled to near-record highs, lifted by the US and China exchanging olive branches, a helpful European Central Bank, and red-hot small-cap stocks.
On Thursday the SPX pushed to its highest level since July 29, and despite sagging a little on Friday, it closed less than 0.7% below its all-time high and booked its first three-week winning streak since June: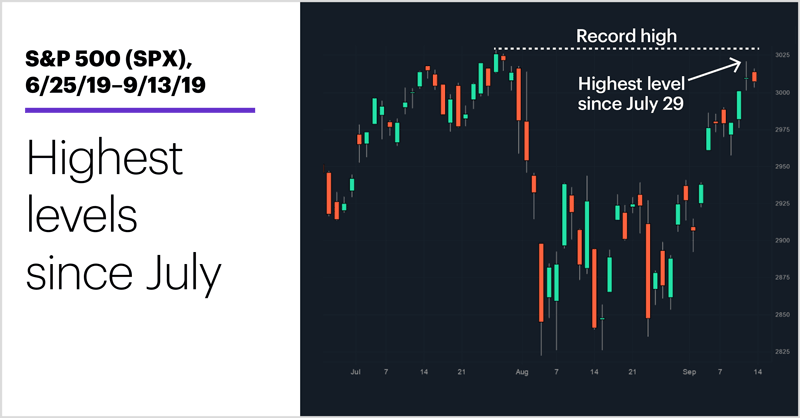 Source: Power E*TRADE
---
With trade talks still on track for next month, both China and the US took steps to "make nice." After China on Wednesday announced exemptions to some of its tariffs, the White House reciprocated by postponing the tariffs it had scheduled to kick in on October 1.1 China followed up Thursday by encouraging purchases of American soybeans and pork.
Meanwhile, the European Central Bank's (ECB) decision to engage in quantitative easing (buying bonds to tamp down interest rates) gave bulls reason to hope that central banks around the world will work in concert to stimulate the global economy.2
And then there's the small-cap story. While recent market chatter has revolved around the rotation out of growth stocks and into value, there was also a major push into small caps, as the Russell 2000 (RUT) rang up a monster 4.85% gain—three times as big as the next-closest US index: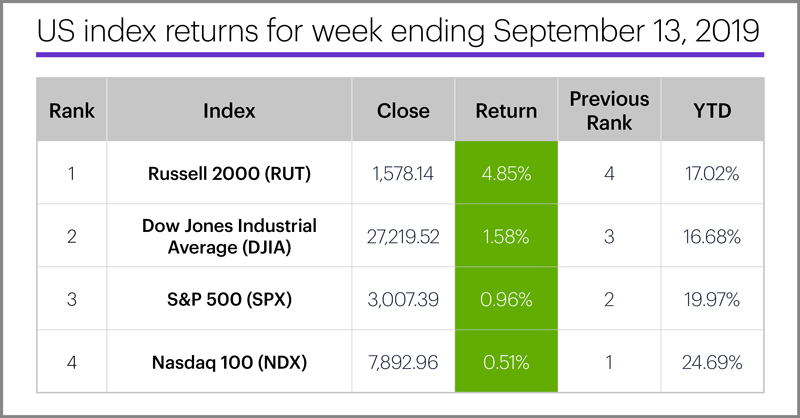 Source: Power E*TRADE
---
Sector roundup: The strongest S&P 500 sectors last week were financials (+3.9%), materials (+3.4%), and industrials (+3.3%). The weakest sectors were real estate (-3.3%), consumer staples (-0.9%), and information technology (-0.4%).

Power moves: On the upside, Acadia Pharmaceuticals (ACAD) soared +63% to $38.85 on Monday, while Francescas (FRAN) jumped +59.5% to $16.58 on Wednesday. On the downside Zscaler(ZS) fell -19.5% to $49.67 on Wednesday, and Mastercraft Boat (MCFT) tumbled -23.5% to $13.99 on Thursday.
Futures action: December gold (GCZ9) ended a week below $1,500/ounce for the first time since August 2, closing Friday around $1,495.50. October WTI crude oil (CLV9) pushed above of the top of its August trading range early last week, but after hitting $58.76/barrel, the market reversed to close out the week around $54.95. A Thursday–Friday 3.3% rally sent December copper (HGZ9) above 2.70, its highest level since July 30.
Coming this week
All roads lead to Wednesday's FOMC announcement, but a few other central banks around the globe are also scheduled to make announcements or release minutes:
●Monday: Empire State Manufacturing Survey, Reserve Bank of Australia (RBA) meeting minutes
●Tuesday: Industrial Production, Housing Market Index, FOMC meeting begins 
●Wednesday: Bank of Japan (BOJ) announcement, Housing Starts, FOMC meeting announcement           
●Thursday: Swiss National Bank (SNB) Monetary Policy Assessment, Bank of England (BOE) announcement and minutes, Current Account, Existing Home Sales, Leading Indicators
Earnings this week include:
●Tuesday: Adobe  (ADBE), Chewy CHWY, Cracker Barrel (CBRL), FedEx (FDX), Red Hat (RHT)
●Wednesday: General Mills Inc (GIS), Herman Miller Inc (MLHR)
●Thursday: Scholastic Corp (SCHL), Darden Restaurants Inc (DRI)
●Friday: Steelcase Inc (SCS)
Go to the E*TRADE market calendar (logon required) for an up-to-date earnings schedule and a complete list of splits, dividends, IPOs, and economic reports. The Active Trader Commentary also lists earnings announcements, IPOs and economic report times each morning.
No Dow downer. The Dow may have played second fiddle to the RUT last week, but the blue-chip index enjoyed a minor milestone of its own, matching its longest winning streak (eight days) since May 2016 when it closed higher on Friday.
And what a difference three weeks makes: On August 23, the SPX's 6.46% YTD return was only the 36th strongest of the past 60 years. As of Friday, the SPX's 20% YTD return outpaced all but eight other years since 1950.
Click here to log on to your account or learn more about E*TRADE's trading platforms, or follow the Company on Twitter, @ETRADE, for useful trading and investing insights.
---
1 The New York Times. Trump Delays Planned Tariff Increase in 'Gesture of Good Will' to China. 9/11/19.
2 Reuters. Wall Street advances on trade concessions, euro zone stimulus. 9/12/19.
3 Bloomberg.com. China Backs U.S. Farm Purchases as Trade Talks Atmosphere Warms. 9/13/19.
What to read next...
09/13/19
Things are getting real in the showdown between Apple, Netflix, and Disney, but the story is far from over.
---
09/12/19
Small-cap stocks have soared this week as other indexes have mostly marched in place.
---
09/11/19
Potentially market-moving themes emerge as Alibaba enters new phase.
---