Market treads water
Stocks slip last week, stimulus deal still elusive
DOJ sues Alphabet, Alphabet rallies
This week: Q3 GDP, more FAANG earnings
Heading into one of the busiest weeks of earnings season, stocks are coming off a soggy week of trading that broke a three-week win streak for the S&P 500 (SPX).
But aside from a sharp sell-off last Monday (which unfolded amid more stimulus-bill posturing in Washington), the market didn't do all that much, although intraday price action was sometimes choppy. Other than a brief dip to a 16-day low on Thursday, the SPX spent the remainder of the week within Monday's range:
Source: Power E*TRADE
---
The headline: Tech slumps as Feds make antitrust push.
The fine print: Tech may have slumped, but Alphabet (GOOGL) didn't. The stock rattled off four straight up days after the Department of Justice (DOJ) unveiled its antitrust lawsuit against the company last Tuesday. Many analysts have compared the DOJ's current case to its late-1990s suit against Microsoft (MSFT),1 which had a debatable impact on the company's stock performance—MSFT gained 83% in the two years after the suit was launched on May 18, 1998, and is up more than 920% to date. Translation: "End of Big Tech" forecasts may be premature.
The number: 8, the number of days until the election.
The scorecard: The small-cap Russell 2000 (RUT) was the only index to eke out a gain last week: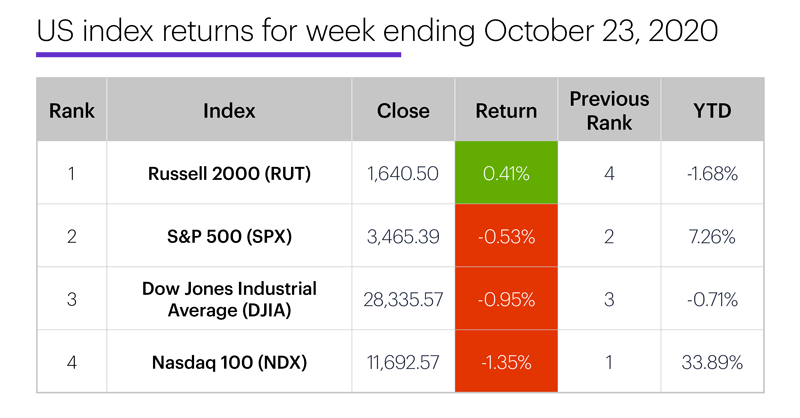 Source (data): Power E*TRADE
---
Sector roundup: The strongest S&P 500 sectors last week were communication services (+1.9%), utilities (+1.1%), and financials (+1.1%). The weakest sectors were information technology (-2.3%), consumer staples (-1.4%), and real estate (-1.4%).
Highlight reel: On Wednesday Snap (SNAP) jumped 28% to $36.50, while Align Technology (ALGN) rallied 35% to $453.23 on Thursday. On the downside, Brainstorm Cell Therapeutics (BCLI) fell -17% to $10.15 on Tuesday, and GSX Techedu (GSX) tumbled 31% to $71.23 on Wednesday.
Futures action: After trading to a five-week high of $41.90/barrel on Tuesday, December WTI crude oil (CLZ0) retreated to close Friday at $39.85, near its recent trading-range low. December gold (GCZ0) ended last week little changed at $1,905.20/ounce.
Last week's biggest futures up moves: October bitcoin (BTCV0) +13.8%, November natural gas (NGX0) +6.9%, November milk (DCX0) +6.1%. Last week's biggest futures down moves: December live cattle (LEZ0) -4.7%, December hogs (HEZ0) -4%, November feeder cattle (GFX0) -4%.
Coming this week
Get ready, this week's earnings include the F, both As, and the G of the FAANG stocks—along with Microsoft, marquee social media names, Boeing, and other heavy hitters. This is just a sample:
●Monday: NXP Semiconductors (NXPI), Crispr Therapeutics (CRSP), Beyond Meat (BYND)
●Tuesday: Eli Lilly (LLY), Advanced Micro Devices (AMD), Merck (MRK), Raytheon Technologies (RTX), Caterpillar (CAT), Microsoft (MSFT), Enphase Energy (ENPH), First Solar (FSLR), Maxim Integrated Products (MXIM), Juniper Networks (JNPR), Pfizer (PFE)
●Wednesday: Spirit Airlines (SAVE), Boeing (BA), General Electric (GE), Ford Motor (F), General Dynamics (GD), eBay (EBAY), ETSY (ETSY), Fastly (FSLY), Teladoc (TDOC), Mastercard (MA), Visa (V), Pinterest (PINS)
●Thursday: Alphabet (GOOGL), Amazon.com (AMZN), Apple (AAPL), Activision Blizzard (ATVI), Carvana (CVNA), Starbucks (SBUX), US Concrete (USCR), Twitter (TWTR), Facebook (FB), Penn National Gaming (PENN), Moderna (MRNA), Shopify (SHOP), Spotify (SPOT)
●Friday: Abbvie (ABBV), Alibaba (BABA), Altria (MO), Exxon Mobil (XOM), Colgate-Palmolive (CL), Chevron (CVX), Honeywell (HON)
The initial estimate of Q3 GDP headlines the economic calendar, but don't look past durable goods, housing numbers, and inflation data:
●Monday: Chicago Fed National Activity Index, New Home Sales
●Tuesday: Durable Goods Orders, Case-Shiller Home Price Index, Consumer Confidence
●Wednesday: Mortgage applications, Goods Trade Balance (advance), Wholesale Inventories (advance)
●Thursday: Weekly Jobless Claims, GDP, Pending Home Sales
●Friday: Personal Income and Spending, Core inflation, Employment Cost Index, Michigan Consumer Sentiment (final)
Go to the E*TRADE market calendar (login required) for an up-to-date earnings schedule and a complete list of splits, dividends, IPOs, and economic reports. The Active Trader Commentary also lists earnings announcements, IPOs and economic report times each morning.
A week and a day
The debates are over (unfortunately the campaign ads are not), and there's not much left except for the votes to be cast and counted.
Regardless of who wins, the key issue for traders may be whether the election outcome is significantly postponed or contested. Aside from President Trump's refusal to commit to accepting the result of the vote,2 delays in counting what is expected to be a record number of mail-in ballots increases the odds that voters won't know who won before they turn in for the night on November 3.
These uncertainties seem to have translated into the markets anticipating more volatility after the election than before it (the inverse of the typical scenario), as evidenced by the high implied volatility of stock options expiring after November 7. In early September, trading patterns in Cboe Volatility Index (VIX) futures suggested traders were expecting more volatility in November than in October3—unusual, because the latter is, historically, the stock market's most volatile month of the year.
More recently, though, Street chatter has emerged that because post-election volatility was expected to be so exceptionally high—and protective options so pricey as a result—some traders began taking "short volatility" positions designed to profit if things turn out to be less chaotic than feared.4
Although history tends to rhyme more than it repeats, there is a fairly recent example of a contested election—the 2000 race between George W. Bush and Al Gore. It took more than month after election day (November 7) for the winner to be determined, and while the stock market certainly didn't appear to enjoy the delay, it didn't come close to imploding because of it:
Source: Power E*TRADE
---
The SPX slid 5.6% in the first four days after the election, and was down 8.2% by November 30. But it then rallied 5% through December 12—the day the Supreme Court ended the election by halting the Florida vote recount, and the day before Al Gore conceded the race—at which point it was only 3.6% lower than it had been on November 7.
Of course, in 2000 the candidates may have disagreed about the process being used to determine the outcome, but neither of them ever claimed they would refuse to accept whatever decision ultimately came out of it, and neither made any attempt to delegitimize mail-in ballots before voting began.
We're a week and a day from the final votes being cast. But even if a winner isn't announced immediately, it may be helpful to remember two things: First, any delay up to December 14 shouldn't derail the overall election process and transition of power (if any), because that's the day electoral college votes will be officially tabulated and recorded.5
Second, we've been down this road before. Sort of.
Click here to log on to your account or learn more about E*TRADE's trading platforms, or follow the Company on Twitter, @ETRADE, for useful trading and investing insights.
---
1 CNBC.com. DOJ case against Google has strong echoes of Microsoft antitrust case. 10/20/20.
2 CNN.com. A list of the times Trump has said he won't accept the election results or leave office if he loses. 9/24/20.
3 Bloomberg.com. U.S. Election Priced as Worst Event Risk in VIX Futures History. 9/1/20.
4 MarketWatch.com. Investors Ramp Up Bets on Market Turmoil Around Election. 9/28/20.
5 Pew Research Center. Election night marks the end of one phase of campaign 2020—and the start of another. 10/22/20.
What to read next...
10/23/20
Will bulls think the initial reaction to biotech stock's clinical trial data is off the mark?
---
10/22/20
Social media stock's earnings beat takes a few of its industry brethren along for the ride. Can the momentum last?
---
10/21/20
Bulls are known for charging, but stock's price action may reward traders who play a more tactical game.
---