Market plays let's make a deal
Stocks hit new records as US, China agree on Phase 1 trade deal
Fed lets sleeping interest rate lie
This week: GDP and Quadruple Witching Expiration
There was a lot of juicy news last week—an FOMC meeting (no rate change), impeachment drama, a revamped NAFTA, and a surprising British election that seemed to lock in a January 31 Brexit.
But it all took a back seat to reports on Thursday and Friday that a Phase 1 US-China trade deal was in the bag and waiting for a signing ceremony. The highlights: New tariffs postponed, some existing ones rolled back, resumption of agricultural purchases, and some intellectual property protection.1
Resolution-starved traders took the story and ran with it, pushing the SPX to consecutive records on Thursday and early Friday, when the reports were confirmed:
Source: Power E*TRADE
---
But the market appeared to get more cautious as Friday morning wore on. The SPX retreated from its highs, perhaps in reaction to what some observers described as the agreement's "murky" details.2 Nonetheless, the SPX wrapped up its ninth up week in the past 10.
What a difference a year makes. While halfway through December 2018 many traders probably thought the wheels were coming off the market, this year they're looking at a much different ride: Stocks are trading near record levels as the market tries to close out what could be its best year since 2013. Here's how the major indexes fared last week: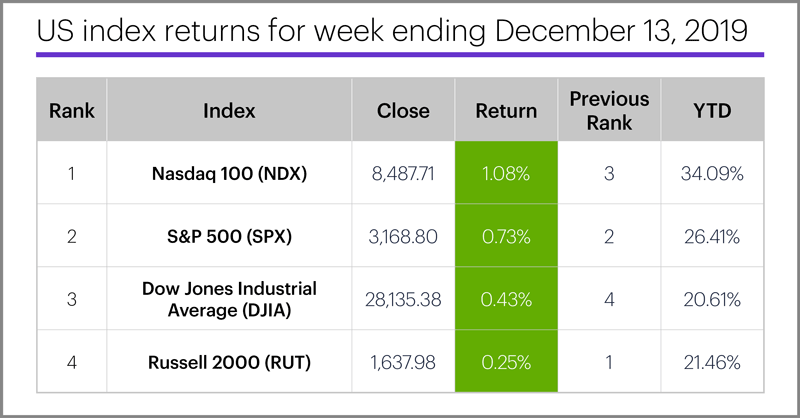 Source: Power E*TRADE
---
Sector roundup: The strongest S&P 500 sectors last week were information technology (+1.9%), consumer discretionary (+1.1%), and financials (+1%). The weakest sectors were real estate (-2.7%), communication services (-0.7%), and utilities (0.3%).

Power moves: On Monday Synthorx (THOR) soared 171% to $67.71, while Precision Biosciences (DTIL) tumbled 52% to $9.5. Assembly Biosciences (ASMB) played both sides of the volatility street, jumping 34% to $23.81 on Thursday and dropping -17% on Friday.
Futures action: February WTI crude oil (CLG0) continued to edge higher, hitting a nearly seven-month intraday high of $60.39/barrel on Friday before closing around $59.70. February gold (GCG0) extended its month-long consolidation, closing Friday around $1,480/ounce.
After the Labour Party's convincing win in Britain's snap elections, December British pound futures (6BZ9) surged more than 2.6% intraday on Friday, hitting a near-contract high of 1.3510 before settling toward the bottom of the day's range around 1.334.
Coming this week
In addition to the Q3 GDP revision on Friday, it's also "Quadruple-Witching" expiration—stock options, index options, index futures, and single stock futures all expire:
●Monday: Empire state manufacturing index (8:30 a.m.), Homebuilders index (10 a.m.)    
●Tuesday: Housing starts (8:30 a.m.), Building permits (8:30 a.m.), JOLTs job openings (9 a.m.), Industrial Production and Capacity Utilization (9:15 a.m.)
●Thursday: Current account deficit (8:30 a.m.), Existing home sales (10 a.m.), Leading economic indicators (10 a.m.)
●Friday: GDP Q3 revision (8:30 a.m.), Personal income (10 a.m.), Consumer spending (10 a.m.), Consumer sentiment index (10 a.m.)
This week's earnings include:
●Monday: HEICO (HEI)
●Tuesday: Navistar International (NAV), Cintas (CTAS), FedEx (FDX), Jabil (JBL), Worthington Industries (WOR)
●Wednesday: General Mills (GIS), Steelcase (SCS), Paychex (PAYX), Micron Technology (MU)
●Thursday: Conagra Brands (CAG), Darden Restaurants (DRI), Sanderson Farms (SAFM)
●Friday: Carmax (KMX), Winnebago Industries (WGO), Nike (NKE)
Go to the E*TRADE market calendar (login required) for an up-to-date earnings schedule and a complete list of splits, dividends, IPOs, and economic reports. The Active Trader Commentary also lists earnings announcements, IPOs and economic report times each morning.
Cracking the top-10? With 11 trading days left in the year, the SPX was up 0.9% for December and  26.4% for the year. If the index closes December 31 at or above Friday's close of 3,168.80, it will be its seventh-best year since 1959.
Martin Marietta (MLM) rallied around 3% from Tuesday to Friday, climbing to a new all-time high in the process (see "Material issue"). Home Depot (HD) closed out last week on an up note, rallying around 1% a day after Credit Suisse analysts upgraded the stock to "outperform," citing the stock's attractive levels in the wake of its recent pullback3 (see "Hardware retailer seeks to rehab trend").
Click here to log on to your account or learn more about E*TRADE's trading platforms, or follow the Company on Twitter, @ETRADE, for useful trading and investing insights.
---
1 Bloomberg.com. U.S. and China Agree 'Phase-One' Deal Easing Trade Tensions. 12/13/19.
2 Barron's.com. There's a Trade Deal With China. It Isn't Clear What It Says. 12/13/19.
3 CNBC.com. Buy the pullback in Home Depot, says Credit Suisse as it upgrades the stock. 12/12/19.
What to read next...
12/13/19
China-sensitive retailer's options may offer discount for bulls.
---
12/12/19
Financial companies usually kick off quarterly reporting season. Do their stocks get a head start on the action?
---
12/11/19
Even if small-cap momentum doesn't last, it may offer short-term trade opportunities. And if it does have legs…
---