Market in seasonal mood
Tech stocks pace market's push to fresh highs
Stocks rally despite Friday's weak jobs report
This week: IPOs, inflation data, stimulus watch
Following up on a record-setting November, the stock market opened December the way it often does—with a rally.
After a post-Thanksgiving pullback last Monday, the S&P 500 (SPX) hit record intraday or closing highs the remainder of the week, capped by Friday's strong gains in the face of a disappointing jobs report: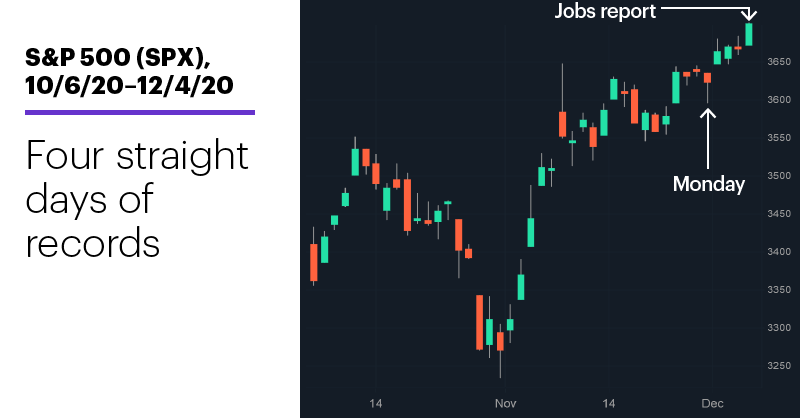 Source: Power E*TRADE
---
The headline: Stocks charge past COVID spike, employment data.
The fine print: Friday's jobs report was a big miss even though unemployment fell from 6.9% to 6.7%. The number of new jobs in November came in at 245,000—less than half what analysts had been looking for. But the stock market's immediate reaction—a rally to another record high—may have reflected sentiment that a COVID-weakened job market will speed up stimulus negotiations on Capitol Hill.
The scorecard: The Nasdaq 100 (NDX) was the week's strongest US index for the first time in a month, just ahead of the Russell 2000 (RUT), which had a monster Friday:
Source (data): Power E*TRADE
---
Sector roundup: The strongest S&P 500 sectors last week were energy (+4.5), health care (+2.8%), and information technology (+2.7%). The weakest sectors were utilities (-2.2%), consumer discretionary (-0.4%), and materials (+0.1%).

Highlight reel: QuantumScape (QS) jumped 27% to $47 on Monday, then fell 24.6% to $35.42 on Tuesday. After rallying 35% on Monday, Codiak BioSciences (CDAK) surged another 26.1% to $16.41 on Tuesday. iRhythm Technologies (IRTC) tumbled 20% to $192.21 on Wednesday. Waddell & Reed (WDR) soared 50% to $25.59 on Thursday.
Futures action: February gold (GCG1) rallied nearly $60 to $1,840/ounce after tagging the 50% retracement level of its March–August rally last Monday. January WTI crude oil (CLF1) hit a nine-month high of $46.68/barrel on Friday before closing at $46.26.
Last week's biggest futures up moves: December bitcoin (BTCZ0) +13.3%, January platinum (PLF1) +11.1%, March silver (SIH1) +7%. Biggest down moves: January natural gas (NGF1) -10.1%, March coffee (KCH1) -5.2%, March cocoa (CCH1) -5%.
Coming this week
While the progress of stimulus talks may dominate market conversation this week, there's also inflation and sentiment data on the way, and a couple of notable IPOs:
●Monday: Consumer Credit
●Tuesday: NFIB Business Optimism Index, Productivity and Labor Costs
●Wednesday: Wholesale Inventories, JOLTs Job Openings, DoorDash (DASH) IPO
●Thursday: Consumer Price Index (CPI), Core Inflation Rate, Airbnb (ABNB) IPO
●Friday: Producer Price Index (PPI), Preliminary Michigan Consumer Sentiment
This week's earnings include:
●Monday: Autozone (AZO), G-III Apparel (GIII), Chewy (CHWY)
●Wednesday: Adobe (ADBE), Campbell Soup (CPB), RH (RH)
●Thursday: Lululemon Athletica (LULU), National Beverage (FIZZ), Broadcom (AVGO), Oracle (ORCL), Ciena (CIEN), Costco (COST)
Go to the E*TRADE market calendar for an up-to-date earnings schedule and complete list of splits, dividends, IPOs, and economic reports. The Active Trader Commentary also lists earnings announcements, IPOs, and economic report times each morning.

The view from the VIX
One key aspect of the stock market's recent grind to repeated new highs: The Cboe Volatility Index (VIX) is hanging around its lowest levels of the past 10 months.
The VIX is often referred to as a "fear gauge" because it tends to spike higher when stocks sell off, and declines when the market is rising and investors are less anxious: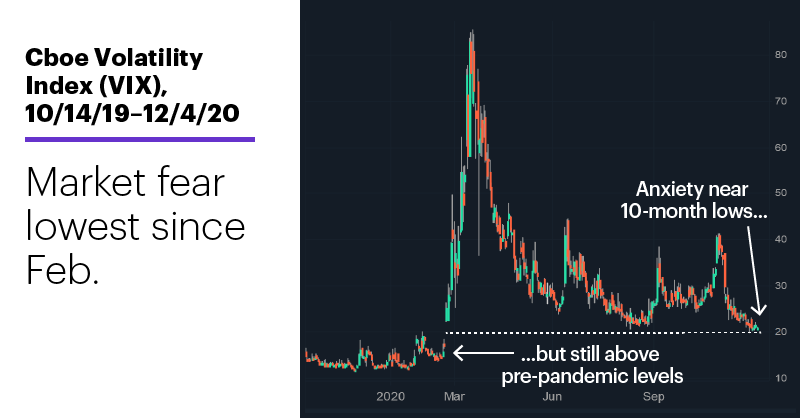 Source: Power E*TRADE
---
Of course, experienced traders would likely point out that the VIX is often used as a contrarian indicator—that is, extreme VIX highs often accompany significant market lows (because reversals often happen when fear is at its peak), while extended VIX lows sometimes precede market highs (although the market can keep rallying, and the VIX can remain low, for much longer than most people think).
The VIX is still much higher than it was in late 2019 and early 2020, but given it's as low as it's been since February 21, and in light of the market's historical tendency to pull back after early-December up moves, traders may be watching it closely for any indications of a pause in the rally. A typical signal: a higher VIX close on the same day the S&P 500 posts a larger-than-average gain—the type of pattern discussed in "When the VIX talks, smart traders listen."
Click here to log on to your account or learn more about E*TRADE's trading platforms, or follow the Company on Twitter, @ETRADE, for useful trading and investing insights.
---
What to read next...
12/04/20
Price and volatility patterns in this high-momentum stock may be signaling another move.
---
12/03/20
If the market rotates back toward technology, don't overlook potential opportunities outside the "big tech" spotlight.
---
12/02/20
There may be more than one way to trade a high-momentum earnings move—even if you don't know which direction it may be in.
---