Market fireworks
Long-term, July's net stock-market returns have been mediocre
But it has become much more bullish in the past two decades
The buying hasn't been distributed equally, though
If you looked at the past six decades of S&P 500 (SPX) monthly returns, July probably wouldn't make much of an impression: It's been up 30 times, down 30 times, and has a median return of…wait for it…0.01%.
So, if you've never taken a July vacation before, don't worry—the market's done it for you.
Of course, that's average performance over the course of 60 years. Any individual month is a different story—the SPX fell as 7.9% in July 2002 and jumped 8.8% in 1989, its worst and best Julys since 1960. But more importantly, in the past 20 years July has been less volatile than the average month, and much more bullish than its long-term stats would suggest:
1. The SPX has gained ground in July in 12 of the past 20 years and eight of the past 10 (including last year).
2. In the past 20 years, July has had the third-highest median SPX return (1.3%) of any month of the year.
But win or lose, one interesting thing about July's performance is that the market has tended to rack up most of its gains earlier in the month rather than later. Take a look at the following chart, which compares the SPX's average return as the month progresses for two periods, 1960–1999 (blue line) and 2000–2019 (green line):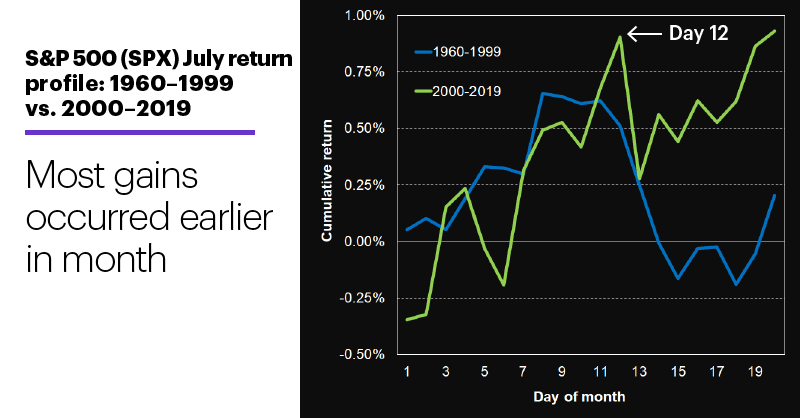 Source: Power E*TRADE
---
In the 1960–1999 period, the SPX's July return gain peaked, on average, around the eighth trading day of the month—and the index actually tended to give back its gains over the next 10 days or so before getting back into positive territory at the end of the month. And although the most recent 20 years, as mentioned, have been more bullish overall, the same general pattern still held—by day 12 the SPX's average gain was essentially as big as it would get for the entire month.1
The fact that this strong-half/weak-half tendency appeared in both periods doesn't mean every July is destined to play out this way, but it is something bulls looking to ride broad-market tailwinds may want to keep in mind, since long-side trade opportunities may come a little easier earlier in the month rather than later—If the pattern does, in fact, make itself felt this year.
Finally, on more of a micro scale: On Monday we noted that the first trading day of July (yesterday) appeared to have more-than-favorable odds (73%) of being an up day for US stocks, offering the tongue-in-cheek explanation that traders may have been in a good mood (and thus, more inclined to buy than sell) because of the upcoming Fourth of July holiday.
Well, maybe they're a little bummed about going back to work after the holiday, because the SPX has closed higher the first trading day after Independence Day (this Monday) only 45% of the time since 1960.
Today's numbers (all times ET): Employment report (8:30 a.m.), Jobless Claims (8:30 a.m.), Trade Balance (8:30 a.m.), Factory Orders (10 a.m.).
Today's earnings include: Lindsay (LNN), Korn Ferry (KFY).
Click here to log on to your account or learn more about E*TRADE's trading platforms, or follow the Company on Twitter, @ETRADE, for useful trading and investing insights. 

---
1 Reflects S&P 500 (SPX) daily closing prices, 6/28/60–8/1/19. Supporting document available upon request.
What to read next...
07/01/20
As we kick off the second half of 2020, the US market is still in the red for the year. Find out what that's meant for stocks in the past.
---
06/30/20
Electric vehicle makers—plural—have been on a roll.
---
06/29/20
Despite some positive economic data, stocks slumped last week as coronavirus cases surged.
---