Market weighs virus hopes, economic angst
Vaccine hopes propel stocks, Nasdaq 100 up on the year

Oil slides again, gold tests its breakout
This week: Housing data, and more high-profile earnings

Despite another dumpster full of ugly economic data, the US stock market put together consecutive up weeks for the first time since mid-February—and just the third time this year.
Talk of plans to reopen the US economy and reports a potential coronavirus treatment from Gilead Sciences (GILD) helped trigger an end-of-week rally that at least temporarily overshadowed dismal earnings, jobless claims, and retail sales numbers. The S&P 500 (SPX) closed at its highest level in more than a month: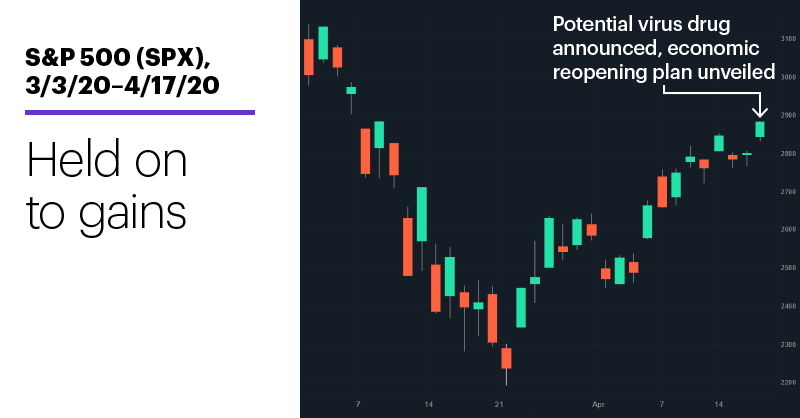 Source: Power E*TRADE
---
The headline: Stocks gain on hopes to treat virus, end lockdown.
The fine print: Last week's biggest gain came on Tuesday amid reports the coronavirus could be peaking,1 although the numbers that emerged the remainder of the week tempered those expectations. Also, the plan to reopen the US economy in phases that the White House unveiled on Thursday may have, more than anything, underscored the reality that a "return to normalcy" will not occur overnight.
The quote: "Our view is that the risk in the short term is still on the downside. And I think the rally that we've seen, which in many markets has been 25% or so from the low is probably too rapid given the near-term prospects that we see for the economic and profit data." Peter Oppenheimer, Goldman Sachs chief global equity strategist.2
The move: +21.3%, Netflix's (NFLX) Monday-Thursday rally last week to new record highs. The company releases earnings tomorrow.
The numbers: -8.7 %, the drop in retail sales in March—the largest decline in history. Also, 5.3 million more people filed for unemployment—down from the week before, but raising the four-week total to more than 22 million.
The scorecard: Tech got back into the driver's seat, as the Nasdaq 100's (NDX) market-leading gain pushed the index into the green for the year: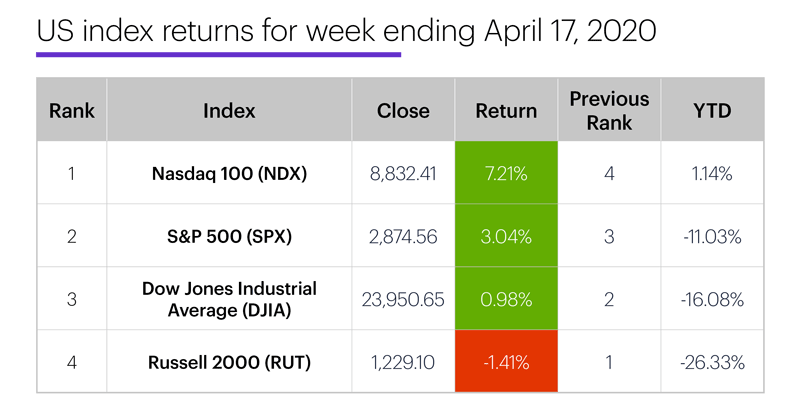 Source: Power E*TRADE
---
Sector roundup: The strongest S&P 500 sectors last week were consumer discretionary (+8%), health care (+6.1%), and information technology (+4.8%). The weakest sectors were financials (-3.8%), real estate (-2.6%), and materials (-2.1%).
Highlight reel: On Thursday Arcus Biosciences (RCUS) jumped 89% to $29.50, while Corenergy Infrastructure (CORR) tumbled 44% to $13.60 on Tuesday.
Futures action: Crude oil slid to a nearly 21-year low—despite oil producers agreeing to a historic production cut early last week. May WTI crude oil (CLK0), which expires tomorrow, traded as low as $17.31/barrel on Friday before rebounding to close above $18.
Gold shot to its highest level since November 2012. June gold (GCM0) spiked to $1,788.80/ounce on Tuesday, then pulled back to test its former breakout level around $1,700 on Friday.
Last week's biggest futures up moves: May lumber (LBSK0) +9.4%, June E-Mini Nasdaq 100 (NQM0) +6.9%, and May RBOB gasoline (RBM0) +6.7%. Last week's biggest futures down moves: May WTI crude oil (CLK0) -21.8%, May hogs (HEK0) -12.7%, and June Brent crude oil (BM0) -10.8%.
Coming this week
Earnings pick up the pace this week, with some recent stay-at-home high-flyers (NFLX, AMZN) sharing the spotlight with airlines and several big consumer names:
●Monday: International Business Machines (IBM), Halliburton (HAL), Lennox International (LII)
●Tuesday: Coca-Cola (KO), Procter & Gamble (PG), Chipotle (CMG), Snap (SNAP), Netflix (NFLX), Texas Instruments (TXN), Philip Morris (PM)
●Wednesday: Alcoa (AA), AT&T (T), Spirit Airlines (SAVE), Biogen (BIIB), Lam Research (LRCX), Kimberly-Clark (KMB), Quest Diagnostics (DGX), Thermo Fisher Scientific (TMO), PayPal (PYPL), Tesla (TSLA), Visa (V)
●Thursday: Amazon.com (AMZN), Southwest Airlines (LUV), Eli Lilly (LLY), Edwards Lifesciences (EW), Hershey (HSY), Intel (INTC), Cypress Semiconductor (CY), Citrix Systems (CTXS), PulteGroup (PHM), Verisign (VRSN)
●Friday: American Airlines (AAL), American Express (AXP)
Housing numbers anchor this week's busy economic calendar:
●Monday: Chicago Fed National Activity Index
●Tuesday: Existing Home Sales
●Wednesday: FHFA Housing Price Index

●Thursday: Jobless Claims, New Home Sales
●Friday: Durable Orders, Consumer Sentiment
Go to the E*TRADE market calendar (login required) for an up-to-date earnings schedule and a complete list of splits, dividends, IPOs, and economic reports. The Active Trader Commentary also lists earnings announcements, IPOs and economic report times each morning.
Earnings update: Last week offered a glimpse of what's likely coming our way in the next several weeks. With big banks doing the traditional kick-off, JPMorgan Chase (JPM) reported earnings of $0.78/share, a country mile short of the $1.84 estimate. Wells Fargo (WFC) posted earnings of just 1 cent a share vs. an estimated 36 cents. Both companies also came up short on revenue estimates.
Citigroup (C), Bank of America (BAC), Goldman Sachs (GS), and Morgan Stanley (MS) also missed their numbers, and all sold off, to one degree or another, after releasing their numbers. But almost all of them rebounded late in the week, too.
These results weren't a surprise. Just before earnings season started, for example, FactSet estimated a year-over-year S&P 500 earnings decline of -10%—which, if accurate, would be the biggest drop since the -15.7% contraction in Q3 2009.3
Big banks weren't the whole story, though. Other companies actually beat their numbers—some people would say "crushed" in the case of Johnson & Johnson (JNJ), which topped the $1.99/share earnings estimate by $0.31 and raised its dividend. Abbott Labs (ABT), currently a key player in the production of coronavirus test kits, also outperformed estimates—and traded to a new all-time high in the process.
Bottom line, traders shouldn't get too discouraged about the flood of bad earnings likely coming down the pike—or, conversely, read too much into the good numbers from companies that may have been in a position to profit because of the pandemic.
The coronavirus itself may be closer to its end than its beginning, but the economic reckoning has just started. There likely will be more rocky days to come, even under the best of circumstances. Disciplined, selective traders who focus on risk control will stand the best chance of profiting from that volatility, rather than falling victim to it.
More milestones. When the SPX closed at 2846.06 last Tuesday, it had jumped 27% from its March 23 close—the index's biggest 15-day rally of the past 63 years.4 In fact, it was only the third time the SPX has gained more than 20% in 15 trading days or less, the most recent instance occurring in March 2009 when the market was rebounding from its financial crisis lows.
Click here to log on to your account or learn more about E*TRADE's trading platforms, or follow the Company on Twitter, @ETRADE, for useful trading and investing insights.
---
1 The Washington Post. Stocks rally as momentum builds to restart economy. 4/14/20.
2 MarketWatch.com. Goldman strategist says market rally has been 'too rapid.' 4/16/20.
3 FactSet. Earnings Insight. 4/3/20.
4 Reflects S&P 500 (SPX) daily closing prices, 12/31/56–4/17-20. Supporting document available upon request.
What to read next...
04/17/20
Surging stocks benefiting from the "lockdown economy" many present opportunities, but they come with risk. Here's how to manage it.
---
04/16/20
Crude weakness, oil field derailment pump up energy stock's option prices.
---
04/15/20
Are certain stocks poised to benefit more than others from Fed stimulus programs?
---