Market catches bug
Coronavirus weighs on stocks
Biggest weekly loss for SPX since August
This week: Fed, GDP, and an all-star earnings lineup
After holding its ground most of the week amid coronavirus worries, the US stock market succumbed to selling pressure on Friday, locking in its first down week of the year—although the S&P 500 (SPX) still managed to hit a new record high on Wednesday: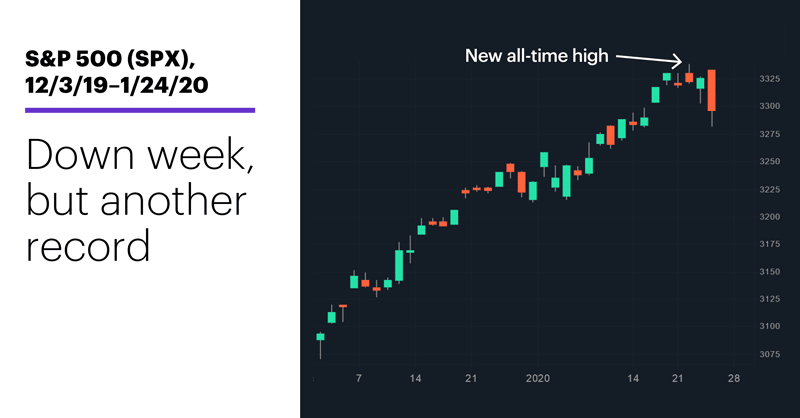 Source: Power E*TRADE
---
The headline: Coronavirus dominates news cycle, overshadowing mostly solid earnings (and, oh yeah—a Senate impeachment trial).
The fine print: Despite the barrage of scary headlines, the World Health Organization (WHO) on Thursday announced it was "too early to consider this event a public health emergency of international concern."1
The move: Chips ahoy! Intel (INTC) jumped more than 8% on Friday after a huge earnings beat, and the PHLX Semiconductor Index (SOX) made new record highs or closes every day last week.
The number: 6. The Nasdaq 100's (NDX) streak of consecutive up weeks ended at six, its fourth-longest run of the past two years.
The quote: "The train has got a long, long way to go if you think about it." Hedge fund manager Paul Tudor Jones' take on the current bull market, despite noticing some parallels to early 1999.2
The scorecard: The Russell 2000 (RUT) dipped into negative territory for the year as small caps (again) retreated to the back of the market pack:
Source: Power E*TRADE
---
Sector roundup: The strongest S&P 500 sectors last week were utilities (+3.18%), real estate (+1.14%), and information technology (+1.03%). The weakest sectors were energy (-4.88%), health care (-1.95%), and materials (-1.79%).
Highlight reel: On Tuesday Beyond Meat (BYND) rallied 18% to $129.18 on reports that Starbucks (SBUX) was planning to offer more plant-based food options,3 while eHealth (EHTH) soared 27% to $123.26 on Friday. On the downside, Arrowhead Pharmaceuticals (ARWR) dropped 16% to $47.59 on Tuesday, and Karuna Therapeutics (KRTX) fell 13% to $99.75 on Thursday.
Futures action: March WTI crude oil (CLH0) extended its sell-off last week, falling below $54/barrel on Friday for the first time since November. February gold (GCG0) continued to firm, closing Friday around $1,570.50/ounce, its highest level in more than two weeks.
The biggest futures up moves last week were February VIX (VIG0, +7.6%) and March palladium (PAH0, +6.5%). The biggest futures down moves were February natural gas (NGG0, -8.9%) and February gasoline (RBG0, -8.2%).
Coming this week
Things are getting real in earnings land—lots of heavy hitters are queued up this week. Here's a sample:
●Monday: 3M (MMM), Allergan (AGN), Rockwell Automation (ROK), Advanced Micro Devices (AMD), Amgen (AMGN), Xerox (XRX), D.R. Horton (DHI), F5 Networks (FFIV)
●Tuesday: Alibaba (BABA), Apple (AAPL), Lockheed Martin (LMT), McDonald's (MCD), United States Steel (X), Starbucks (SBUX), Microsoft (MSFT), General Dynamics (GD), eBay (EBAY), Tesla (TSLA), Visa (V), Pfizer (PFE),
●Wednesday: AT&T (T), Amazon.com (AMZN), Boeing (BA), General Electric (GE), Raytheon (RTN), Meritage Homes (MTH), Progressive (PGR), Celgene (CELG), Facebook (FB), Mastercard (MA), Textron (TXT)
●Thursday: Altria (MO), Eli Lilly (LLY), Electronic Arts (EA), Spirit AeroSystems (SPR), Biogen (BIIB), Hershey (HSY), Verizon (VZ), Northrop Grumman (NOC), Quest Diagnostics (DGX), PayPal (PYPL), United Parcel Service (UPS)
●Friday: Phillips 66 (PSX), Exxon Mobil (XOM), Caterpillar (CAT), Chevron (CVX)                      
Wednesday's Fed interest rate announcement highlights a packed economic calendar:
●Monday: New Home Sales
●Tuesday: Durable Goods Orders, S&P/Case-Shiller Home Price Index, Consumer Confidence
●Wednesday: Wholesale Inventories, Trade Balance, Pending Home Sales, Fed interest rate decision
●Thursday: Q4 GDP (prelim)
●Friday: Personal Consumption Expenditures, Personal Income
Go to the E*TRADE market calendar (login required) for an up-to-date earnings schedule and a complete list of splits, dividends, IPOs, and economic reports. The Active Trader Commentary also lists earnings announcements, IPOs and economic report times each morning.
Taking the market's temperature. While it's impossible to decipher how much of last week's broad-market downturn was attributable to coronavirus fears, there was evidence that travel-related stocks suffered disproportionally, while some biopharma stocks got a boost.4 Booking Holdings (BKNG), for example, fell more than 4% last week, while antiviral nanotechnology company NanoViricides (NNVC) shot up 153% last Tuesday.
Although the coronavirus story is still unfolding, similar health scares in the past may be instructive: Both the 2014 Ebola outbreak and the 2003 SARS epidemic had relatively short-lived impacts on the stock market (see "24-hour bug?").
Click here to log on to your account or learn more about E*TRADE's trading platforms, or follow the Company on Twitter, @ETRADE, for useful trading and investing insights.
---
1 The New York Times. Coronavirus Is Spreading, but W.H.O. Says It's Not a Global Emergency. 1/23/20.
2 CNBC.com. Paul Tudor Jones says this 'crazy' stock market run reminds him a lot of early '99. 1/23/20.
3 Reuters. Starbucks to add more plant-based food in latest green push; Beyond Meat shares jump. 1/21/20.
4 The Wall Street Journal. Virus Outbreak Fuels Volatility in Some Biotech Stocks. 1/22/20.
What to read next...
01/24/20
Does options action in gaming tech stock support the picture on the price chart?
---
01/23/20
History suggests virus scares may be bigger challenges for medicine than markets.
---
01/22/20
Dividend darling's recent momentum may put it on trader radar.
---