Market goes back to back
Stocks hold gains, energy and materials sectors lead
EU moves to cut Russian natural gas reliance as futures soar
This week: Jobs report, Fed inflation, more housing numbers
With the clock running out on Q1, the US stock market did something it's done just one other time this year—put together a two-week win streak.
What looked like another up-one-day, down-the-next seesaw ride tipped in a positive direction with a late-Friday rally that helped the S&P 500 (SPX) end the week at its highest level since February 9: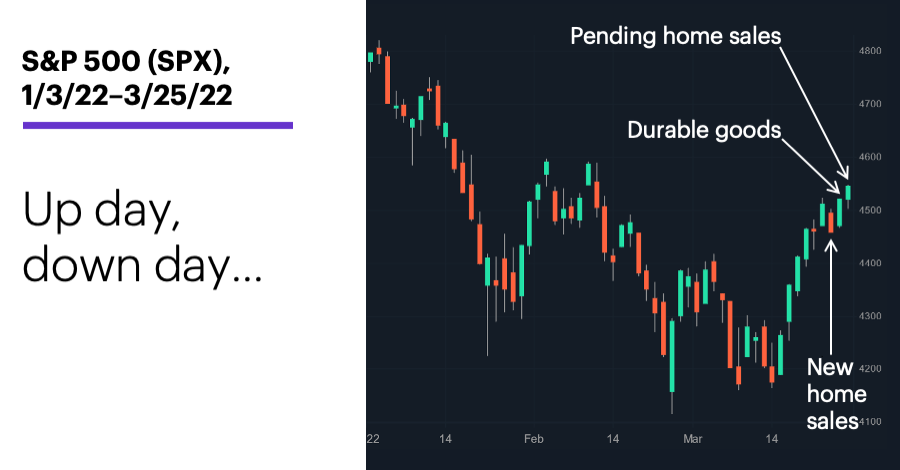 Source: Power E*TRADE. (For illustrative purposes. Not a recommendation.)
---
The headline: Stocks hold ground with jobs report on deck.
The fine print: A positive March for stocks is still within reach, but the bulls may have to write off Q1 (see "Almost April," below).
The moves: The 10-year T-note yield hit 2.5% on Friday—its highest level since May 6, 2019—as investors aggressively sold Treasuries for a third-straight week. May natural gas (NGK2) futures jumped 14% last week—the biggest gain for any commodity—even as the European Union announced plans to reduce its reliance on Russian supplies.1
The number: -4.1 %, the decline in pending home sales in February, a wide miss of the +0.9% estimate. New home sales also underperformed expectations. Mortgage rates recently hit their highest level in more than three years.2
The scorecard: The Nasdaq 100 (NDX) tech index led the market for the second week in a row: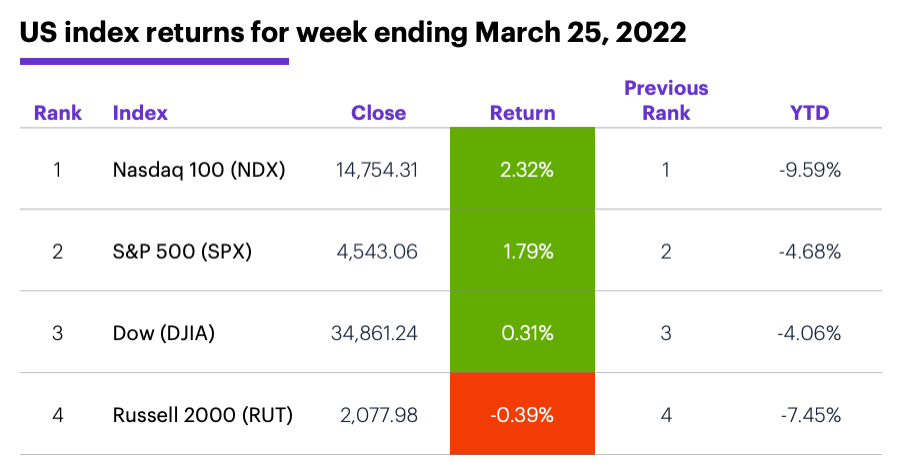 Source (data): Power E*TRADE. (For illustrative purposes. Not a recommendation.)
---
Sector roundup: The strongest S&P 500 sectors last week were energy (+7.2%), materials (+3.6%), and utilities (+3.2%). The weakest sectors were health care (-0.6%), real estate (-0.03%), and consumer discretionary (+0.4%).
Highlight reel: Anaplan (PLAN) +28% to $64.6 on Monday, GameStop (GME) +31% to $123.14 on Tuesday. On the downside, Telesat (TSAT) -18% to $18.81 on Monday, Vicor (VICR) -20% to $61.77 on Wednesday.
Futures action: WTI crude oil (CLK2) hit a two-week high of $116.64 on Thursday before pulling back and closing Friday at $112.65. A Wednesday–Thursday upturn helped April gold (GCJ2) break out of a mini consolidation and end the week up modestly at $1,954.90/ounce. Biggest up moves: May natural gas (NGK2) +13.7%, June Brent crude oil (BM2) +11%. Biggest down moves: May lumber (LBSK2) -27.7%, April VIX (VXJ2) -6%.
Coming this week
A busy economic calendar includes Fed's preferred inflation gauge, the PCE Price Index, on Thursday, and the monthly jobs report on Friday:
●Today: Trade Balance in Goods (advance)
●Tuesday: S&P Case-Shiller Home Price Index, FHFA House Price Index, Job Openings and Labor Turnover Survey (JOLTS), Consumer Confidence Index
●Wednesday: ADP Employment Change, Q4 GDP (final revision)
●Thursday: Challenger Job Cuts, Personal Income and Spending, PCE Price Index, Quarterly Grain Stocks--wheat, corn, soy
●Friday: Employment Report, Markit Manufacturing PMI, ISM Manufacturing Index, Construction Spending, Vehicle sales
This week's earnings include:
●Today: Xpeng (XPEV), Dave & Buster's (PLAY)
●Tuesday: McCormick (MKC), I-Mab (IMAB), PVH (PVH), Chewy (CHWY), RH (RH), Verint Systems (VRNT), Micron Technology (MU), Lululemon (LULU)
●Wednesday: BioNTech (BNTX), Five Below (FIVE), Paychex (PAYX)
●Thursday: Walgreens (WBA)
Check the Active Trader Commentary each morning for an updated list of earnings announcements, IPOs, economic reports, and other market events.
Almost April
With four trading days remaining in the month, back-to-back up weeks have put the US market in a decent position to avoid a down March. As of Friday, the SPX was up 3.9% for the month.
A positive first quarter is looking much more elusive, though.
As of Friday, the SPX was down 4.7% for Q1—which, if it had ended then, would have made it the fifth-weakest first quarter since 1985. But that's much better than the scenario the market was facing just two weeks ago, when the SPX was down 12.4% for the quarter. That would have been the second-weakest Q1 since 1985, trailing only 2020, when the SPX lost 20%.
Click here to log on to your account or learn more about E*TRADE's trading platforms, or follow the Company on Twitter, @ETRADE, for useful trading and investing insights.
---
1 Financial Times. Germany vows to end dependence on Russian gas by 2024 as US offers extra shipments. 3/25/22.
2 Bloomberg. Mortgage Rates Hit 4.42%, Highest Since January 2019. 3/25/22.
Important note regarding economic sanctions. This event may involve the discussion of country/ies which are generally the subject of selective sanctions programs administered or enforced by the U.S. Department of the Treasury's Office of Foreign Assets Control ("OFAC"), the European Union and/or by other countries or multi-national bodies. The content of this presentation is for informational purposes and does not represent Morgan Stanley's view as to whether or not any of the Persons, instruments or investments discussed are or may become subject to sanctions. Any references in this presentation to entities or instruments that may be covered by such sanctions should not be read as recommending or advising on any investment activities involving such entities or instruments.  You are solely responsible for ensuring that your investment activities in relation to any sanctioned country/ies are carried out in compliance with applicable sanctions.
What to read next...
03/24/22
Social media stock illustrates real-time considerations for options straddle traders.
---
03/23/22
The stock market volatility barometer made an unusual move the past several days.
---
03/22/22
Find out why traders who click first and ask questions later sometimes regret it.
---