Market preps for Fed
Broad market declines, small caps most resilient
Commodities surge and retreat, inflation still hot
This week: FOMC meeting, PPI, retail sales
With spring a little more than a week away, the head-spinning day-to-day volatility that has characterized the 2022 stock market so far this year was in full display last week.
The S&P 500 (SPX) kicked off last week with its biggest down day (-3%) since October 2020, then posted its biggest up day since June 2020 (+2.6%) on Wednesday and, thanks to a late-Friday sell-off, logged its biggest down week since January: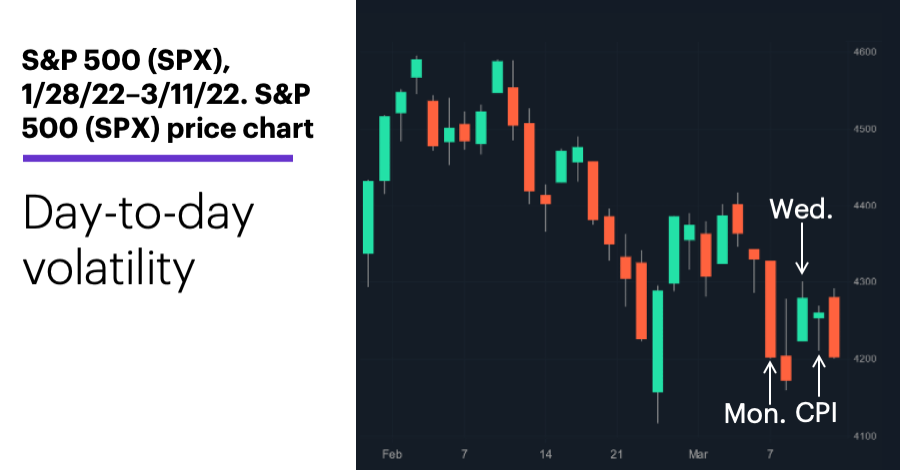 Source: Power E*TRADE. (For illustrative purposes. Not a recommendation.)
---
The headline: Stocks test late-February lows with Fed meeting on deck.
The fine print: The Fed is expected to raise interest rates by 0.25% on Wednesday, and last Thursday brought another reminder of why: The Consumer Price Index's (CPI) 7.9% year-over-year increase marked another 40-year high for the inflation gauge.
The moves: Oil, gold, palladium, and wheat were among the commodity markets that spiked to multi-month or all-time highs early last week before pulling back almost as sharply.
The scorecard: The small-cap Russell 2000 (RUT) was the top-performing major US index for the fifth time in the past six weeks: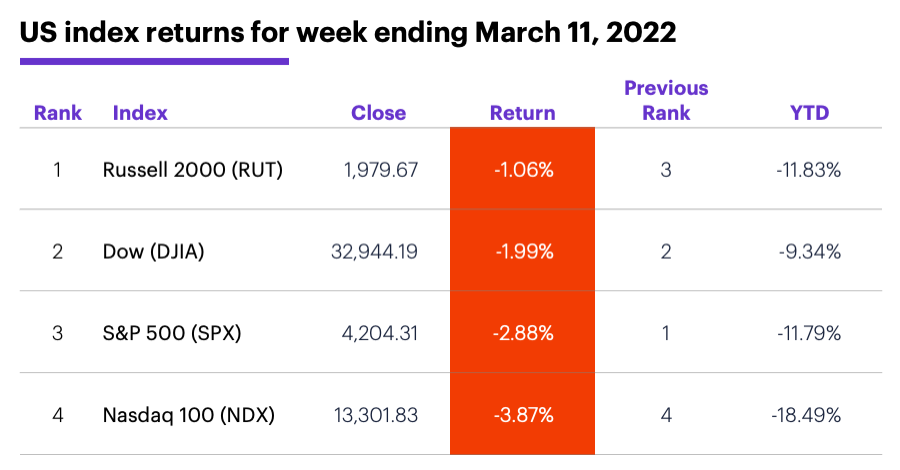 Source (data): Power E*TRADE. (For illustrative purposes. Not a recommendation.)
---
Sector roundup: The strongest S&P 500 sectors last week were energy (+1.9%), utilities (-0.8%), and materials (-1.6%). The weakest sectors were consumer staples (-5.8%), information technology (-3.8%), and communication services (-3.1%).
Highlight reel: On Monday Bed Bath & Beyond (BBBY) +34% to $21.71, Bumble (BMBL) +42% on Wednesday. On the downside, Inspirato (ISPO) -37% to $26.65 on Monday -43% to $15.25 on Tuesday.
Futures action: April WTI crude oil (CLJ2) jumped to $130.50/barrel early last week—its highest level since 2008—before retreating and closing Friday below $110. April gold (GCJ2) spiked to $2,078.80/ounce last Tuesday—the first time the market had topped $2,000 since August 2020—but like oil, pulled back the remainder of the week and closed Friday below $1,990. Biggest up moves: May canola (RSK2) +5.3%, May soybean oil (ZLK2) +4.4%. Biggest down moves: May lumber (LBSK2) -27.7%, May hard red wheat (KWK2) -6%.
Coming this week
All eyes (and ears) will be on Wednesday's Fed announcement, but this week also includes another inflation reading, retail sales, and housing numbers:
●Tuesday: Producer Price Index (PPI)
●Wednesday: Retail Sales, Import Price Index, NAHB Housing Market Index, Business Inventories, Fed interest rate announcement
●Thursday: Housing Starts and Building Permits, Industrial Production and Capacity Utilization
●Friday: Existing Home Sales, Leading Economic Indicators Index
This week's earnings include:
●Today: Vail Resorts (MTN), Calavo Growers (CVGW)
●Tuesday: ANI Pharmaceuticals (ANIP), Dole (DOLE)
●Wednesday: Lands' End (LE), RumbleON (RMBL), Jabil (JBL), BRC (BRCC), Lennar (LEN)
●Thursday: Dollar General (DG), Commercial Metals (CMC), Canadian Solar (CSIQ), Accenture (ACN), FedEx (FDX)
●Friday: On Holding (ONON)
Check the Active Trader Commentary each morning for an updated list of earnings announcements, IPOs, economic reports, and other market events.
Market Mover Update: EPAM Systems (EPAM), a US tech firm whose biggest software development center in Ukraine, ended last week with an 8.x% Friday rally. The stock tumbled 46% on February 26 (two days after Russia invaded Ukraine) when the company suspended guidance (see "Sell-offs: Buying stock vs. options").
Click here to log on to your account or learn more about E*TRADE's trading platforms, or follow the Company on Twitter, @ETRADE, for useful trading and investing insights.
---
Important note regarding economic sanctions. This event may involve the discussion of country/ies which are generally the subject of selective sanctions programs administered or enforced by the U.S. Department of the Treasury's Office of Foreign Assets Control ("OFAC"), the European Union and/or by other countries or multi-national bodies. The content of this presentation is for informational purposes and does not represent Morgan Stanley's view as to whether or not any of the Persons, instruments or investments discussed are or may become subject to sanctions. Any references in this presentation to entities or instruments that may be covered by such sanctions should not be read as recommending or advising on any investment activities involving such entities or instruments. You are solely responsible for ensuring that your investment activities in relation to any sanctioned country/ies are carried out in compliance with applicable sanctions.
What to read next...
03/11/22
Stock's recent doldrums camouflage below-the-surface options activity.
---
03/10/22
Options rarely offer advantages unless traders know how to avoid their weaknesses and zero in on their strengths.
---
03/09/22
Find out what traders may have noticed when the US banned Russian crude oil.
---