Lumber, housing, and options
Timber company WFG down 21% from May high
Shares have tracked recent lumber sell-off
Latest housing data may shed light on near-term lumber demand
It's not every day that options activity, economic data from a different industry, and commodity prices converge in the same story.
Yesterday, though, the LiveAction scan for high open interest (OI) included lumber company West Fraser Timber (WFG), which had around 7.6 times its average number of open options positions. Given WFG's typically modest trading activity, it wasn't difficult to find out where traders were concentrated. The June $65 and $70 puts accounted for the lion's shares of options positions, with 4,000 contracts between them: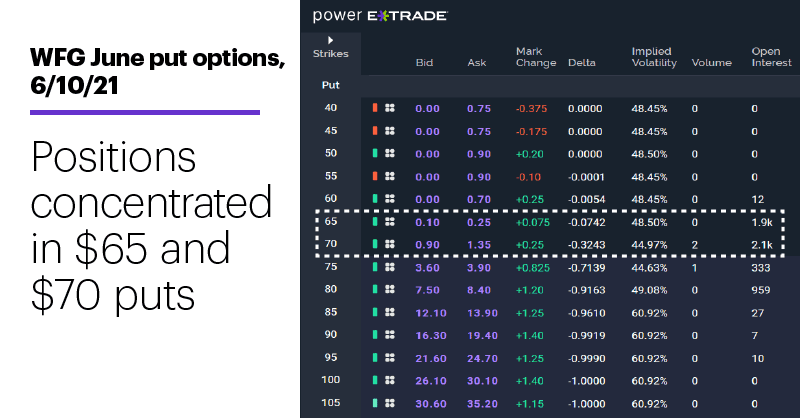 Source: Power E*TRADE
---
An indication of bearish positioning by options traders? Perhaps. Even if it was, though, it represented a very short-term outlook, since those options expire a week from today. Nonetheless, those were big positions.
The chart below shows the strike prices were a little below where WFG was trading yesterday ($72–$73), but more than 23% below the stock's record high of $91.53 from May 10—and even further removed from the average analyst target of $108.52:1
Source: Power E*TRADE
---
To get a better idea of why WFG has retreated so far after rallying 99% from its October low to its May high, you need only consult a chart of the product the company deals in—lumber.
After a scorching, 208% rally off its January lows, as of Thursday July lumber futures (LBSN1) were down around 35% from their May record high, had given back around half of the January–May rally, and had fallen to their 12th lower close of the past 13 days: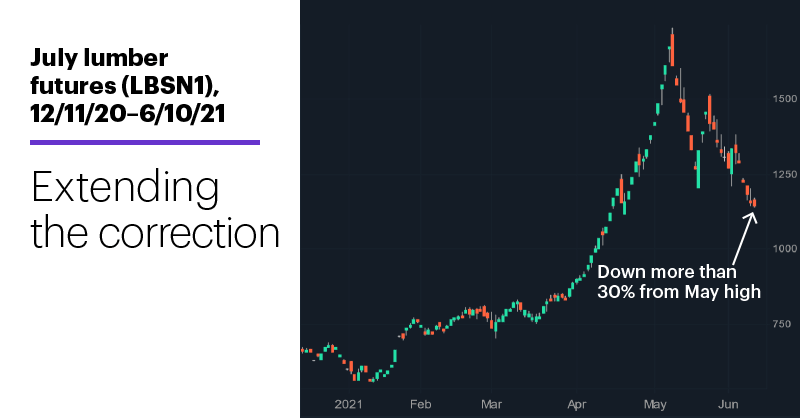 Source: Power E*TRADE
---
While WFG didn't rally as much as lumber on the way up or fall as much on the way down, it has tracked the broader twists and turns of its namesake product.
And with next week ushering in the month's first housing numbers, traders will get an updated look at the industry that has played a significant role in fueling lumber's record-setting rally. But the trend of the past couple of months has been continued tight supply, which has kept home prices high even as housing starts and sales have dipped—in part, some analysts point out, because of soaring lumber prices.2
Bottom line: If lumber stocks like WFG continue to track lumber prices, some traders may see potential vulnerability until the housing and lumber markets establish a workable equilibrium.
Market Mover Update: After sliding nearly 4% intraday on Thursday, United Natural Foods (UNFI) pivoted to the upside to close higher on the day (see "Earnings-day breakdown"). American Airlines (AAL) fell for a sixth-straight day ("Takeoff or descent?").
Today's numbers include (all times ET): Preliminary Consumer Sentiment (10 a.m.).
Click here to log on to your account or learn more about E*TRADE's trading platforms, or follow the Company on Twitter, @ETRADE, for useful trading and investing insights.
---
1 TipRanks.com. West Fraser Timber Co Stock Forecast & Price Targets. 6/10/21.
2 Reuters. Surging lumber prices weigh on U.S. homebuilding. 5/18/21.
What to read next...
06/10/21
Food stock's sell-off shows the potential for concrete data to cut through the market "noise."
---
06/09/21
Is this former high-flyer now trading at its 52-week low a target for bargain-hunting traders?
---
06/08/21
A big acquisition helped place the materials sector front and center to start the week.
---