Stock low, options positions high
2020 biotech IPO recently bounced off record low
Heavy open interest in June, July options
Concentration of positions in out-of-the-money calls
The IPO market may have cooled off a bit since last year, but we've now reached the phase where some of the new kids on the block have some price action under their belts. One of them, niche biotech Seer (SEER), recently showed why it's important to delve into options data rather than just breezing over the headline numbers.
SEER may have begun trading a little less than six months ago, but it's covered a lot of ground in its short lifetime. The stock jumped 79% in the first five days after its December trading debut, but after a second surge that pushed it to a slightly higher high of $86.55 in January, prices slid around 66% to an all-time low close of $28.79 on May 13: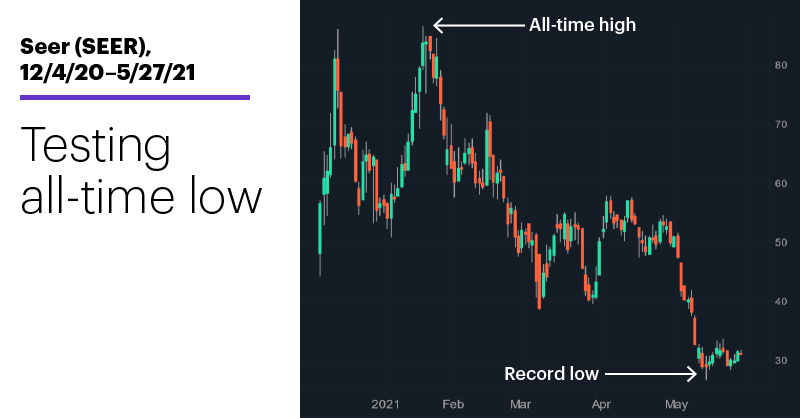 Source: Power E*TRADE
---
Since then SEER has mostly laid low, but despite a couple of sharp down days (including yesterday), the stock has climbed around 5%.
At the same time, SEER's option open interest has been high—more than seven times average on Thursday. While some traders look at open interest (along with volume) to simply gauge the general level of liquidity and trader involvement in a market, it can be helpful to understand just how those options positions are distributed.
A couple of highlights from SEER's options chain yesterday morning:
1. Positions were heavily skewed toward calls, with nearly seven times as many open calls (5,242) as puts (785).
2. More than half of the call positions were in just two contracts, the June $40 calls (2,500) and the July $40 calls (1,500).
While it's always difficult to decipher the "meaning" of a particular options position (is it a stock hedge, or part of a multi-legged options trade?), more often than not traders use calls to take bullish positions and puts to take bearish ones. Assuming at least some of the holders of the $40 calls bought them in anticipation of an up move, that means they were expecting the stock to rally at least 32% above where it was trading yesterday morning before expiration. (An additional 36% rally above that would be required to take the stock to its average 12-month Street target of $55.50.1)
Of course, that doesn't mean the bulls are correct. But knowing a stock has heavier-than-average open interest and knowing how those positions are distributed are two different things. The former gives you an idea of overall liquidity, while the latter can sometimes highlight the way traders may be leaning.
Finally, SEER's implied volatility (IV) was above its historical (price) volatility yesterday, and also above average for all options expirations: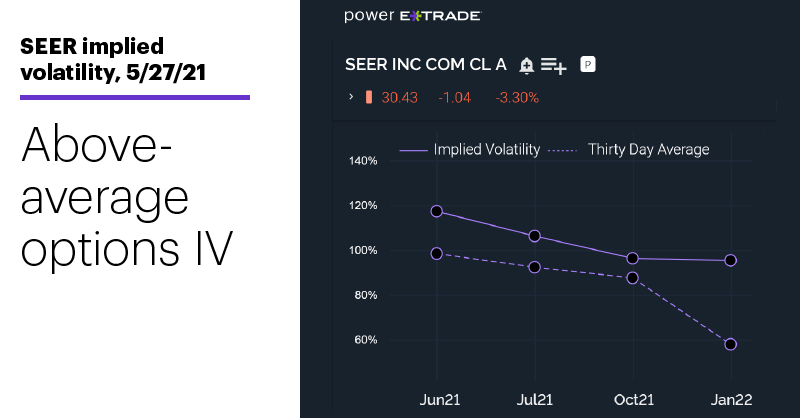 Source: Power E*TRADE
---
Aside from the possible implication that traders are expecting more future volatility for SEER, this may also mean options prices may be relatively elevated.
Yield watch: Traders and investors attempting to spot the next potential market catalyst on the horizon may be keeping a close eye on Treasury yields.
Before price inflation became the stumbling block du jour, soaring Treasury yields had been the stock market's major worry. But after more than tripling from August to March, the 10-year T-note yield has spent more than two months almost entirely in a range between 1.5% and 1.75%: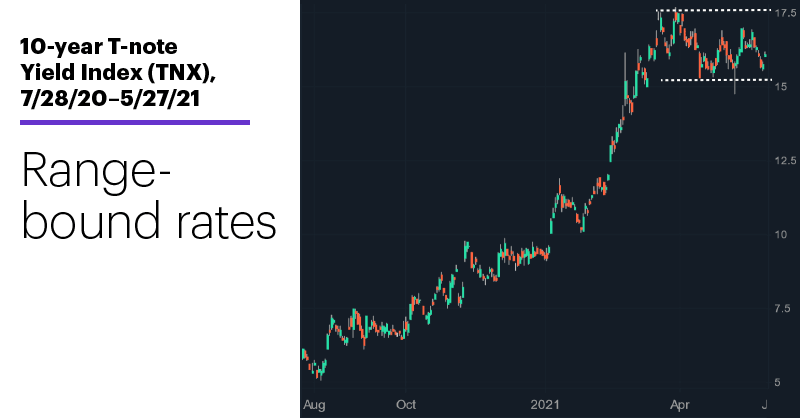 Source: Power E*TRADE
---
Who knows how long the effect would last, but some traders may be betting the initial breakout of this range (up or down, but especially up) could push yields back into the headlines and trigger a response, at least in the short term, from the stock market.
Today's numbers include (all times ET):  Advance International Trade in Goods (8:30 a.m.), Personal Income and Outlays (8:30 a.m.), Advance Retail Inventories (8:30 a.m.) Advance Wholesale Inventories (8:30 a.m.), Chicago PMI (9:45 a.m.), Consumer Sentiment (10 a.m.).
Today's earnings include: Big Lots (BIG).
Today's IPOs include: Centessa Pharmaceuticals (CNTA).
Click here to log on to your account or learn more about E*TRADE's trading platforms, or follow the Company on Twitter, @ETRADE, for useful trading and investing insights.
---
1 TipRanks. Seer Stock Forecast & Price Targets. 5/27/21.
What to read next...
05/27/21
How do some traders adjust for the limitations—and frequently high price tags—of directionless options strategies?
---
05/26/21
Traders who consult "unusual" options activity know it's a good idea to find out if it's actually unusual.
---
05/24/21
Another choppy week of trading, but this time tech managed to pull out the win.
---