Looking good, feeling good
ELF rallied more than 148% off April low
NKE shares consolidate after hitting new record high
Both stocks bucked assumptions about consumer behavior
One of the themes/memes of the past several months is that stay-at-home culture was bad news for businesses devoted to helping people put their best foot, or face, forward in public—the cosmetics industry, for example. After all, the logic goes, you don't need to put on eyeliner (or deodorant, or pants…) to sit down at the kitchen table and peck away at your laptop.
While it sounds like a completely reasonable premise, it doesn't necessarily mesh with reality, especially when you look at stocks like cosmetic powerhouses L'Oréal (LRLCF) and Estee Lauder (EL), both of which are near their all-time highs, and even Ulta Beauty (ULTA), which despite a fairly sharp pullback in June is still up more than 70% from its March low.
Small-cap cosmetics player e.l.f. Beauty (ELF) went on an even bigger run, rallying as much as 148% off its April 3 low after shedding 57% in the February-March COVID sell-off:
Source: Power E*TRADE
---
Aside from recent small-cap tailwinds, the low-cost cosmetics company, which topped its earnings numbers handily on August 5,1 has been aggressive in social media (launching a TikTok "reality show") and branding in recent weeks (inking a high-profile deal with singer Alicia Keys).
After trading to its highest level (around $21) in nearly two-and-a-half years in early July, the stock has knocked on that door again in recent days; a breakout above that level would also represent a breakout of a larger resistance "zone" between $19-$21 that has contained the stock's swing highs dating back to August 2019.
At the other end of the market-cap spectrum there's Nike (NKE), which some analysts saw as potentially vulnerable to a dip in back-to-school buying as more educators decided to go virtual this fall, and as some major college athletic conferences, with whom NKE has huge sponsorship deals, cancelled their football seasons. But NKE shares, which tumbled more than 40% in February-March, rebounded nearly 79% to hit a record high of $107.33 last week: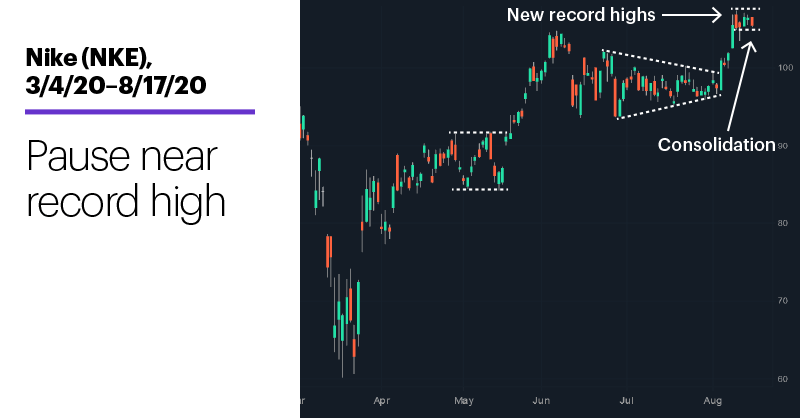 Source: Power E*TRADE
---
Nike missed its numbers when it last reported earnings in June 25—but pulled back for only a day. Some market watchers have since noted the company's potentially enviable positioning in the "athleisure" world—comfort, when less formality an issue—as well as the company's aggressive push to digital sales in the initial weeks of the lockdown.2
Traders, though, are probably more interested in the fact that yesterday was the fifth day of a tight consolidation for the stock, which staged upside breakouts of its last two (larger) consolidations, in May and earlier this month.
Savvy bulls looking for potential breakouts in either stock may be waiting to buy them on weakness rather than strength, but the performance of both in recent months is a reminder that when it comes to trading, price action outweighs market "themes."
Market Mover Update: Ontrak (OTRK) jumped more than 10% intraday yesterday, extending its run from last Wednesday to nearly 22% (see "Telehealth market's temp rises").
Renewable Energy Group (REGI), which has rallied 75% since July 13, was popular among call options traders yesterday, landing on the LiveAction scans for heavy call volume (more than eight times average) and high call-put ratio (52). Visa (V) also popped up on a couple of scans—Largest Net Positive Deltas and Largest Number of Trades—as it swung higher within its two-month trading range.
Today's numbers (all times ET): Housing Starts (8:30 a.m.), E-Commerce Retail Sales (10 a.m.).
Today's earnings include: Advance Auto Parts (AAP), Agilent (A), Kohls (KSS), Home Depot (HD), Walmart (WMT).
Click here to log on to your account or learn more about E*TRADE's trading platforms, or follow the Company on Twitter, @ETRADE, for useful trading and investing insights.  
---
1 Zacks Equity Research. E.l.f. Beauty (ELF) Beats Q1 Earnings and Revenue Estimates. 8/5/20.
2 StreetInsider.com. Nike (NKE) Pivot to Digital is Accelerating, Stifel Reiterates Buy. 6/26/20.
What to read next...
08/17/20
Stocks press higher, balancing encouraging economic data against US–China tensions.
---
08/14/20
Virtual car dealer hits brakes on recent rally, but traders may see opportunity to take it for a test drive.
---
08/13/20
AI-powered telehealth provider's recent volatility may be just what the doctor ordered for short-term traders.
---