Logistics stock on the move
WERN shares jumped more than 4% intraday on Monday
Open options positions nearly five times average
Options volatility suggests expectations of more near-term price action
Without context, any single piece of market information can mean anything—or more accurately, nothing—which is why traders often seek confirmation from unrelated indicators before putting on a position.
Yesterday, for example, traders may have noticed a few things going on in trucking and logistics company Werner Enterprises (WERN):
1. larger-than-average options positions.
2. a big, trend-bucking move in the stock price.
3. relatively high implied (options) volatility.
Let's look at one way these puzzle pieces could have fit together.
First, a LiveAction scan showed WERN's options open interest (OI) was running around five times its average level yesterday morning: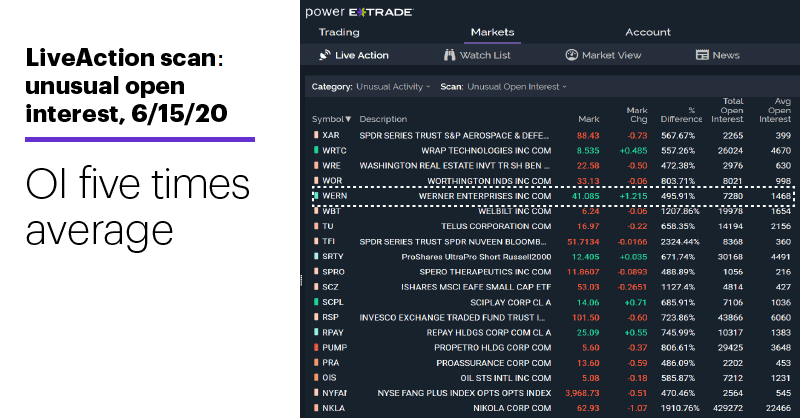 Source: Power E*TRADE
---
Because OI represents the number of unclosed options positions, many traders watch these numbers to help gauge the level of engagement in a particular symbol. If OI is high (or increasing), it can mean more (or larger) traders are taking positions in a stock, which can provide fuel for future price action.
Diving into the options chain showed the lion's share of WERN's options positions were in calls—specifically, the July $40 calls expiring in 31 days:
Source: Power E*TRADE
---
But there was also a fair number of outstanding July $45 and $50 calls—overall, July call options OI was around 25 times put options OI yesterday.
If that tilt toward call options was an indication of bullish interest, WERN's price chart could partially explain why call buyers were getting involved. In addition to jumping more than 4% intraday Monday, WERN rallied around 57% off its March 16 low to hit a series of record highs at the end of May: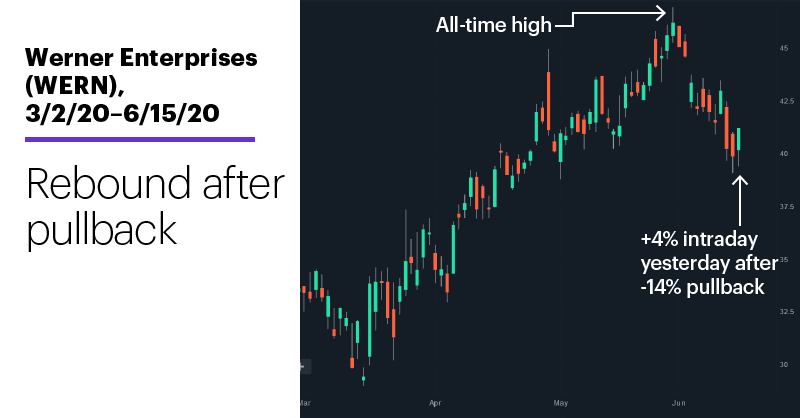 Source: Power E*TRADE
---
Yesterday's rally also interrupted a nearly 14%, two-week retreat from those highs.
As a company that makes its money transporting the stuff people buy, WERN would appear to be in a position to benefit from bullish tailwinds if the US economic reopening doesn't get derailed by a worse-than-anticipated coronavirus second wave.
But that risk can't be ignored, which may be why WERN's 30-day implied volatility (IV)—the market's estimate of future volatility reflected in options prices—is relatively high. Yesterday, IV for WERN July options was running around 56% while the stock's historical volatility was around 36%, which is the options market's way of saying, "This stock has the potential to move more in the next 30 days than it did in the past 30 days."
The question, as always, is, which way? Bulls looking for a challenge to the stock's late-May highs may see yesterday's combined options, volatility, and price activity as an encouraging sign, but they also know to protect their downside in the event the current pullback low turns out to be temporary.
Volatility cuts both ways.
Today's numbers (all times ET): Retail Sales (8:30 a.m.), Industrial Production (9:15 a.m.), Business Inventories (10 a.m.), Housing Market Index (10 a.m.), Jerome Powell testifies before Senate Banking Committee (10 a.m.).
Today's earnings include: Oracle (ORCL), Lennar (LEN).
Click here to log on to your account or learn more about E*TRADE's trading platforms, or follow the Company on Twitter, @ETRADE, for useful trading and investing insights.  
---
What to read next...
06/15/20
Stocks experience first real pullback in a month, tested by second-wave concerns, Fed outlook.
---
06/12/20
Recent stock market loss(es) have been a gain for put options—something bullish traders may be able to capitalize on.
---
06/11/20
Crude oil paused this week after hitting a three-month high as oversupply worries flared up again.
---