The story behind the story
Lithium stocks staged huge rally in Q4 2020
2018–2019 performance was sub-par, despite EV growth
Key stocks reversed after initial rally Monday
It may not have been a cut-and-dried "Buy the rumor, sell the news" situation, but Monday's action in electric vehicle (EV) stocks—particularly one key sub-group—highlighted the pitfalls of chasing juicy headlines rather than trading strategically.
In this case, the news was Tesla's (TSLA) recent announcement that it delivered a record number of vehicles (in Q4 2020),1 which came a day after the Biden administration unveiled a $2 trillion infrastructure plan that included targeted support for the electric vehicle (EV) space. TSLA shares jumped in early trading, as did many EV stocks. But while Tesla held on to the majority of its gains as the session progressed, most other EV-related names gave them back, with some of them slipping into the red.
That included some of the top lithium producers—lithium batteries being the primary source of the "E" in EVs. The following chart shows three of the bigger lithium players, Albemarle (ALB), Sociedad Química y Minera de Chile (SQM), and Livent (LTHM) over the past five months: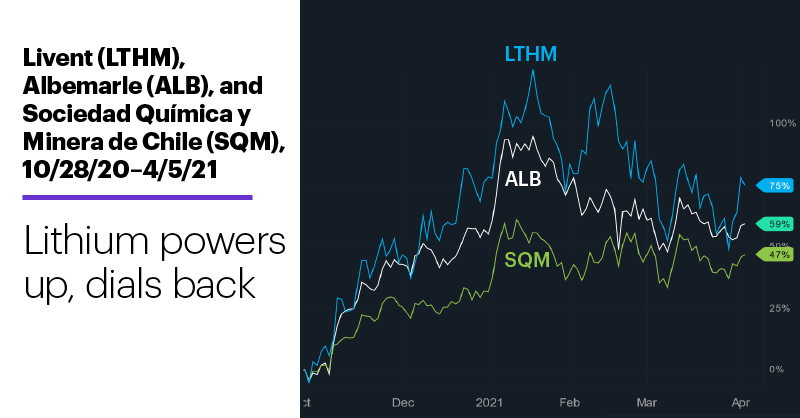 Source: Power E*TRADE
---
All three posted huge rallies from late October to early January before throttling back the past couple of months. All three have more or less stabilized since establishing support around their February or March sell-off lows, and all three were up sharply yesterday morning before going negative before noon ET.
Livent, for example, was initially up more than 3% but let that gain dissolve into a 7% loss by the close.
The following weekly chart of LTHM highlights something else about the lithium space—their underperformance prior to their 2020 rallies. LTHM didn't begin trading until October 2018, and it mostly traded lower until the second of half of 2019. That rally was interrupted by the COVID crisis, which slammed the stock to all-time lows around $4 before it more than quintupled by January's record high of $23.99. But by early March, the stock had given back nearly half that rally before stabilizing: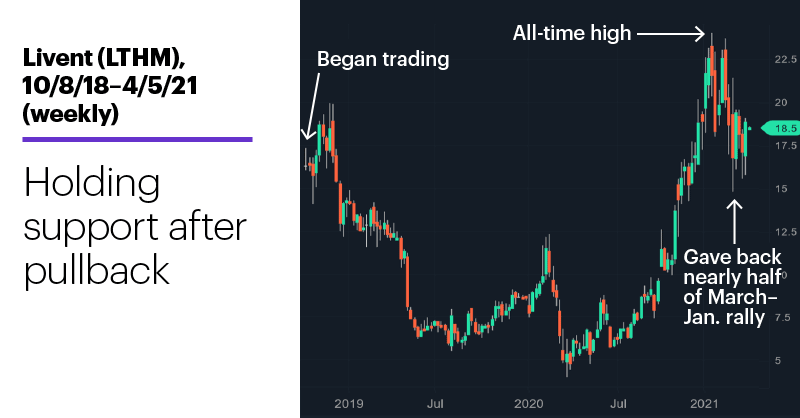 Source: Power E*TRADE
---
ALB and SQM mounted strong rallies of their own last year, but both had been trending lower since early 2018 before those moves kicked in—even as the EV space was heating up and demand for lithium was projected to climb.
Bulls who think this story has entered a new chapter may be encouraged by last year's lithium-stock rally, but their action over the past couple of months, as well as yesterday, may be instructive: Traders interested in this space may be more inclined to buy them on weakness rather than chase them on "headline strength." And they'll probably be watching the support levels these stocks formed in recent months, too.
VIX update: The S&P 500 index (SPX) may have hit a new all-time high yesterday, but the market's so-called "fear index"—the Cboe Volatility Index (VIX)—also closed up on the day. And that's worth noting. The VIX typically moves inversely to the stock market, so when it jumps when the SPX rallies—especially when the SPX hits a longer-term high—it can be a signal that traders are feeling more anxious despite higher stock prices. Since 1997, the SPX closed lower the day after days like yesterday 61% of the time, and the index was lower 51% of the time after five days.2
Market Mover Update: Crude oil started the weak to the downside after OPEC+ decided to ramp up production levels over the next three months. June WTI crude futures (CLM1) fell more than 5% intraday and temporarily fell below $58/barrel. Energy stocks took the cue—the S&P 500 energy sector lost more than 2% on the day.
Today's numbers (all times ET): JOLTS (10 a.m.).
Today's earnings include: Smart Global (SGH), Paychex (PAYX).
Click here to log on to your account or learn more about E*TRADE's trading platforms, or follow the Company on Twitter, @ETRADE, for useful trading and investing insights.
---
1 CNBC.com. Tesla delivered 184,800 vehicles in the first quarter of 2021, Model S and X production dropped to zero. 4/2/21.
2  Reflects S&P 500 (SPX) and Cboe Volatility Index (VIX) daily data, 3/6/97–4/1/2021. Pattern (145 instances) consists of a day with a lower VIX close followed by a day the VIX closes higher while the SPX sets new 50-day (or longer) high and closing prices. Supporting document available upon request.
What to read next...
04/05/21
US stocks start Q2 by pushing to new records as Capitol Hill braces for an infrastructure showdown.
---
04/01/21
EV-related stocks get a jolt as the Biden administration rolls out infrastructure plan.
---