Lithium stocks diverge from trend
Lithium has continued to surge to new all-time highs this year
Lithium stocks down since Nov. after major rallies
Stocks tracking equity trend more than lithium trend?
Rising prices in certain raw commodities, but especially crude oil, has been one of the hallmarks of the inflation that has unfolded over the past several months. And the energy sector's bear-defying performance so far this year has underscored the potential attractiveness some investors see in so-called "commodity stocks."
Count lithium—as in lithium ion batteries, as in the booming electric vehicle market—among the commodities on the rise. Lithium prices are up more than 55% this year to record highs, and up nearly 500% year over year.
Unlike the energy sector's performance relative to oil, though, in recent months lithium stocks diverged from their underlying commodity. The chart below shows a few of the better-known names in the space—Lithium Americas (LAC), Livent (LTHM), Albemarle (ALB), and Sociedad Quimica Y Minera (SQM)—from around the time they began to push off their May 2021 lows: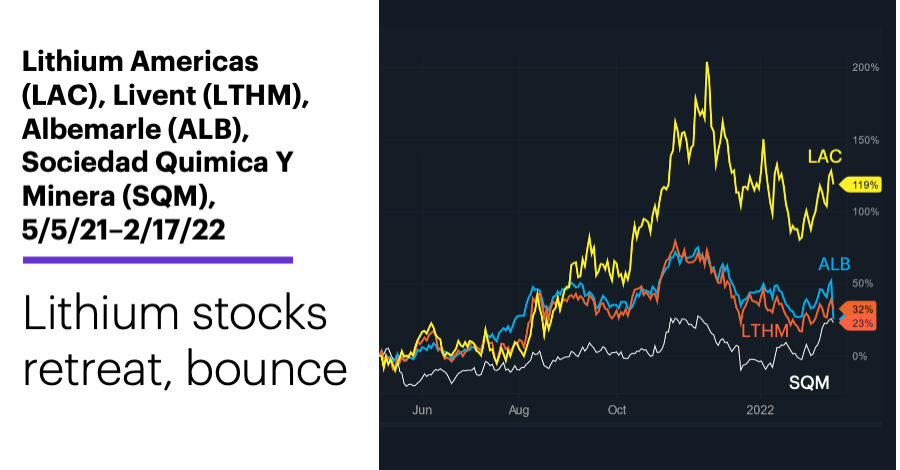 Source: Power E*TRADE. (For illustrative purposes. Not a recommendation.)
---
Their rallies ran out of gas—or, rather, electricity—in November as the broad market peaked, despite the continued lithium uptrend. The stocks have also rebounded with the rest of the stock market since late January.
There was a bit of shake-up in the space on Thursday, though. Albemarle, which after falling 30% from its November high, had rallied 20% above its January 27 close as of Wednesday. The stock then sold off 20% yesterday after releasing earnings that topped estimates but offered a full-year earnings forecast that fell short of expectations:1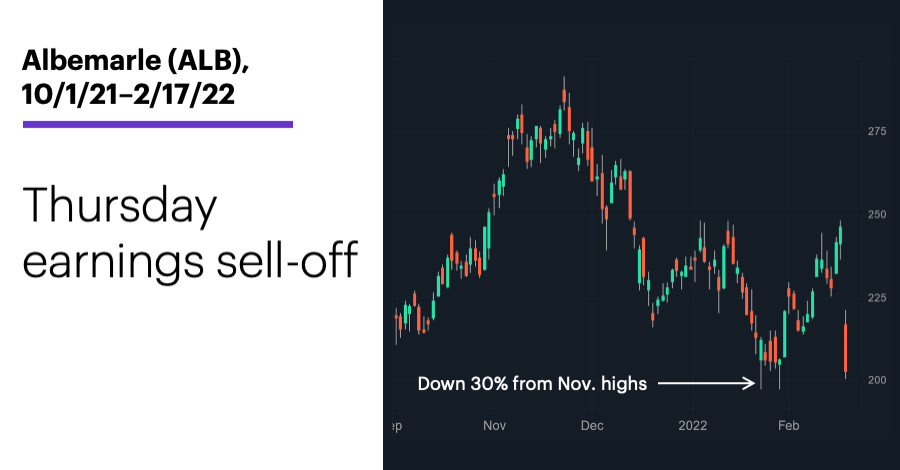 Source: Power E*TRADE. (For illustrative purposes. Not a recommendation.)
---
Yesterday's initial market "disappointment" may have reflected a disconnect between the soaring price of the commodity ALB deals in and the company's seemingly modest earnings projections. But as some analysts pointed out, contracts to sell materials like commodities are often made many months in advance, so it can take a while for a company like Albemarle to benefit from higher prices.2 The other lithium stocks—LAC, SQM, and LTHM (which was scheduled to announce earnings after Thursday's close)—also sold off yesterday, although not as sharply as ALB.
It's a useful reminder that commodity stocks can diverge from the prices of their commodities—there are many links in the chain connecting the price of a commodity and the price of a stock that supplies it. It's certainly possible that sustained high lithium prices could reignite uptrends in lithium stocks—the divergence between the two is worth noting—but as recent history illustrates, it's not the only factor at play.
Market Mover Update: Gold, platinum, and palladium are all among the strongest commodities over the past five trading days, and mining company Sibanye Stillwater (SBSW) popped to a six-month high yesterday (see "Exhaust vs. exhaustion").
Open interest in the Hyatt Hotels (H) March $95 call options shrank by 1,000 yesterday, indicating most of Wednesday's heavy volume consisted of traders liquidating existing positions. Hyatt shares fell 6.3% intraday on Thursday before recouping some of its losses. Meanwhile, the 1,353-contract OI increase in the Chubb (CB) May $230 calls confirmed most of its volume consisted of traders getting into new positions (see "Breaking down the options chain").
Market Holiday reminder: US stock exchanges will be closed on Monday, February 21 for Presidents Day. Some US futures contracts (including stock index futures) will trade on a limited basis.
Today's numbers include (all times ET): Existing Home Sales (10 a.m.), E-Commerce Retail Sales (10 a.m.), Leading Indicators (10 a.m.).
Today's earnings include: Deere & Co. (DE), DraftKings (DKNG).
Click here to log on to your account or learn more about E*TRADE's trading platforms, or follow the Company on Twitter, @ETRADE, for useful trading and investing insights.
---
1 StreetInsider.com. Albemarle (ALB) Tops Q4 EPS by 3c, Offers Outlook. 2/16/22.
2 Reuters.com. Albemarle sees annual profit below estimate despite record lithium prices. 2/16/22.
What to read next...
02/17/22
Similar-looking options activity can mean one thing in one stock, and something very different in another.
---
02/16/22
Options volatility jumps to one-year highs as biopharma stock climbs off longer-term low.
---
02/15/22
What could be behind the UK stock market's recent relative strength?
---