Batteries up
Lithium stocks up sharply over the past month
Lithium prices have stagnated since hitting March highs
ALB approaching highs from earlier this year
The commodity rally central to the inflation story of the past year or two has—appropriately—revolved around fossil fuels. The price of crude oil doesn't just affect what we pay at the pump, it affects what we pay for nearly all the products we buy because manufacturers pass on their increased oil and gas prices to customers.
But one of the more interesting commodity stories of the past year or two has unfolded in lithium, the key element used to make electric vehicle (EV), phone, and laptop batteries. While crude oil rallied an impressive 620% between April 2020 and March 2022, lithium gained nearly 1,000%, and jumped 459% just between July 2021 and March 2022.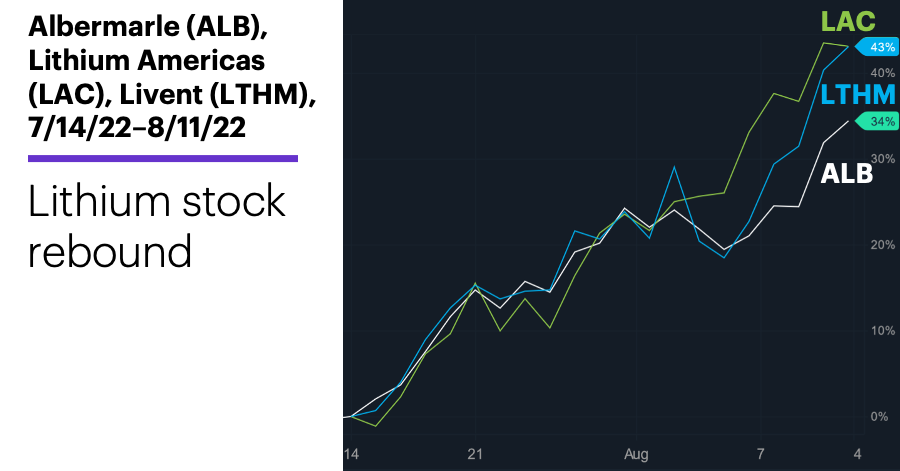 Source: Power E*TRADE. (For illustrative purposes. Not a recommendation.)
---
Meanwhile, the stocks of many lithium-producing companies have been on a tear over the past month (above), with Albermarle (ALB), Lithium Americas (LAC), and Livent (LTHM) all gaining more than three times as much as the S&P 500 (SPX) since mid-July.
But here's something many people may find surprising: Lithium prices have moved sideways to lower in the five months since they hit those March record highs and, as a representative longer-term ALB chart shows, lithium stocks have traveled a jagged path over the past year or so: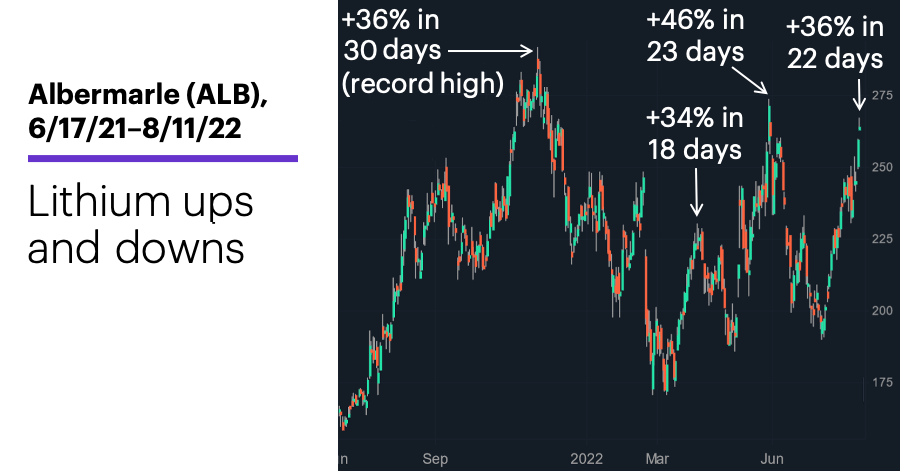 Source: Power E*TRADE. (For illustrative purposes. Not a recommendation.)
---
In addition to revealing the current rally as one of several high-momentum upswings (interspersed with equally volatile down moves), the chart shows ALB hit its all-time high last November—nearly four months before lithium prices peaked. In fact, ALB was hitting its year-to-date lows around the same time lithium was peaking, and it has since swung sharply higher and lower as lithium prices have essentially stood still.
This reminder that so-called "commodity stocks" are not commodities may be helpful in light of the recent buzz surrounding renewable energy stocks as the Inflation Reduction Act—which earmarks funds for green energy, including EVs—has moved forward through Congress. Albemarle has been cited as a potential beneficiary of the legislation, which some market watchers expect to facilitate EV production.1
That could very well be, but it doesn't account for the supply-demand component of the lithium market, which has been notoriously difficult to forecast, not to mention the possible disconnect between lithium stocks and lithium itself. Those issues could determine whether the latest upswing in lithium companies plays out like its predecessors or turns into something different.
Market Mover Update: After its seventh up day out of the past eight, Dice Therapeutics (DICE) extended its rally since July 22 to more than 25% (see "Traders take interest in biotech's options").
Today's numbers include (all times ET): Spectrum Brands (SPB).
Today's earnings include: Import and Export Prices (8:30 a.m.), Consumer Sentiment (10 a.m.).
Click here to log on to your account or learn more about E*TRADE's trading platforms, or follow the Company on Twitter, @ETRADE, for useful trading and investing insights.
---
1 Kiplinger. Biden's Inflation Reduction Act: Investing Winners and Losers. 8/8/22.
What to read next...
08/10/22
Is the market's recent pause setting up another momentum breakout?
---
08/09/22
Do traders think the recent moves in clean energy stocks are sustainable?
---
08/08/22
Will labor market strength trigger a shift in trader sentiment?
---