Let's make a deal (or not)
Last week LVMH pulled out of deal to buy Tiffany (TIF)
TIF shares tumbled more than 11% on news
Similar drops in recent months marked relative lows
Many traders were probably unsurprised to see Tiffany (TIF) popping up on the LiveAction scan for high put options volume in recent days. After all, LVMH Moët Hennessy–Louis Vuitton (LVMHF) had pulled out of the deal to buy the luxury goods retailer that originally hit the tape way back in October 2019.
Markets don't like surprises, and a $16 billion acquisition deal that falls apart nearly a year after it was announced certainly falls into the "Wait, what?" category.
Tiffany shares sold off more than 11% last week after the news broke, extending their pullback from August 24's high to 17%: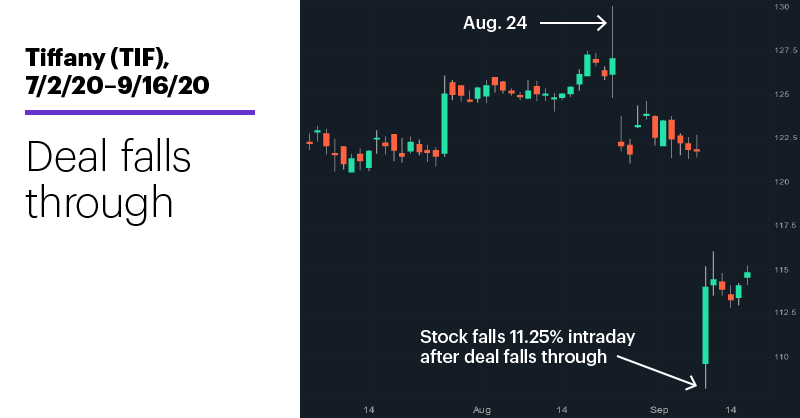 Source: Power E*TRADE
---
Surprises bring volatility—the bane of investors but often the lifeblood of traders, because when prices are suddenly dislocated, traders can play a potential move back into alignment. The trick, of course, is knowing what constitutes "alignment."
For example, when TIF put options volume was running more than three times average early yesterday morning, it was easy to speculate some traders were taking bets on more downside. The catch: Call options volume was even stronger—nearly five times average. Also, halfway through the day, TIF had fallen off the unusual put options volume scan entirely. So much for that hypothesis.
The deal story isn't over, by the way. LVMH reportedly pulled out because of the economic damage wrought by the pandemic, as well as the threat of US tariffs on French luxury goods (LVMH is based in France).1 Meanwhile, lawsuits and accusations are flying.
Traders who perused longer-term TIF charts may have noticed that the announcement of the deal last year catapulted TIF back towards its 2018 all-time highs, the stock took a couple of extremely sharp hits, one in March (courtesy of the coronavirus) and another in June (courtesy of worries about the LVMH deal). The following chart shows the stock rebounded from both of these episodes in fairly short order: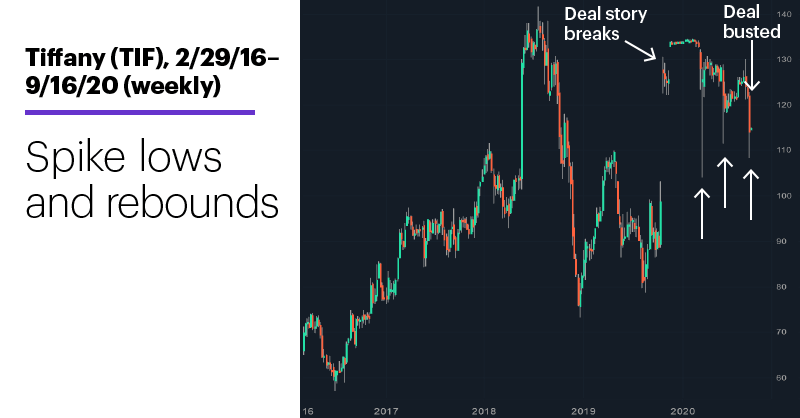 Source: Power E*TRADE
---
In fact, shares ultimately climbed as much as 18% off the March low and 11% off the June low before making any significant down move.
The first (daily) chart shows TIF reversed intraday on September 9 to close near the top of its range, and as of yesterday had notched its second straight up day after forming a pullback low on Monday. Whether or not history repeats itself, traders interested in TIF will want to keep tabs on any follow-up from last week's development, as well as any action in the options market that may help shed light on the stock's near-term price action.
Traders need price movement, but they need to cover their bases to keep a handle on risk.
Market Mover Update: Snowflake's (SNOW) eagerly anticipated IPO yesterday lived up to its billing—and then some. Shares of the cloud storage and data analysis company opened at $319—nearly three times more than the expected range of $100–$110—and never traded below $231.10.
FedEx's (FDX) big jump on earnings yesterday ran its gain over the past month to around 59% (see "Trading outside the box"). Reversing last week's pullback, Masco (MAS) climbed to a new all-time high on Wednesday (see "Street getting back to basics?").
Finally, the market didn't appear to know what to do with yesterday's FOMC announcement, which suggested that near-zero interest rates are likely for at least a couple more years.2 The S&P 500 (SPX) initially pushed to a new intraday high after the news broke, but reversed to close near its lows and in the red for the day.
Today's numbers (all times ET): Housing Starts and Permits (8:30 a.m.), Jobless Claims (8:30 a.m.), Philadelphia Fed Manufacturing Index (8:30 a.m.).
Today's earnings include: Cantel Medical (CMD), Scholastic (SCHL).
Click here to log on to your account or learn more about E*TRADE's trading platforms, or follow the Company on Twitter, @ETRADE, for useful trading and investing insights.  
---
1 The New York Times. Tiffany's $16 Billion Sale Falls Apart in Face of Pandemic and Tariffs. 9/15/20.
2 The Washington Post. Federal Reserve sees rates near zero at least through 2023. 9/16/20.
What to read next...
09/16/20
OPEC, IEA cut demand outlook—after the oil market takes its biggest tumble since April.
---
09/15/20
"Orphan" drug maker not abandoned by traders—options volume surges as stock tests recent highs.
---
09/14/20
Tech benchmark retreats 10% before steadying.
---