Lessons from 2008
Recent market action mirrors 2008 conditions (maybe in a good way)
All market crises have similarities, regardless of specific triggers
Watch sentiment indicators at key levels
In just three weeks, the US stock market dropped more than 33%, interest rates were headed to zero, and investors wondered if the bottom would ever come.
We're talking about September 19–October 10, 2008, when the financial crisis stock sell-off (the everything sell-off, really) was peaking, and bankruptcies and foreclosures didn't have people thinking "recession," it had them thinking "depression"—and not later, but now.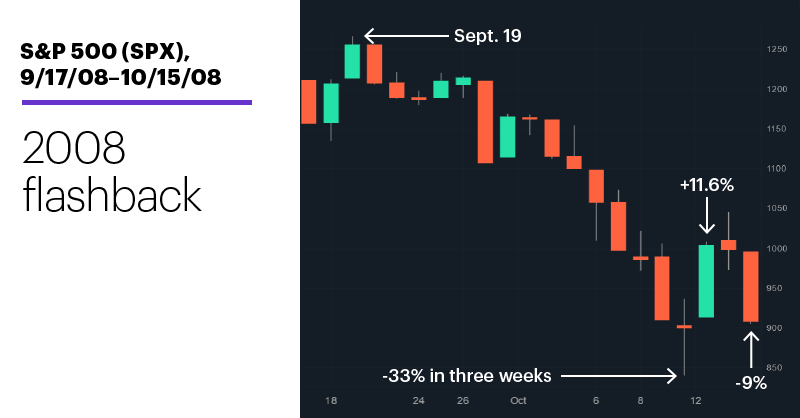 Source: Power E*TRADE
---
Pointing out that the S&P 500 (SPX) took a little longer (four weeks) to fall 32.6% this year, or that in 2008 the index had already fallen nearly 20% before its September–October flush-out, isn't meant to to downplay the severity of the recent sell-off. This is the real deal.  
But even though there's been a lot of talk lately about "record volatility" and "historic" price moves, it's helpful to remember that while we're certainly navigating stormy seas, we're not doing it without GPS. A few observations about 2008 that may put today's market action in perspective:
1. Things can get worse before they get better, but they get better. The market didn't bottom on October 10, 2008, even though many people probably hoped it had when the SPX rallied 11.6% the next day. By November 21, the SPX had fallen another 17.6% below its October 10 close.
No one knew it at the time, but at that point the selling was nearing its end. The SPX rallied around 27% from its November 21 low to its January 6, 2009 high before turning lower and, in early March, falling around 10% below the November 21 low—a final twist of the knife. But this turned out to be a head fake—the market turned higher and never looked back. (However, November 21 was the Nasdaq 100's bear-market bottom—the tech index also slumped in February-March 2009, but it never quite reached its previous low.)
2. Violent day-to-day swings are par for the course. That 11.6% rally the day after the SPX's October 10, 2008 low? It was followed two days later by a 9% drop. What traders have been experiencing lately is "normal" for this type of market. There will be more of these moves to come. They don't change the bigger picture.
3. Sentiment may hold clues price action doesn't. You've heard a lot about the VIX in this space recently, and you're going to hear more. One tip-off that the SPX's March 2009 lower low may have been a buying opportunity—instead of another leg to the bear market, as many people feared at the time—was that although the Cboe Volatility Index (VIX) jumped when it occurred, it didn't get anywhere near its October 2008 levels: The VIX peaked at 89.53 in October, but reached only 53.25 in March. That suggested investor fear wasn't as high in March, even though the market had fallen well below its October levels. When the market is "feared out," conditions are sometimes ripe for a reversal.
Although we shouldn't expect 2020 to unfold the same way 2008-2009 did—the catalysts, as well as the underlying market conditions, are much different—it's helpful to remember that all market "crises" share certain characteristics. And for all the pain 2008 inflicted, the other side of the coin is that it turned out to be one of the great long-term buying opportunities of the past 20 years.
We may not be out of the woods yet, but the good news is that we've been in these woods before. In the meantime, keep risk front of mind, and keep emotions in check.
Market Mover Update: Crude oil rebounded from Wednesday's rout, with the May futures (CLK0) jumping back above $26/barrel intraday (+25%).
Today's numbers (all times ET): "Quadruple Witching" expiration, Existing Home Sales (10 a.m.), Baker-Hughes Oil Rig Count (1 p.m.).
Today's earnings include: Tiffany (TIF).
Click here to log on to your account or learn more about E*TRADE's trading platforms, or follow the Company on Twitter, @ETRADE, for useful trading and investing insights.  
---
What to read next...
03/18/20
Observations as staples soar, gold tanks, and volatility hits new records.
---
03/17/20
Market picked up yesterday where it left off last week—with epic volatility—and a run at the market's December 2018 lows.
---
03/16/20
What was shaping up to be the second-worst week for stocks since 1960 turned out to be only the second-worst week of 2020.
---