Leisure stock rides volatility waves
MCFT implied volatility (IV) elevated this week
Stock has retreated 25% from mid-May high
Shares still up more than 40% year over year
Volatility—can't live with it, can't live without it.
It gets a bad rap because of its association with "uncertainty," but since volatility is really just a measurement of price movement, let's cut to the chase and say that people generally think volatility is something else when it's helping them (say, when a stock they own skyrockets after an earnings announcement), and they hate it when it's working against them (when that same stock tumbles after earnings).
But volatility can communicate much more about a market than some traders realize. Implied volatility (IV), for example, can play a big role in understanding whether calls and puts may be relatively expensive or inexpensive, regardless of where the underlying market is trading. In a nutshell, high IV—especially if it's high relative to historical volatility (HV)—can imply a couple of things:
1. The options market expects more volatility in the underlying market in the future (IV) than there's been in the past (HV).
2. As a direct result of No. 1, options may be pricier than usual, since options sellers will naturally expect to be compensated for taking on the risk associated with higher future volatility.
Now consider these principles in the context of MasterCraft Boat (MCFT), which has recently pulled back after a 534% rally off its March 2020 lows. On Tuesday, MCFT had 30-day IV that was well above its HV and was nearly 44% higher than a week earlier:
Source: Power E*TRADE
---
The quick takeaway: The options market expects MCFT to be more volatile over the next 30 days than it was over the past 30 days, and it may have relatively expensive options as a result.
However, a key thing to keep in mind in this type of situation is that the options market could very well be wrong—that is, traders may be overestimating future volatility because they're reacting to current high volatility. (Also, remember that IV is an expectation of the amount of price movement, not its direction.)
That's the rub: Extremely high IV (not that MCFT's necessarily qualifies as such) sometimes accompanies price lows because traders often get most fearful when high-volatility sell-offs are reaching fever pitch. This is precisely the reason many traders watch for potential rebounds in the S&P 500 (SPX) when the Cboe Volatility Index (VIX) spikes higher. (If you're interested in just a handful of recent examples, check out what the VIX was doing when the SPX was making lows toward the end of January, in late-October 2020 and, of course, in March 2020.)
MasterCraft got a lot of positive notices after releasing its quarterly numbers on May 12 (the average Street analyst target still stands at $38.25,1 roughly 52% above current levels), but three days after the stock broke out of a short-term consolidation on that earnings beat, it began to retreat. At yesterday's low, the stock was off more than 25% from its May 18 high of $33.63: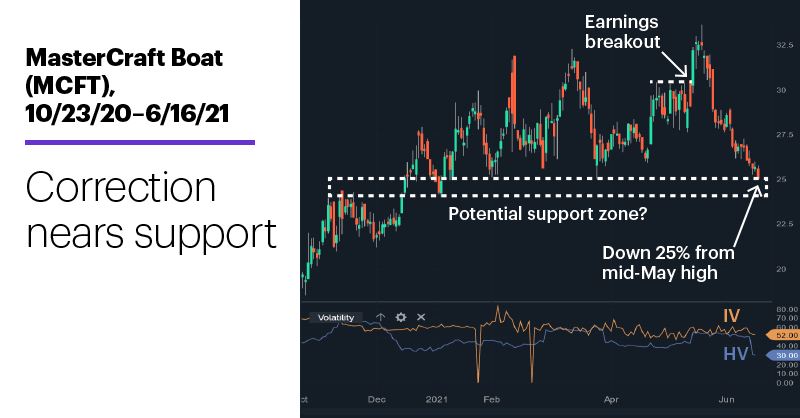 Source: Power E*TRADE
---
Yesterday's 2.5% intraday sell-off (which the stock later trimmed to less than 1%) dropped shares to the top of a potential support zone that encompasses MCFT's major swing lows over the past six months, as well as its November 2020 high. MasterCraft's volatility could certainly continue to rise and its stock continue to fall, but experienced traders tend to pay attention when markets begin to flash potentially "extreme" volatility readings, especially when prices are testing previous lows.
Volatility is an unavoidable part of the markets. Understanding it is the first step toward not fearing it—and possibly increasing the odds of benefiting from the messages it can sometimes send.
Market Mover Update: The Fed's announcement yesterday acknowledging increased inflation—and its forecast for potential rate hikes as soon as 20232—had the expected effects on markets that have been closely tied to the inflation story: August gold futures (GCQ1) tumbled to a six-week low of $1,812.60, while banks (one of the stock market's few bright spots) rallied—including Fifth Third Bank (FITB), which jumped more than 1.2% (see "A tale of two pullbacks").

Today's numbers include (all times ET): Weekly jobless claims (8:30 a.m.), Leading Indicators (10 a.m.).
Today's earnings include: Adobe (ADBE), Commercial Metals (CMC), Jabil (JBL).
Today's IPOs include: Unicycive Therapeutics (UNCY), Lyell Immunopharma (LYEL), Angel Oak Mortgage (AOMR).
Click here to log on to your account or learn more about E*TRADE's trading platforms, or follow the Company on Twitter, @ETRADE, for useful trading and investing insights.
---
1 TipRanks. MasterCraft Boat Holdings Stock Forecast & Price Targets. 6/16/21.
2 AP News. Fed sees faster time frame for rate hikes as inflation rises. 6/16/21.
What to read next...
06/16/21
Big prints appear on the options tape despite stock's tight trading range.
---
06/15/21
Dips in financial stocks and gold may attract more attention in light of this week's inflation focus.
---
06/14/21
S&P 500 sets new records as tocks brush off the latest reminder of rising consumer prices.
---