Key industry catches tailwind
Airlines still far below January-February highs, but up big since mid-May
Many have staged breakout rallies this week
Near-term momentum facing headwinds?
Just as semiconductor stocks were a market bellwether during the US-China trade war, airlines have become one of the pandemic era's touchstones. When travel became one of the earliest—and most severe—casualties of the lockdown, airline stocks got crushed, with many falling more than twice as much as the broad market.
Although they haven't necessarily rebounded to the same extent as many other sectors,  they've certainly been gaining serious altitude since mid-May—and especially the past several days. Check out the following LiveAction scan from yesterday, which shows stocks that gapped higher 1% or more on at least double their average volume: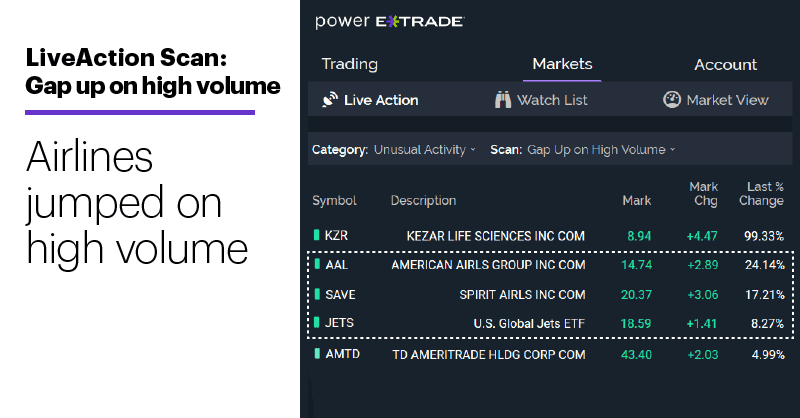 Source: Power E*TRADE
---
Of the five stocks on the list, two were airlines (American and Spirit) and one was an airline ETF. Probably no coincidence that yesterday Beijing reportedly agreed to allow foreign airlines to resume travel into China.1 Even before that news, though, airlines had been building rallies off their May lows amid anticipation over the economy reopening and travel industry data showing US travelers were flying in numbers not seen since before the lockdown.2
Spirit Airlines' (SAVE) chart is fairly representative of the group. After collapsing more than 80% between February 6 and March 19, the stock rebounded the next several days (more than doubling in price), then zigzagged lower to test its March lows in mid-May. Since then, SAVE has shot up nearly 150% and staged back-to-back breakouts the past couple of days, first above the April–May highs, then above the March high: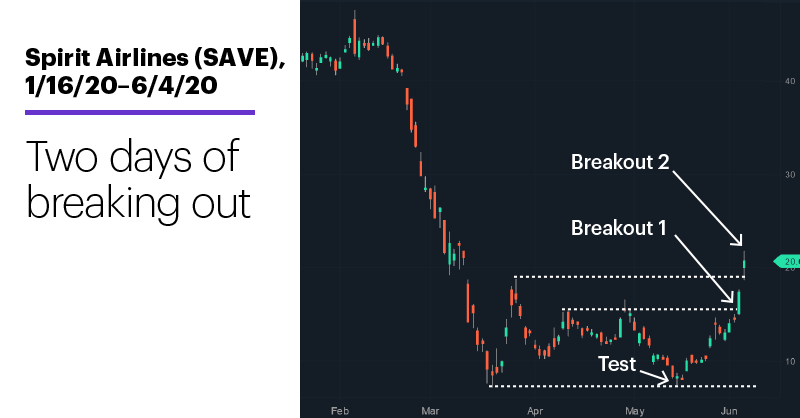 Source: Power E*TRADE
---
All clear to make a run at the February highs? Even dedicated breakout traders and trend-followers would likely concede that high-momentum moves like the one SAVE has put together are susceptible to near-term reversals—in which case many traders may be looking for past breakout levels to function as likely pullback targets. (SAVE, and most other airlines, retreated from yesterday's early highs later in the session.) After all, it's not back to business as usual for airlines, which will be flying at reduced capacity for the foreseeable future, regardless of whether the pandemic produces a second wave.
If nothing else, though, the recent price action suggests that while airlines haven't necessarily reached cruising altitude, they're no longer just sitting on the runway. Savvy traders looking for more upside will likely avoid chasing them into the clouds and look to catch them if and when they drop back down to refuel.
Market Mover Update: The Nasdaq 100 (NDX) made it official Thursday: It hit a new all-time high of 9,741.97, just a little more than 10 weeks after sliding to a sell-off low of 6,771.91 on March 23. For those keeping score at home, that was a 44% rally.
Today's numbers (all times ET): Employment Situation (8:30 a.m.), Consumer Credit (3 p.m.).
Today's earnings include: Tribune Company (TPCO), Mesabi Trust (MSB).
Click here to log on to your account or learn more about E*TRADE's trading platforms, or follow the Company on Twitter, @ETRADE, for useful trading and investing insights.  
---
1 Bloomberg.com. China to Allow Foreign Airlines Back After U.S. Retaliates. 6/4/20.
2 MarketWatch.com. Airline stocks in broad rally as TSA data show travel demand keeps rising. 6/3/20.
What to read next...
06/04/20
Sports-betting operator's blistering rally gets its first test. How might traders wager in the next round?
---
06/03/20
Heavy call options activity highlights potential put strategy.
---
06/02/20
Will resurgent grocery stock enter buy zone after last week's earnings beat?
---