Keeping tabs on options activity
CFX call options volume heavy in early trading Thursday
Stock settled into range after rallying close to February highs
Setting up for a head fake?
One advantage to monitoring unusual options activity is that it can tip you off to markets that may not have otherwise hit your radar.
Yesterday morning, for example, Colfax (CFX) was near the top of the LiveAction scan for high call-put ratios, with call options outnumbering puts 287 to 1: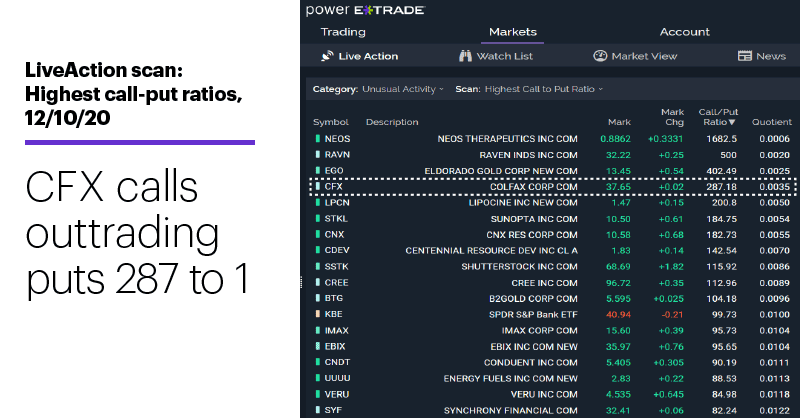 Source: Power E*TRADE
---
Colfax, a specialty manufacturing company that makes products for the medical device, welding, and air and gas handling industries (yes, all three), probably isn't on many momentum trader watch lists. But that doesn't mean it's not worth looking into. And while heavy call buying doesn't necessarily mean traders are unambiguously bullish about a stock, it's often worth digging a little deeper to see what else may be going on.
Unlike some of the other symbols on the list, CFX hasn't been on a rip-roaring rally in recent days, which is the kind of thing that often triggers a flood of call buying. Not that CFX has lacked bullish momentum—the stock has rallied around 39% since October 30 and is up more than 155% since March.
But as the following chart shows, CFX has been consolidating for two weeks, just a little below the resistance level of its pre-pandemic high around $39: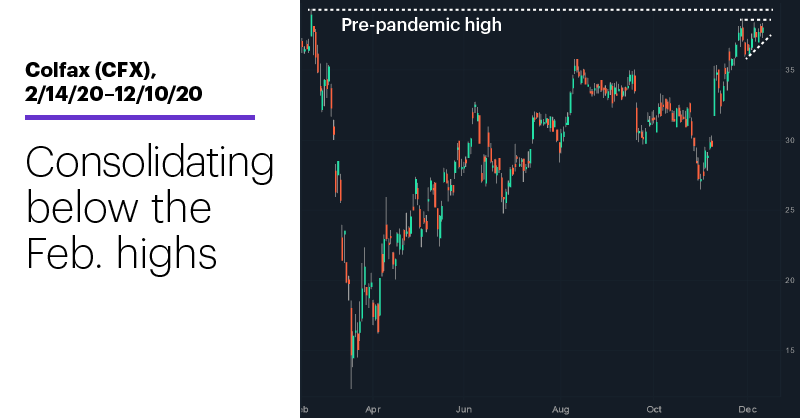 Source: Power E*TRADE
---
Some technical traders would likely look at the consolidation's upward bias (note the progressively higher lows), factor in the heavy call options volume, and wonder whether the stock was preparing to break out of its congestion and take out its February highs.
It's not implausible (especially with some help from the broad market), but resistance remains resistance until it's broken. Also, experienced traders would likely point out that a market that appears to be leaning toward the long side so close to a conspicuous breakout level sets up the potential for a "head fake"—that is, a sharp pullback that scares some bulls out of their positions—right before the stock takes off to the upside, if that's the direction it's ultimately headed.
There's nothing markets like more than misdirection. Instead of piling in with the crowd to avoid missing  a potential breakout, a more tactical approach in this type of situation is to wait for the head fake—if one occurs, of course. But it's always better to let the market come to you, rather than chase it.
Market Mover Update: January WTI crude oil (CLF1) broke out of its consolidation yesterday with a 4%-plus intraday rally to $47.74—its highest level since March 5 (see "Breakout potential?"). February copper (GCG1) got in on the game, too, busting out of its recent range to hit yet another contract high of 3.5835 (see "Copper tests its mettle").
Today's numbers (all times ET): Producer Price Index, PPI (8:30 a.m.), Consumer Sentiment (10 a.m.).
Click here to log on to your account or learn more about E*TRADE's trading platforms, or follow the Company on Twitter, @ETRADE, for useful trading and investing insights.  
---
What to read next...
12/10/20
Two trading ranges highlight potential inflection points.
---
12/09/20
When volatility goes up, savvy traders keep their eyes peeled for potentially overpriced options.
---
12/08/20
There are more IPOs on the horizon, but there's been plenty of notable price action in names that have launched over the past year or so.
---