Market starts June near highs
Small caps start month by extending leadership
Oil gusher pumps energy sector, "meme" stocks thrash
This week: Inflation data, busy IPO calendar
While the stock market didn't seem to care much about last Tuesday's stronger-than-expected manufacturing data, it responded more warmly to the jobs report at the end of the week—even though the numbers were a bit of a mixed bag.
After sliding to an eight-day low on Thursday, the S&P 500 (SPX) bounced off its lows and followed through with a solid rally on Friday that left the index less than three points (0.06%) below its May 7 record close:
Source: Power E*TRADE
---
The headline: Stocks turn weekly loss into gain after jobs report.
The fine print: Friday's numbers showed the unemployment rate dropped from 6.1% to 5.8% in May (more than expected), but the number of new jobs, while strong at 559,000, missed the consensus estimate (650,000) for a second-straight month.
The number: 4, the number of stocks trading above $10/share that gained 58% or more last Wednesday—led by current Reddit favorite AMC Entertainment (see "Highlight reel," below). Eight stocks gained more than 20% on a day the SPX closed up only 0.14%.
The scorecard: The small-cap Russell 2000 (RUT) nailed down the top spot for the second week in a row: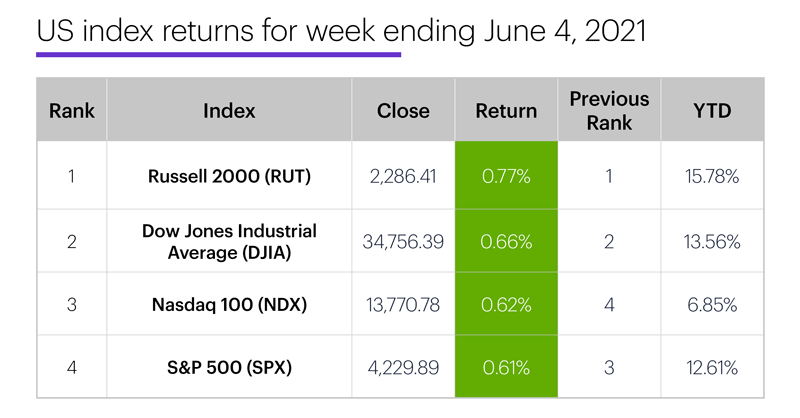 Source (data): Power E*TRADE
---
Sector roundup: The strongest S&P 500 sectors last week were energy (+6.7%), real estate (+3.7%), and information technology (+1.5%). The weakest sectors were consumer discretionary (-1.2%), health care (-0.9%), and industrials (+0.1%).
Highlight reel: AMC Entertainment (AMC) +95% to $62.55 and Constellation Pharmaceuticals (CNST) +66% to $33.57 on Wednesday. On the downside, iRhythm Technologies (IRTC) -18% to $62.77, PetMed Express (PETS) -28% to $33.01 on Thursday.
Futures action: OPEC and other oil-producing countries reconfirmed their agreement to gradually ramp up crude output,1 and July WTI crude oil (CLN1) hit new contract highs every day last week, closing Friday at $69.62/barrel. August gold (GCQ1) suffered its worst one-day dollar loss in four months last Thursday, tumbling $36.60 to $1,873.30/ounce, but after falling as low as $1,855.60 early Friday, the market charged higher to close at $1,892. Biggest up moves: July spring wheat (MWN1) +13.3%, November canola (RSX1) +6.9%. Biggest down moves: June bitcoin (BTCM1) -4.9%, July copper (HGN1) -3%.
Coming this week
Thursday's CPI release headlines the week's economic calendar:
●Monday: Consumer Credit (3 p.m.)
●Tuesday: Trade Balance, JOLTs (job openings)
●Wednesday: Wholesale Inventories
●Thursday: Consumer Price Index (CPI)
●Friday: Michigan Consumer Sentiment (preliminary)
This week's earnings include:
●Monday: Lovesac (LOVE), Coupa Software (COUP), Stitch Fix (SFIX), HealthEquity (HQY), Thor Industries (THO), Verint Systems (VRNT)
●Tuesday: UiPath (PATH), Casey's General Stores (CASY)
●Wednesday: Dave & Buster's (PLAY), Vera Bradley (VRA)
●Thursday: FuelCell Energy (FCEL), Chewy (CHWY)
This week's IPOs include:
●Monday: Skylight Health Group (SLHG)
●Wednesday: Marqeta (MQ)
●Thursday: Zeta Global (ZETA), 1stdibs.com (DIBS), monday.com Ltd. (MNDY), LifeStance Health (LFST)
●Friday: TaskUs (TASK)
Check the Active Trader Commentary each morning for an updated list of earnings announcements, IPOs, economic reports, and other market events.
Inside scoop on outside weeks
Last week the SPX went on a bit of a reconnaissance mission, exploring slightly above the previous week's high and slightly below its low, forming an "outside week."
While these aren't necessarily exceptional events—the SPX has had 341 others since January 1957—they're not run-of-the-mill, either. Only 10% of all weeks since then have been outside weeks, which means nine weeks out of 10, the SPX will trade either above the previous week's high or below its low, but not both.
Does the relatively unusual pattern signal a particular type of price action? Well, since 1957, the index has rallied the week after an inside week 55% of the time and posted a median gain of 0.26%—that's a little worse than the SPX's historical one-week win rate of 57% and a median gain of 0.28%, but basically in the same ballpark.2
Things look a little different if we separate outside weeks into those that close "strongly" vs "weakly"—those that exhibit more bullish than bearish price momentum. To keep things simple, we'll use the following definitions:
1. Strong outside week: SPX closes in the top half of the week's range and above the previous week's close (168 examples).
2. Weak outside week: SPX closes in the bottom half of the week's range and below the previous week's close (150 examples).
Here's how the week after played out for both types:
1. The SPX closed up after strong outside weeks 52% of the time, with a median gain of 0.15%.
2. The SPX closed up after weak outside weeks 55% of the time, with a median gain of 0.23%.
Those may not seem like big differences, but it's worth noting the market tended to be a little more bullish after weak outside weeks than after strong ones. (Also, it was more common for the SPX to experience a larger-than-average weekly loss after a strong outside week than after a weak one.)
Last week was an even more extreme version of the strong outside week pattern: The SPX closed above the highs of the previous two weeks, as it did most recently in the weeks ending May 7 and January 8. This has happened 70 other times since 1957, and the SPX closed higher the next week only 51% of the time (36 gains vs. 34 losses), with a median return of 0.09%.
Click here to log on to your account or learn more about E*TRADE's trading platforms, or follow the Company on Twitter, @ETRADE, for useful trading and investing insights.
---
1 CNBC. Oil jumps to two-year high as OPEC and allies reconfirm gradual production increase. 6/1/21.
2 All figures based on S&P 500 weekly closing prices, January 1956–June 4, 2021. Supporting document available upon request.
What to read next...
06/04/21
Options activity shines light on airline stock as it cruises to potentially key altitude.
---
06/03/21
A real estate stock breaks out: Missed opportunity or signal for future setup?
---
06/02/21
Traders may have started paying more attention to silver (and silver stocks) recently, as the "other precious metal" has again been outperforming gold.
---