Bulls get the bounce
Market trims June sell-off, consumer stocks lead
Role reversal: Broad market up, energy sector down
This week: Fed inflation data, durable goods, more housing numbers
A positive June may not be in the cards for US stocks, but last week the market made the most of the four trading days it had to work with.
In snapping a three-week losing streak, the S&P 500 (SPX) recouped more than half of its -12% month-to-date loss as stocks bounced off their 2022 lows: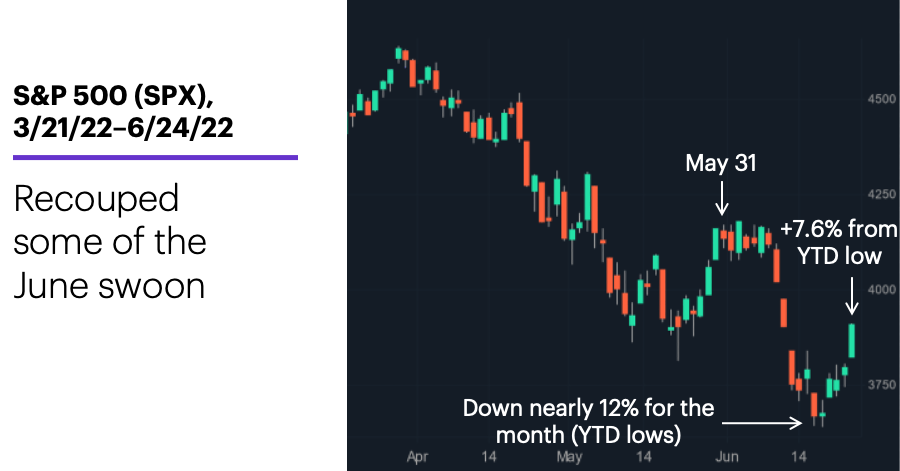 Source: Power E*TRADE. (For illustrative purposes. Not a recommendation.)
---
The headline: Rebound nets market its second up week in past 12.
The fine print: Last week reversed the 2022 trend of a strong energy sector and weak overall market. Falling crude prices weighed on energy stocks last week, but that didn't prevent the SPX from posting its second-strongest week of the year.
The number: 21, the number of times since 1960 the SPX has had a negative first half—not counting this year.
The move: Copper prices—like oil prices, often viewed as a gauge of economic sentiment—hit their lowest level since February 2021 last week. July copper futures (CLN2) slid nearly 7%.
The scorecard: It still has the largest year-to-date loss, but the Nasdaq 100 (NDX) was the top-performing US index for the second week in a row: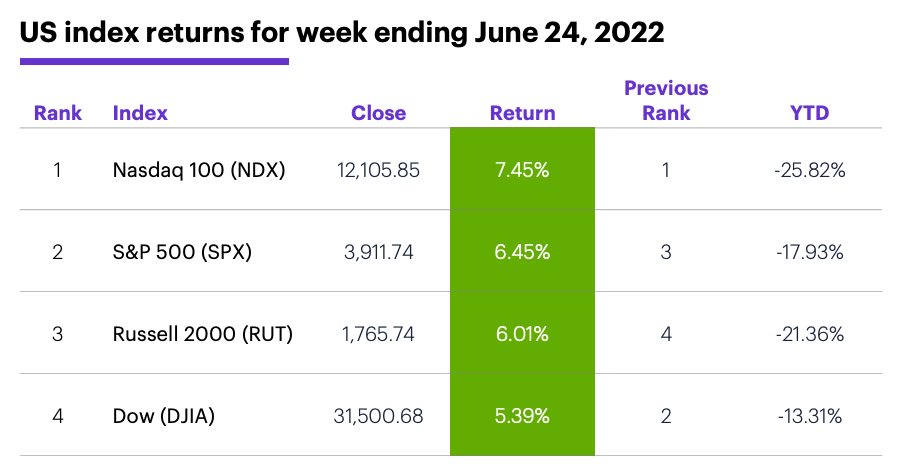 Source (data): Power E*TRADE. (For illustrative purposes. Not a recommendation.)
---
Sector roundup: The strongest S&P 500 sectors last week were consumer discretionary (+6.7%), communication services (+3.1%), and information technology (+0.9%). The weakest sectors were energy (-14.2%), materials (-8.2%), and utilities (-6.2%).
Stock movers: On Friday, USA Truck (USAK) +113% to $31, and Zendesk (ZEN) +28% to $74.17. On the downside, Acadia Pharmaceuticals  (ACAD) -33% to $13.01 on Tuesday, Titan International (TWI) -18% to $14.51 on Thursday.
Futures: In a big down week for commodities overall, August WTI crude oil (CLQ2) posted back-to-back down weeks for just the third time this year, but ended the week with a 3% Friday rally to close at $107.62/barrel. August gold (GCQ2) extended its consolidation, ending last week near the middle of a five-week range at $1,830.30/ounce. Biggest up moves: June ether (ETHM2) +10.2%, September Russian ruble (R6U2) +8.6%. Biggest down moves: December cotton (CTZ2) -17.8%, December oats (ZOZ2) -16.3%.
Coming this week
This week's numbers include:
●Today: Durable Goods Orders, Pending Home Sales
●Tuesday: Goods Trade Balance (advance), Wholesale and Retail Inventories, S&P Case-Shiller Home Price Index, FHFA House Price Index, Consumer Confidence
●Wednesday: GDP Price Index (Q1, final estimate)
●Thursday: Personal Income and Spending, PCE Price Index (Fed inflation)
●Friday: New ISM Manufacturing Index, S&P Global Manufacturing PMI, Construction Spending

Earnings this week include:
●Today: Nike (NKE)
●Tuesday: TD SYNNEX (SNX), Progress Software (PRGS)
●Wednesday: MSC Industrial Direct (MSM), Bed Bath & Beyond (BBBY), Schnitzer Steel (SCHN), SMART Global (SGH), McCormick & Co. (MKC), General Mills (GIS), Paychex (PAYX)
●Thursday: Micron Technology (MU), Acuity Brands (AYI), Walgreens (WBA), Constellation Brands (STZ)

Check the Active Trader Commentary each morning for an updated list of earnings announcements, IPOs, economic reports, and other market events.
6% up weeks
Market bulls who have had the rug repeatedly pulled out from under them this year may understandably be suspect of last week's rally, since so many of 2022's upswings have quickly given way to fresh lows. This time may be no different.
But last week's 6.5% SPX rally is worth delving into, since the index has rallied 6% or more in a week only 25 other times since 1957. Two of those weeks occurred earlier this year—the week ending March 18 and the week ending May 27. In the first instance, the SPX gained ground the next two weeks before turning lower. In the latter case, the market fell—sharply—for the next three weeks.
First, the big picture: After gaining at least 6% in a week, the SPX rallied the next week 15 of 25 times, and was higher after four weeks 15 times as well.1
But what about the big weekly rallies that, like now, occurred when the market was selling off? Although there are frustratingly fewer examples to analyze, the SPX still was less bullish after these events. For example, here's what happened after the 11 times a 6%-or-larger up week followed a down week when (like the week ending June 17) the SPX also made its lowest weekly close in at least three months:
●The SPX closed higher the next week only five of 11 times.
●The SPX closed higher after four weeks 6 of 11 times.
And for the record, the SPX has snapped a three-week losing streak with a 6%-or-larger up week only five other times in the past 65 years.
Click here to log on to your account or learn more about E*TRADE's trading platforms, or follow the Company on Twitter, @ETRADE, for useful trading and investing insights.
---
1 Figures reflect S&P 500 (SPX) weekly prices, 1957–2022. "Three months" refers to 12 calendar weeks. Supporting document available upon request.
What to read next...
06/24/22
Find out how a new vaccine story played out in this biopharma stock.
---
06/23/22
Find out what the data says—and doesn't—about this building supplier's pre-earnings sell-off.
---
06/22/22
The upside of market downside is that sell-offs can pump up option prices.
---