July stock market performance
July has historically been a mixed month for stocks
Recent years have been more positive
Negative first half/negative June a potential plus for July?
If the stock market manages to rebound in July after its [second-] worst first half of the past 62 years, it will, to a certain extent, be fighting its long-term track record.
Then again, the market has disregarded historical norms all year.
Overall, July has been an up month for the S&P 500 (SPX) 32 times and a down month 30 times since 1960. It tended to be one of the weaker months of the year from 1960 to 1991—posting the second-worst median return (-0.4%) and second-worst win percentage (44%)—but it's been more positive since then, with a median return of 1.5% and a 60% win percentage.1
But much of that bullishness has been concentrated in the past 13 years, when July has been up 11 times (including the past seven straight years) with a median return of 2.3%: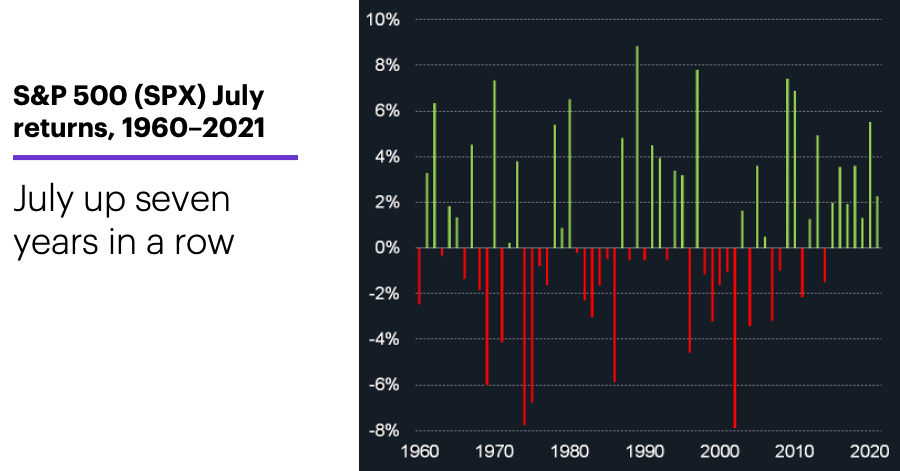 Source (data): Power E*TRADE. (For illustrative purposes. Not a recommendation.)
---
This year has been unusual in many ways, not least because of its sizable first-half decline. Since 1960, the S&P 500 (SPX) has had 21 other negative first halves. It gained ground in the second half 11 times (average return +13.6%) and lost ground in 10 (average return -10.6%).
The Julys that followed negative first halves have been a mixed bag—12 were negative, nine were positive, and the month's average return was -1%. But the 16 times a negative first half concluded with a negative June—as was the case this year—July was slightly more positive: up nine times and down seven times, with an average return of 0.6%.
Today's numbers include (all times ET): Q1 GDP, final estimate (8:30 a.m.).
Today's earnings include: Saratoga Investment (SAR), Simulations Plus (SLP).
Click here to log on to your account or learn more about E*TRADE's trading platforms, or follow the Company on Twitter, @ETRADE, for useful trading and investing insights.
---
1 All figures reflect S&P 500 (SPX) price data, 12/31/59–7/1/22. Supporting document available upon request.
What to read next...
06/27/22
Stocks recover some of June's losses even as leading sector loses momentum.
---
06/24/22
Find out how a new vaccine story played out in this biopharma stock.
---
06/23/22
Find out what the data says—and doesn't—about this building supplier's pre-earnings sell-off.
---