Eye on July
July has been a mediocre month for stocks over the past 60 years
Returns in recent decades have been much stronger, though
Can Thursday extend the Day 1 win streak?
A generation ago, stock traders could be forgiven for scheduling their vacations in July, since between 1960 and 1990 the S&P 500 (SPX) gained ground in only 42% of Julys, with a median return of -0.5%—the second-worst performance of any month of the year, saved from the basement in both categories only by September.
Well, what a difference 30 years makes. Since 1991 the SPX has rallied in July 60% of the time (tied with five other months for sixth place) and has a median return of 1.5% (fourth place). And the past decade has been something of a hot streak within this larger summer warm-up, with the SPX closing higher in eight of the past 10 Julys and boasting a 2% median return: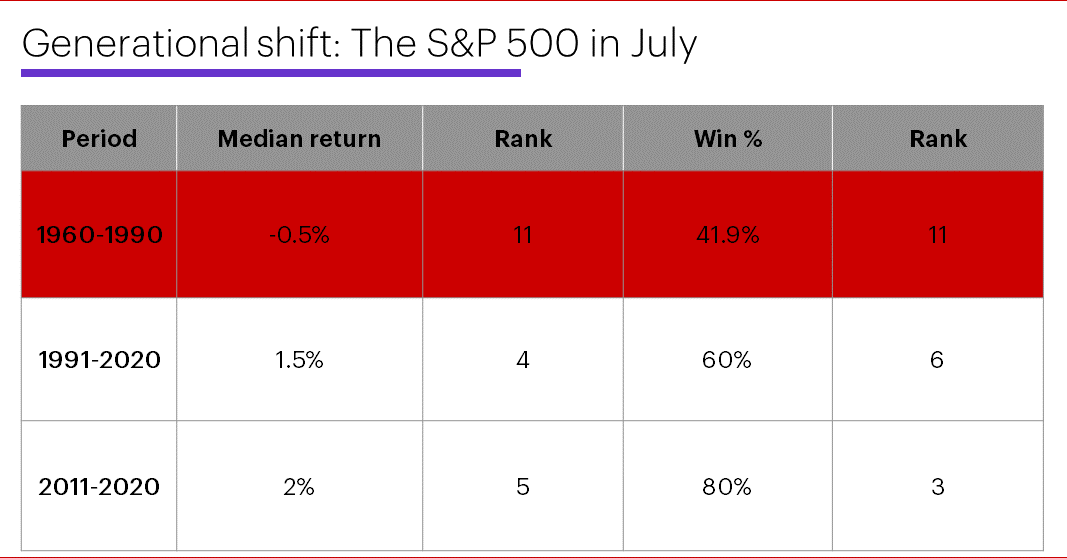 Source: Power E*TRADE
---
But as noted in this space around this time last year, July has also shown a tendency to generate a majority of its gains (when there are any) in the first half of the month. Even last year, for example, when the SPX returned an exceptionally large 5.5% in July, it racked up 75% of that gain by the 10th trading day of the month.
Final aside: Over the past 60 years, the first trading day of July (tomorrow) has been one of the stock market's more reliably bullish days of the month: Since 1960 the SPX has closed higher on it 45 out of 61 times, 17 times in the past 20 years, and every year since 2011.1
While it's important to remember that the events of the day will usually trump any calendar-based trading tendencies, it's helpful to be aware of the market's potential seasonal undercurrents.
Today's numbers (all times ET): Mortgage applications (7 a.m.), ADP Employment Change (8:15 a.m.), Chicago PMI (9:45 a.m.), Pending Home Sales (10 a.m.), quarterly grain stocks (corn, wheat, soybeans) (12 p.m.).
Today's earnings include: Constellation Brands (STZ), General Mills (GIS), Schnitzer Steel (SCHN), Micron (MU).
Click here to log on to your account or learn more about E*TRADE's trading platforms, or follow the Company on Twitter, @ETRADE, for useful trading and investing insights.
---
1 All figures based on daily and monthly S&P 500 (SPX) closing prices, 12/31/59–7/31/20. Supporting document available upon request.
What to read next...
06/28/21
Market bounces back from Fed-fueled inflation anxiety, on pace for better-than-average June and first half of year.
---
06/21/21
Markets recalibrate in the wake of the central bank's new line on inflation and interest rates.
---
06/14/21
S&P 500 sets new records as tocks brush off the latest reminder of rising consumer prices.
---