New highs as earnings season arrives
New records after market skips a beat, tech hangs tough
Small caps surrender YTD leadership
This week: Latest inflation data, earnings season begins
With longer-term interest rates still near their lowest levels of the past five months and the Fed in no apparent rush to taper its stimulus programs,1 this week will allow traders to turn their attention to a new earnings season, new inflation data—and, perhaps, the trajectory of Covid cases.
Entering the second full week of July, the SPX is sitting on a fresh all-time high despite stumbling last Thursday as the spread of the Covid Delta variant appeared to temporarily trip up the market:
Source: Power E*TRADE
---
The headline: Covid rattles the markets—for a day.
The fine print: It's been a while since the coronavirus was a lead market story, but news that the Delta variant had prompted renewed lockdowns in Australia and Asian hotspots appeared to unnerve investors last Thursday.2  But the SPX's Friday huge rebound to a new record suggests Covid's psychological hold on the market may be significantly lower than it was just several months ago.
The move: After falling to its lowest level (1.29%) since mid-February last Thursday, the 10-year T-note yield made its second-biggest one-day jump since March on Friday, ending the week at 1.36%.
The number: Nine, the number of consecutive months the SPX has made a higher high.
The scorecard: The Nasdaq 100 (NDX) tech index led the market again, while the Russell 2000's (RUT) year-to-date return fell from first to second place after the small-cap index lost ground for the second week in a row, and third out of the past four: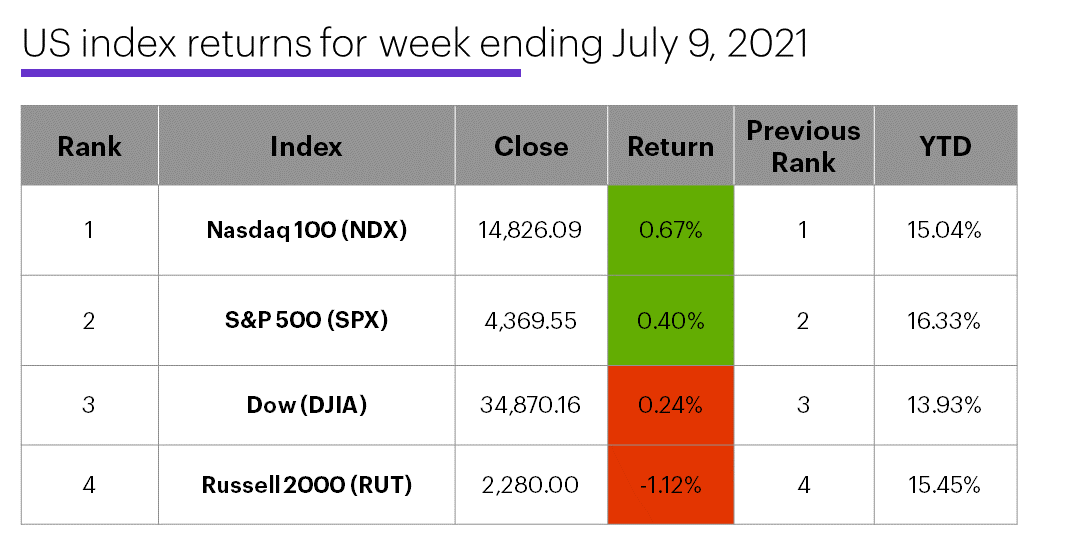 Source: Power E*TRADE
---
Sector roundup: The strongest S&P 500 sectors last week were real estate (+3.2%), consumer discretionary (+2.5%), and information technology (+2.3%). The weakest sectors were energy (-3.6%), financials (-0.9%), and materials (+0.2%).
Highlight reel: Newegg (NEGG) +148% to $67.57 on Wednesday (after a 42% rally on Tuesday). On the downside Marin Software (MRIN) -20% to $19.24 and Ideaya Biosciences (IDYA) -20% to $18.11 on Wednesday—and Newegg (NEGG) -32% to $45.80 on Thursday.
Futures action: Oil got a little volatile amid the latest standoff about production levels among OPEC members. August WTI crude oil (CLQ1) traded as high as $76.98/barrel last Tuesday, then slid as low as $70.76 on Thursday morning before rebounding to end the week at $74.56. August gold (GCQ1) crawled back above $1,800/ounce last week, closing Friday at $1,810.60. Biggest up moves: November sugar #16 (SDX1) +8.4%, August cheese (CSCQ1) +5.7%. Biggest down moves: September rice (ZRU1) -4.5%, August Brazilian real (6LQ1) -4.1%.
Coming this week
A new earnings season is underway—cue the big banks:
●Today: Simulations Plus (SLP), Voxx International (VOXX)
●Tuesday: Conagra (CAG), JPMorgan Chase (JPM), Fastenal (FAST), Goldman Sachs (GS), PepsiCo (PEP)
●Wednesday: Delta Air Lines (DAL), Bank of America (BAC), BlackRock (BLK), Citigroup (C), Wells Fargo (WFC)
●Thursday: UnitedHealth (UNH), Morgan Stanley (MS), Alcoa (AA), U.S. Bancorp (USB), Taiwan Semiconductor (TSM), Cintas (CTAS)
●Friday: State Street (STT), Kansas City Southern (KSU)
This week's CPI and PPI reports will give traders new inflation data to chew on:
●Tuesday: NFIB Business Optimism Index, Consumer Price Index (CPI)
●Wednesday: Producer Price Index (PPI), Beige Book
●Thursday: Import and Export Prices, Industrial Production, Capacity Utilization
●Friday: Retail Sales, Business Inventories, Consumer Sentiment (preliminary)
IPOs include:
●Thursday: F45 Training (FXLV), Membership Collective (MCG), Sight Sciences (SGHT), Sera Prognostics (SERA)
●Friday: Stevanato Group (STVN), Phillips Edison (PECO), Bridge Investment Group (BRDG), Blend Labs (BLND)
Check the Active Trader Commentary each morning for an updated list of earnings announcements, IPOs, economic reports, and other market events.
Market on the run
If you want a quick pulse check of where the stock market stands as it gets ready to kick off a new earnings season, just consider its current monthly win streak.
The SPX's nine-month run of higher monthly highs is fairly impressive, having been matched or exceeded only five other times since 1985 (the longest was 16). But if the index is above 4,297.50 when the closing bell rings on July 31, it will match its third-longest run of consecutive months with both higher highs and closes over the past 37 years.
As things stand right now, the five-month run through June entered the record books in a seven-way tie for fourth place, and is the longest run since September 2018: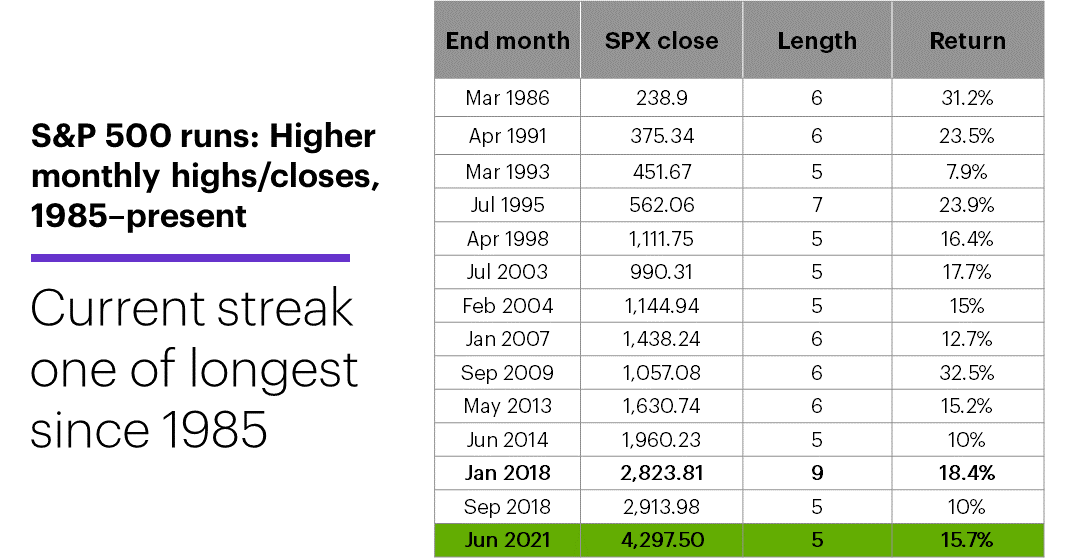 Source (data): Power E*TRADE
---
A six-month run would still be three months short of the nine-month stretch that wrapped up in January 2018. Nonetheless, the current streak still puts the market in somewhat rarified uptrend air: Since 1985, the average run of high monthly highs and closes has been three months, with most ending after only two months.3
But that's only half the story. The table's final column shows the SPX's gain during each of these runs. The index's five-month return of 15.7% through the end of June was not only larger than the average for the other five-month streaks on the list (12.8%), it was more than three times as large as the overall average five-month return (4.7%) since 1985.
Click here to log on to your account or learn more about E*TRADE's trading platforms, or follow the Company on Twitter, @ETRADE, for useful trading and investing insights.
---
1 CNBC.com. Fed officials kept a patient tone in terms of tightening monetary policy, minutes show. 7/7/21.
2 Los Angeles Times. Delta variant causes new lockdowns and coronavirus restrictions across the globe. 7/1/21.
3 All figures derived from S&P 500 (SPX) monthly price data, January 1985–June 2021. Supporting document available upon request.
What to read next...
07/09/21
Real estate stock looks for more room as options market builds inventory.
---
07/08/21
Traders favor call options in a rangebound steel stock as expiration approaches.
---
07/07/21
In addition to highlighting potential lows, the fear index can sometimes indicate when a stock rally may be ready for a breather.
---