Market halftime report
Stocks end negative first half with down week
Seesaw week for crude oil, Treasury yields slide
This week: Jobs report, FOMC minutes, factory orders
Stocks reverted to form last week, ending June with a downturn and wrapping up the US market's biggest first-half decline in more than 50 years.
On the heels of its second-biggest weekly gain of the year, the S&P 500 (SPX) lost ground for the 11th week out of the past 13, despite kicking off July with a rally on Friday:
Source: Power E*TRADE. (For illustrative purposes. Not a recommendation.)
---
The headline: Stocks wrap up weakest first half since 1970.
The fine print: Economic data was mixed last week. GDP was lowered a tick to -1.6%, consumer confidence was weaker than expected, and construction spending was negative. But durable goods orders and pending home sales both topped estimates, while the PCE Price Index showed inflation holding steady at 6.3% year-over-year in May—below the 6.5% estimate.
The number: 87%, how frequently the SPX has rallied on the first day of July over the past 30 years. Last Friday was the 12th year in a row.
The move: The 10-year T-note yield fell below 3% for the first time since June 7, ending last week at its lowest level (2.89%) since May 31.
The scorecard: The Nasdaq 100 (NDX) took the biggest step back last week after two weeks as the strongest US index: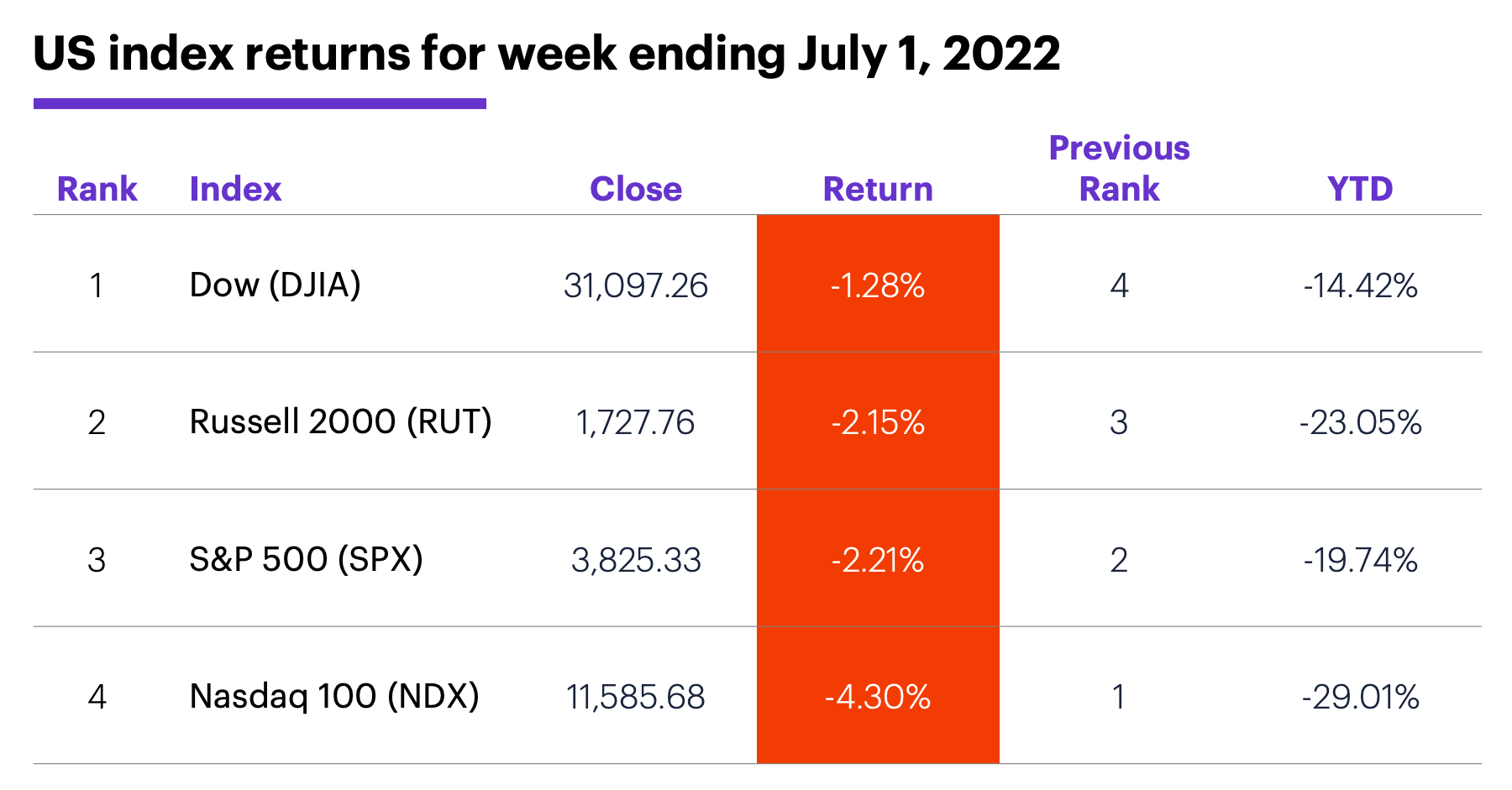 Source (data): Power E*TRADE. (For illustrative purposes. Not a recommendation.)
---
Sector roundup: The strongest S&P 500 sectors last week were utilities (+4.1%), energy (+1.3%), and health care (+0.4%). The weakest sectors were consumer discretionary (-4.7%), communication services (-4.5%), and information technology (-4.5%).
Stock movers: Axsome Therapeutics (AXSM) +51% to $37.03 on Monday, Franklin Covey (FC) +21% to $46.18 on Thursday. Aspen Aerogels (ASPN) -43% to $8.43 on Wednesday, Kohl's (KSS) -28% to $28.68 on Friday.
Futures: August WTI crude oil (CLQ2) jumped to a nearly two-week high of $114.05/barrel last Wednesday before pulling back to end the week modestly higher at $108.43. On Friday, August gold (GCQ2) slid to a year-to-date intraday low of $1,783.40/ounce, but bounced to end the day at $1,801.50. Biggest up moves: September lumber (LBSU2) +15.4%, September orange juice (OJU2) +4.8%. Biggest down moves: July ether (ETHN2) -13.1%, September spring wheat (MWU2) -11.4%.
Coming this week
This week's big-ticket items are Wednesday's FOMC minutes release and Friday's jobs report:
●Today: Factory Orders
●Wednesday: S&P Global Services PMI, ISM Non-Manufacturing Index, Job Openings and Labor Turnover Survey (JOLTS), FOMC minutes
●Thursday: Challenger Job Cuts Report, ADP Employment Change Report, Foreign Trade Balance
●Friday: Employment Report, Wholesale Inventories

Earnings this week include:
●Wednesday: Saratoga Investment (SAR), Simulations Plus (SLP)
●Thursday: Micron WD-40 (WDFC), Levi Strauss (LEVI), PriceSmart (PSMT)

Check the Active Trader Commentary each morning for an updated list of earnings announcements, IPOs, economic reports, and other market events.
What does a negative first half mean?
Last Thursday the S&P 500 closed down 20.6% for the year—its third-biggest first-half deficit since 1960, and the largest since 1970.
The following table shows how the index performed in the second half of the 21 other years the SPX was underwater at the end of June:
The SPX gained ground in the second half 11 times and fell 10 times. The average return for all second halves in years with negative first halves was 2.1%, which is less than half the 5.5% average return for all other second halves since 1960. But the average positive second half (+13.6%) was somewhat larger than the average negative second half (-10.6%).1
And while 2023 may seem like it's a long way off, the market performed a little better in the calendar year following years with negative first halves than it did in other years: The SPX was positive 16 of 21 times (76%), with an average return of +10.3%. It was positive in only 29 of the other 41 years (71% of the time) since 1960, with an average return of 8%.
Click here to log on to your account or learn more about E*TRADE's trading platforms, or follow the Company on Twitter, @ETRADE, for useful trading and investing insights.
---
1 Figures reflect S&P 500 (SPX) monthly closing prices, 1957–2022. Supporting document available upon request.
What to read next...
06/30/22
Not only has gold failed to rally as inflation spiraled higher, gold stocks haven't always tracked gold.
---
06/28/22
Pharma stock rally shows potential advantages of the covered call strategy—and why some traders avoid rushing into them.
---
06/27/22
Stocks recover some of June's losses even as leading sector loses momentum.
---