Big week key to win streak
Broad market hits 6-week high before pullback
Earnings mostly surprise to upside, natural gas surges
This week: Fed rate announcement, GDP, Big Tech earnings

Keep your eyes on tech.
Before dragging down the market on Friday, tech stocks made a significant contribution to last week's rally, and with some of the space's biggest names due to release earnings this week, the sector could play a pivotal role in determining whether the market can string together back-to-back up weeks for the first time since April 1.
For now, the S&P 500 (SPX) will begin a key week of economic data and corporate earnings not too far removed from its highest levels of the past six weeks, despite a sharp retreat on Friday: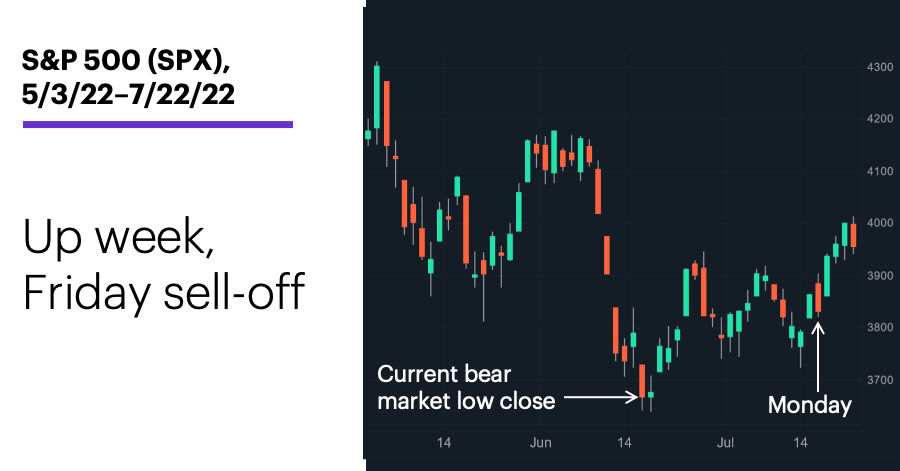 Source: Power E*TRADE. (For illustrative purposes. Not a recommendation.)
---
The headline: Stocks climb as Fed rate decision approaches.
The fine print: The markets upped the odds of a 1% Fed rate hike immediately after the July 13 Consumer Price Index (CPI) release showed inflation was higher than at any time since December 1981. But as of Friday, the CME Group's Fed funds futures market was indicating the probabilities favored a 0.75% rate hike1—an outlook shared by Morgan Stanley & Co. analysts in a recent Thoughts on the Market podcast.2
The move: The SPX's head fake last Monday, when it first rallied 1% intraday before closing down 0.8%. But that seemingly bearish reversal was followed by the market's third-biggest up day of the year—and two more days of gains.
The scorecard: The Russell 2000 (RUT) led US market to the upside:
Source (data): Power E*TRADE. (For illustrative purposes. Not a recommendation.)
---
Sector roundup: The strongest S&P 500 sectors last week were consumer discretionary (+6.6%), industrials (+3.9%), and materials (+3.9%). The weakest sectors were communication services (-1.5%), utilities (-0.8%), and health care (-0.6%).
Stock movers: Marathon Digital Holdings (MARA) +32% to $12.9 on Tuesday, 1Life Healthcare (ONEM) +69% to $17.25 on Thursday. Prophase Labs (PRPH) -25% to $10.33 on Thursday, Snap (SNAP) -39% to $9.95 on Friday.
Futures: After hitting a one-week high of $100.99/barrel on Tuesday, September WTI crude oil (CLU2) slumped to end the week at $94.70/barrel. Last Thursday August gold (GCQ2) reversed intraday off a contract low of $1,678.40/ounce and closed Friday at $1,727.40/ounce. Week's biggest gains: July micro ether (METN2) +22.1%, September natural gas (NGU2) +18.3%. Week's biggest losses: September lumber (LBSU2) -10.5%, October sugar (SBV2) -7.1%.
Coming this week
This week's numbers include the first look at Q2 GDP, the Fed's preferred inflation gauge (PCE Price Index), and durable goods. But expect the Fed's interest rate announcement to be the center of the week's attention. As of Friday, the odds of a 0.75% rate hike stood at 77.5%:1
●Today: Chicago Fed National Activity Index
●Tuesday: S&P Case-Shiller Home Price Index, FHFA House Price Index, New Home Sales, Consumer Confidence
●Wednesday: Durable Goods Orders, Trade Balance in Goods (advance), Pending Home Sales, Fed interest rate announcement
●Thursday: Q2 GDP (first estimate)
●Friday: Personal Income and Spending, PCE Price Index, Chicago PMI, Consumer Sentiment
Big tech highlights this week's earnings calendar. Some highlights:
●Today: Squarespace (SQSP), Newmont (NEM), Medpace (MEDP)
●Tuesday: Alphabet (GOOGL), Microsoft (MSFT), Visa (V), Coca Cola (KO), McDonald's (MCD), 3M (MMM), Enphase Energy (ENPH), UBS (UBS), General Motors (GM), General Electric (GE), Logitech (LOGI)
●Wednesday: Meta (META), Lam Research (LRCX), Otis Worldwide (OTIS), Boeing (BA), West Fraser Timber (WFG), Bristol-Meyers Squibb (BMY), Rockwell Automation (ROK)
●Thursday: Baxter International (BAX), Hershey (HSY), Amazon (AMZN), Five9 (FIVN), Apple (AAPL), Southwest Air (LUV), First Solar (FSLR), Intel (INTC)
●Friday: Colgate-Palmolive (CL), Exxon Mobil (XOM), AbbVie (ABBV), Aon (AON), Chevron (CVX), Procter & Gamble (PG)
Check the Active Trader Commentary each morning for an updated list of earnings announcements, IPOs, economic reports, and other market events.
Hibernating bear?
After first closing in bear-market territory on June 13, the SPX hit its year-to-date low just three days later on June 16, closing 23.6% below its January 3 record high close. Since then, the SPX has swung in and out of bear territory.
On Friday, it closed more than 3% above the bear threshold. Does that mean the bear market has bottomed?
Well, if June 16 low does, in fact, turn out to be the low of the bear market, it would be the fastest the market has bottomed after first closing in bear territory, and it would be the second-shallowest bear market since 1961, when the SPX's correction maxed out at just -22%. The SPX's average maximum bear-market decline over the past 60 years is -38%.3
In other words, if this bear market has bottomed, it would be one of the tamest specimens of the past six decades. "Tracking the bear" showed it took the SPX an average of 118 trading days to reach its eventual bear-market low after first closing at least 20% below a prior high. That number was a bit skewed by three exceptionally deep and long-lasting bear markets, but it's still worth keeping in mind.
As Morgan Stanley Wealth Management described the situation last week, there may be a potential  disconnect between the market's current rebound and indications of a looming "profits recession"—a drop in corporate profit growth because of the increasing difficulty of passing on higher prices to consumers.4
This earnings season is just two weeks old. It may have more to say about the trends in corporate profits, as well as the status of the bear market.
Click here to log on to your account or learn more about E*TRADE's trading platforms, or follow the Company on Twitter, @ETRADE, for useful trading and investing insights.
---
1 Reflects the CME Group's FedWatch Tool (www.cmegroup.com) as of 7/22/22.
2 MorganStanley.com. Preparing for a Potential Recession. 7/18/22.
3 All figures reflect S&P 500 (SPX) daily closing prices, 12/31/57–5/25/22. "Bear market" is defined as an SPX daily closing price 20% or more below a prior daily closing price. Supporting document available upon request.
4 MorganStanley.com. The Critical Data Some Investors are Ignoring. 7/19/22.
What to read next...
07/22/22
Options positions surge in one of last year's IPOs as its lightly traded stock climbs off last month's lows.
---
07/21/22
When companies are reporting their numbers, it can spell trouble for certain types of options strategies.
---
07/20/22
Discounted stock illustrates why options traders can't always bargain hunt the way investors do.
---