Market pivots to new high
Tech and consumer names lead rebound, market sets new records
Oil up for week after whiplash-inducing price swings
This week: GDP, FOMC meeting, and 1,000+ earnings
Entering the home stretch of July—and a big week of earnings and economic data—the US stock market will see if it can build on last week's recovery from its second-deepest downturn since March.
After tumbling 1.6% last Monday to a 17-day low amid another round of COVID headlines, the S&P 500 (SPX) banged out a four-day rally to end the week at a new record high: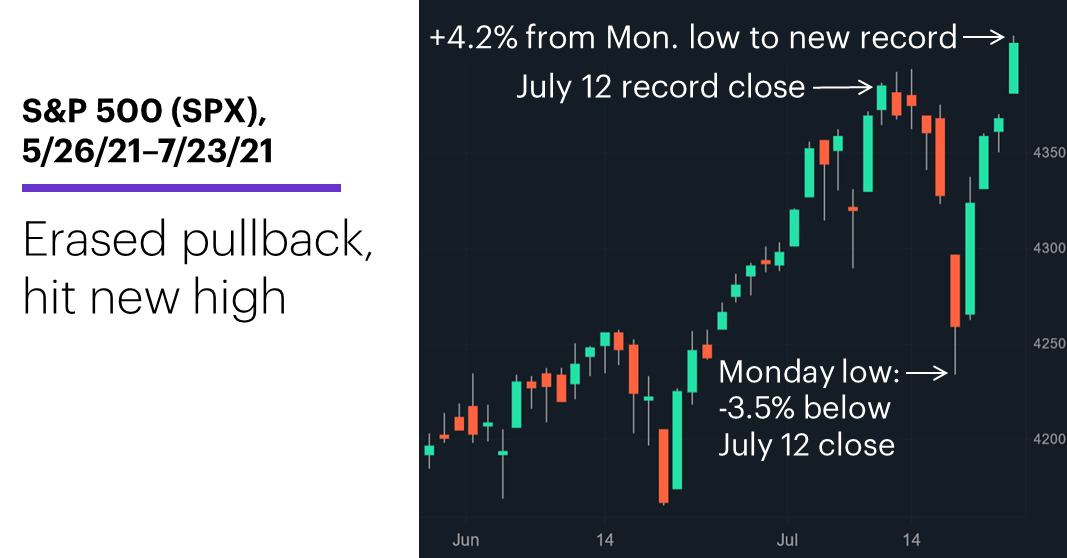 Source: Power E*TRADE. (For illustrative purposes. Not a recommendation.)
---
The headline: Tech still in driver's seat as market rebounds from latest setback.
The fine print: While last Monday's drop was widely blamed on the COVID resurgence, Morgan Stanley analysts have pointed out that, while the delta variant should be taken seriously, it may be getting too much blame for the market's setbacks. The argument: We've entered a "mid-cycle transition" when growth slows, sometimes resulting in shifts to defensive stocks and lower stock valuations. The parallel: 2004, which was dominated by a choppy, mostly rangebound stock market. Throw in potential seasonal summer weakness, and there may be more to explain the occasional downturn than COVID.1
The number: 1.13%, the 10-year T-note yield index's (TNX) intraday low last Tuesday—the lowest it's been since February 3. The 10-year yield rebounded to close the week at 1.28%.
The scorecard: The Nasdaq 100 (NDX) led the pack last week, and is making a run at the SPX for the YTD lead:
Source: Power E*TRADE. (For illustrative purposes. Not a recommendation.)
---
Sector roundup: The strongest S&P 500 sectors last week were communication services (+3.3%), consumer discretionary (+2.9%), and information technology (+2.8%). The weakest sectors were utilities (-0.9%), energy (-0.3%), and real estate (0.2%).
Highlight reel: ImmunoPrecise Antibodies (IPA) +136% to $13.22 on Thursday, Cytokinetics (CYTK) +40% to $27 on Monday. On the downside, Newegg (NEGG) -16% to $25.76 on Monday, SolarWinds (SWI) -40% to $10.20 on Tuesday.
Futures action: September WTI crude oil (CLU1) tumbled more than 6% to a six-week low of $66.53 last Monday, but a big Wednesday–Friday rebound propelled the market to $72.07 by the end of the week. August gold (GCQ1) drifted lower most of last week, falling to $1,789.10/ounce early Friday before closing at $1,801.80. Biggest up moves: September lumber (LBSU1) +18.2%, September coffee (KCU1) +17.1%. Biggest down moves: October platinum (PLV1) -4.3%, November canola (RSX1) -3.7%.
Coming this week
The first estimate of Q2 GDP and an FOMC announcement are the big hitters on this week's economic calendar:
●Today: New Home Sales
●Tuesday: Durable Goods Orders, S&P Case-Shiller Home Price, FHFA House Price Index, Consumer Confidence
●Wednesday: Trade in Goods (advance), Wholesale and Retail Inventories (advance), FOMC interest rate announcement
●Thursday: GDP, Q2 initial estimate, Pending Home Sales
●Friday: Personal Spending and Income, Employment Cost Index, PCE Price Index, Chicago PMI, Michigan Consumer Sentiment
Earnings season picks up the pace, with more than 1,000 companies scheduled to report their numbers—including some of the heaviest of the tech heavyweights. Some highlights:
●Today: Lockheed Martin (LMT), Petmed Express (PETS), Ryanair (RYAAY), F5 Networks (FFIV), Logitech (LOGI), Tesla (TSLA)
●Tuesday: QuantumScape (QS), United Parcel Service (UPS), Apple (AAPL), Advanced Micro Devices (AMD), Boyd Gaming (BYD), Crispr Therapeutics (CRSP), Mattel (MAT), Alphabet (GOOGL), Starbucks (SBUX), Teladoc (TDOC), Visa (V)
●Wednesday: Boeing (BA), Bristol-Myers Squibb (BMY), Eagle Materials (EXP), Pfizer (PFE), Shopify (SHOP), Spotify (SPOT), Allegiant Travel (ALGT), Ford (FF), Facebook (FB), PayPal (PYPL), Qualcomm (QCOM), Spirit Airlines (SAVE)
●Thursday: Amazon (AMZN), Baxter (BAX), Yum! Brands (YUM), Merck (MRK), United States Steel (X), Keurig Dr. Pepper (KDP), First Solar (FSLR), Mastercard (MA), Martin Marietta (MLM), Pinterest (PINS), Upwork (UPWK)
●Friday: AbbVie (ABBV), Aon (AON), Exxon Mobil (XOM), Procter & Gamble (PG), Colgate-Palmolive (CL), Caterpillar (CAT), Chevron (CVX)
IPOs include:
●Wednesday: Context Therapeutics (CNTX), Project Angel Parent (MLNK), Dole (DOLE), Duolingo (DUOL), Snap One (SNPO)
●Thursday: TGPX Holdings (COOK), Riskified (RSKD), Preston Hollow Community Capital (PHCC)
●Friday: Clarios (BTRY), Teads (TEAD)
Check the Active Trader Commentary each morning for an updated list of earnings announcements, IPOs, economic reports, and other market events.
It's been a while
The market's made plenty of record highs this year, but the SPX accomplished a much rarer feat on Friday: It was the first time since October 2011—and only the 11th time since March 1997—that the index pulled back at least 3.5% over a five-day period (July 12–19), then rallied more than that over the next four days to hit a new two-week (or longer) high.2
Click here to log on to your account or learn more about E*TRADE's trading platforms, or follow the Company on Twitter, @ETRADE, for useful trading and investing insights.
---
1 MorganStanley.com. A Closer Look at Yesterday's Market Drop. 7/20/21.
2 Reflects S&P 500 (SPX) daily price data, 3/7/97–7/23/21. "Pullback" refers to the percentage loss from one day's close to the low five trading days later. Supporting document available upon request.
What to read next...
07/23/21
That may not be the best question to ask about earnings.
---
07/22/21
Semiconductor stock falls to new lows: Where do its options fit into the picture?
---
07/21/21
Action in this airline shows why, when attempting to interpret options activity, the key word is "context."
---