Market warms up to start July
Stocks climb, big gains in consumer stocks
Oil bounces after hitting 3-month low, gold breaks down
This week: CPI and PPI, retail sales, earnings season starts
Investors may start lobbying for more four-day trading weeks after last week.
While the market didn't match its performance from the shortened week after the Juneteenth holiday, the S&P 500 (SPX) rallied three days out four (logging its first four-day win streak since March in the process), and posted a net gain for the second time in the past three weeks: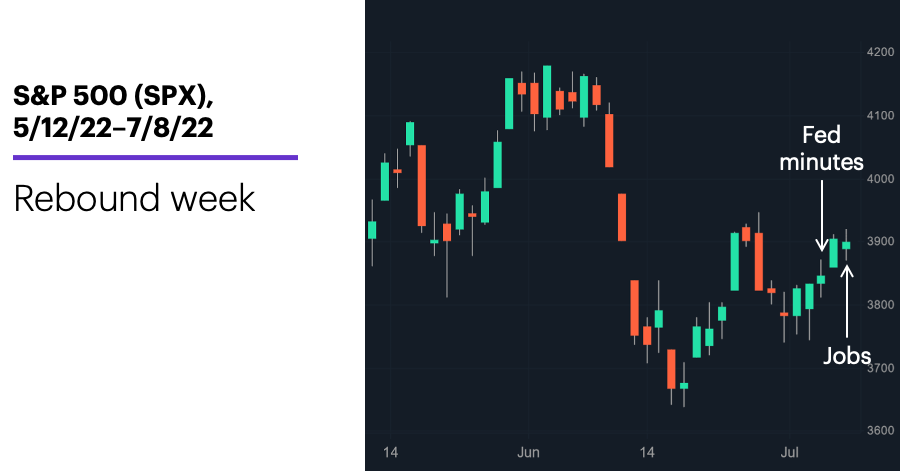 Source: Power E*TRADE. (For illustrative purposes. Not a recommendation.)
---
The headline: Stocks notch gains in first week of second half.
The fine print: Stocks slumped slightly after a stronger-than-expected jobs report on Friday, which showed the economy added 372,000 jobs last month. But the market rallied last Wednesday as minutes from the Fed's June policy meeting indicated the central bank was prepared to fight inflation (by continuing to aggressively raise interest rates) at the expense of slowing the economy.1
The number: 93%, the odds (as of Friday) of a 0.75% rate hike emerging from the Fed's July 26-27 policy meeting, according to the CME Group's FedWatch Tool.2
The move: Last Tuesday August WTI crude oil futures posted their biggest one-day drop since March (-10%), and on Wednesday fell to their lowest level ($95.10/barrel) since late April. By Friday, though, prices had rebounded nearly 10% off the week's low.
The scorecard: Bolstered by a relatively strong showing from tech names, the Nasdaq 100 (NDX) led the US market last week: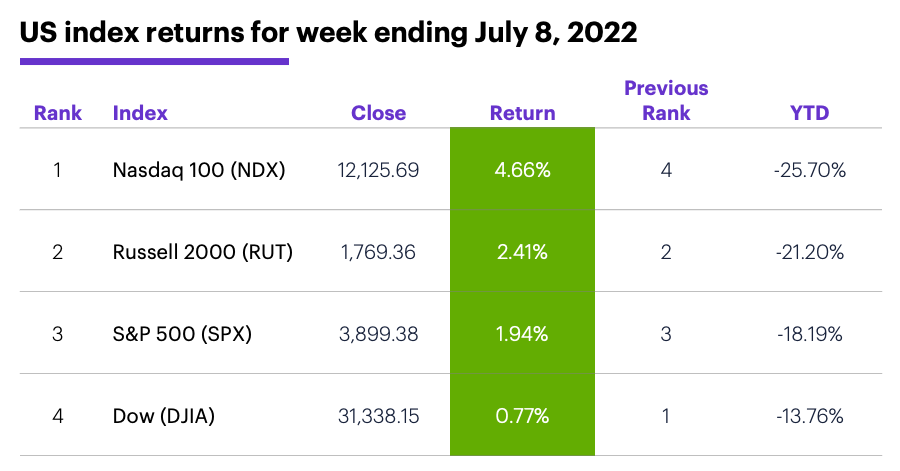 Source (data): Power E*TRADE. (For illustrative purposes. Not a recommendation.)
---
Sector roundup: The strongest S&P 500 sectors last week were consumer discretionary (+6.6%), communication services (+5.6%), and information technology (+4.6%). The weakest sectors were energy (-1%), materials (-0.8%), and utilities (-0.5%).
Stock movers: Cowen (COWN) +29% to $30.93 on Tuesday, Resolute Forest Products (RFP) +63% to $20.36 on Wednesday. On the downside, Kornit Digital (KRNT) -26% to $23.46 on Wednesday, Upstart Holdings (UPST) -20% to $27.09 on Friday.
Futures: After a volatile week, August WTI crude oil (CLQ2) ended last week modestly lower at $104.79/barrel. August gold (GCQ2) tumbled out of its trading range to hit its lowest level ($1,726/ounce) since August 2021, closing Friday at $1,742.30/ounce. Biggest up moves: July micro ether (METN2) +22.2%, July micro bitcoin (MBTN2) +16%. Biggest down moves: September Russian ruble (R6U2) -22.4%, July VIX (VXN2) -8.8%.
Coming this week
Big banks kick off the Q2 reporting season:
●Today: AZZ (AZZ), PriceSmart (PSMT)
●Tuesday: PepsiCo (PEP), AngioDynamics (ANGO)
●Wednesday: Fastenal (FAST), Delta Air Lines (DAL)
●Thursday: Taiwan Semiconductor (TSM), JPMorgan Chase (JPM), Conagra (CAG), Morgan Stanley (MS), Cintas (CTAS)
●Friday: Wells Fargo (WFC), PNC Financial Services (PNC), Citigroup (C), UnitedHealth (UNH), U.S. Bancorp (USB), BlackRock (BLK)
This week's numbers include:
●Today: Inflation expectations
●Tuesday: NFIB Business Optimism Index
●Wednesday: Consumer Price Index (CPI), Fed Beige Book
●Thursday: Producer Price Index (PPI)
●Friday: Retail Sales, Import Price Index, Industrial Production and Capacity Utilization, Consumer Sentiment (preliminary), Business Inventories
Check the Active Trader Commentary each morning for an updated list of earnings announcements, IPOs, economic reports, and other market events.
Midterm market themes
The markets and geopolitics may have dominated the news cycle so far this year, but get ready for domestic politics to elbow into the spotlight—the midterm elections are less than four months away.
While Morgan Stanley Wealth Management analysts have noted Republicans will likely regain control of one or both branches of Congress—an outcome likely to result in heightened Washington gridlock— they also highlighted the potential market implications of Democrats and Republicans collaborating in certain areas, including:
●US aerospace and defense stocks, because of increased defense spending
●Cybersecurity stocks, because of federal cybersecurity investment
●US chip companies, because of supply-chain "reshoring"3
In terms of the big picture, barring a dramatic turnaround over the next four months, the US stock market will probably add to its historical tendency toward relative weakness in the 10 months leading up to a midterm election. But on a more hopeful note for investors, the market has tended to be stronger than average in the 12 months following midterms.4
Click here to log on to your account or learn more about E*TRADE's trading platforms, or follow the Company on Twitter, @ETRADE, for useful trading and investing insights.
---
1 CNBC.com. Fed sees 'more restrictive' policy as likely if inflation fails to come down, minutes say. 7/6/22.
2 CME Group. CME Fed Watch Tool. 7/8/22.
3 MorganStanley.com. Midterm and Markets: A 2022 Guide for Investors. 7/7/22.
4 Performance reflects Dow Jones Industrial Average monthly closing prices, 1929–2019. Supporting document available upon request.
What to read next...
07/07/22
Traders and investors are always predicting the markets—whether they know it or not.
---
07/06/22
2022 will test whether July can maintain the win streak it established in recent years.
---
07/05/22
Stocks lose ground as market heads into second half.
---