Jobs data juices stock market—again
Jobs report sends market into holiday weekend on a roll
More records for Nasdaq 100—up more than 18% YTD
This week: Latest service-economy numbers, inflation data
After wrapping up its best quarter since 1987 last week, the stock market kicked off the new one with more gains as the latest economic fireworks encouraged the bulls to run—despite a jump in US coronavirus cases.
The S&P 500 (SPX) rallied to a three-week high early last Thursday on the heels of another expectation-smashing jobs report, helping it post—in just four days—its best weekly return in a month. But the index pared its gains late in the session, closing near its lows for the day: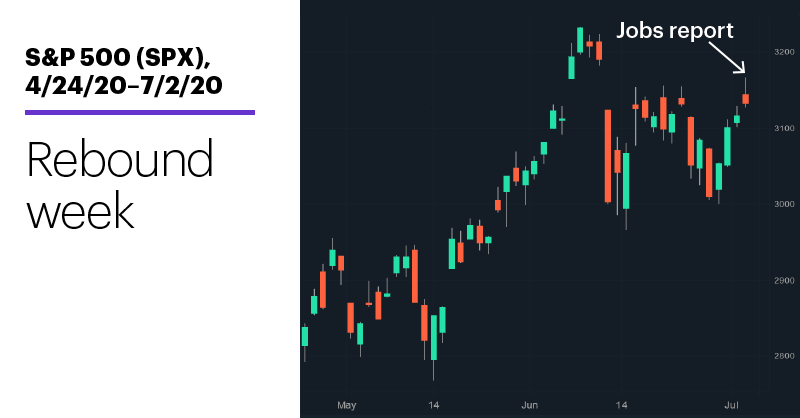 Source: Power E*TRADE
---
The headline: Holiday-shortened week ends with a jobs-report bang, even as virus cases climb.
The fine print: Two days before the jobs report came out, the US set a new one-day record of 50,000 new coronavirus cases, Florida set its own one-day record of 10,000 cases on Thursday.1
The number: 4.8 million, the number of jobs added to the US economy in June—the biggest gain since the government began tracking the data in 1939, and (for the second month in a row) well above the consensus estimate (3 million).2 The unemployment rate dropped from 13.3% to 11.1%.
The scorecard: The Nasdaq 100 (NDX) again led the running of the bulls, banging out two more record highs and pushing its year-to-date return above 18%—well above average for this time of year: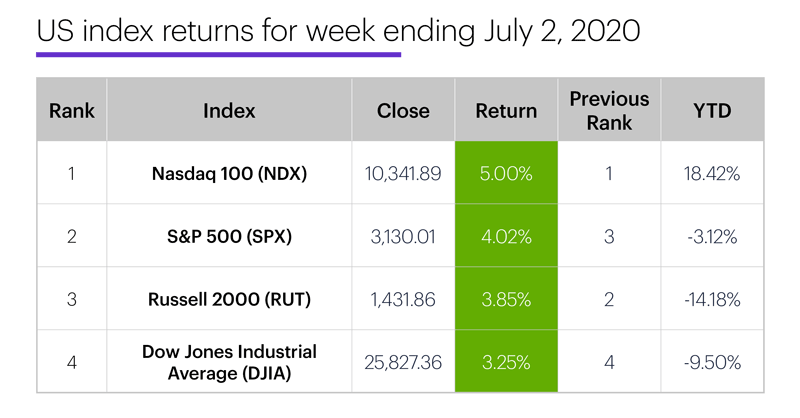 Source (data): Power E*TRADE
---
Sector roundup: The strongest S&P 500 sectors last week were materials (+3.9%), utilities (+3.6%), and real estate (+3.6%). The weakest sectors were financials (-3%), energy (-1.2%), and communication services (0.9%).
Highlight reel: Last Monday Electric vehicle maker Workhorse (WKHS) soared 47% to $14.51—part of a 111%, one-week rally that catapulted the stock to $20.91 by Thursday.
Futures action: August gold (GCQ0) topped $1,800/ounce last week before closing Thursday at $1,790. August WTI crude oil (CLQ0) crept higher most of last week, closing Thursday at $40.65/barrel, near its four-month highs.
Last week's biggest futures up moves: August Ethanol (ZKQ0) +16.7%, August Natural gas (NGQ0) +11.1%, July milk (DCN0) +9.7%. Last week's biggest futures down moves: August VIX (VXQ0) -8.8%, September Cocoa (CCU0) -8.7%, August VIX (VXQ0) -6.4%.
Coming this week
This week's numbers:
●Monday: Markit Services PMI, ISM Non-Manufacturing Business Activity
●Tuesday: JOLTs Job Openings
●Wednesday: Consumer Credit
●Thursday: Jobless Claims, Wholesale Inventories
●Friday: Producer Price Index (PPI)
Earnings this week include:
●Monday: AZZ (AZZ), Viad (VVI)
●Tuesday: Levi Strauss (LEVI), Smart Global Holdings (SGH), Paychex (PAYX)
●Wednesday: Bed Bath & Beyond (BBBY), MSC Industrial Direct (MSM), Simply Good Foods (SMPL)
●Thursday: WD-40 (WDFC)
●Friday: Infosys (INFY)
Go to the E*TRADE market calendar (login required) for an up-to-date earnings schedule and a complete list of splits, dividends, IPOs, and economic reports. The Active Trader Commentary also lists earnings announcements, IPOs and economic report times each morning.
Market mover update: Tesla (TSLA) closed out last week with three straight record highs, while Workhorse (WKHS) racked up four in a row (see "Power surge").
Although it ended last week with a Thursday pullback, ConAgra's (CAG) post-earnings jump on Tuesday propelled the stock out of its two-month trading range (see "Volatility pattern highlights breakout potential").
Biodiesel manufacturer Renewable Energy Group (REGI) slumped last Wednesday and Thursday, but not before rallying nearly 14% off its June 26 close (see "Puts rock on news shock").
Back to work: As mentioned Thursday, the first trading day after the July 4th holiday (today) has been a down day more often than an up day for US stocks. But the next four days, historically, have been a little more bullish: Over the past six decades, the SPX has gained ground 58% of the time during this stretch, with a median return (0.4%) a little higher than the overall four-day return since 1960.3
Click here to log on to your account or learn more about E*TRADE's trading platforms, or follow the Company on Twitter, @ETRADE, for useful trading and investing insights.
---
1 MarketWatch.com. Florida reported more than 10,000 new cases Thursday, its highest number of new daily cases since the COVID-19 pandemic began. 7/2/20.
2 Reuters. U.S. job growth accelerates in June; unemployment rate falls. 7/2/20.
3 Reflects S&P 500 (SPX) closing prices, 12/31/59 – 8/1/2019. Supporting document available upon request.
What to read next...
07/02/20
Up or down, the stock market has often exhibited an interesting pattern in July.
---
07/01/20
As we kick off the second half of 2020, the US market is still in the red for the year. Find out what that's meant for stocks in the past.
---
06/30/20
Electric vehicle makers—plural—have been on a roll.
---