Looking ahead to January
January a down month for stocks more frequently in recent decades
S&P 500 negative in January for past three years
January not a particularly reliable indicator of a year's performance
The popular perception of January as a more-bullish-than-average month for stocks may, more than anything, show how difficult it can be to shed a reputation, good or bad.
In a nutshell, January was a notably bullish month up from 1960 to the mid-1990s, but it's arguably been coasting on that reputation since. January has been positive for the S&P 500 (SPX) in 23 of 38 years since 1985 (60.5% of the time), but as the following chart shows, the first month of the year has been noticeably less bullish over the past two decades: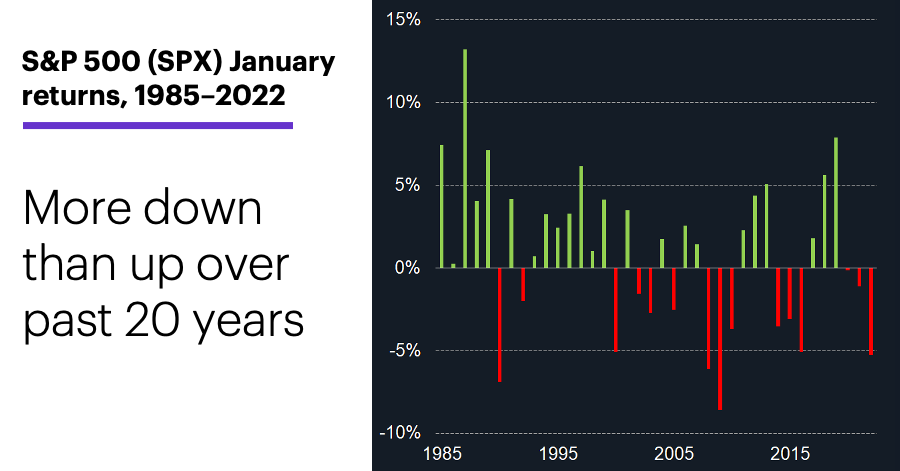 Source: Power E*TRADE. (For illustrative purposes. Not a recommendation.)
---
Since 2003, the SPX has declined in January 11 times, including the past three years and six of the past 10. And while the median January return since 1985 is 1.6%, since 2003 it has flipped to -0.6%.1 (On the other hand, since 1960 January has never been a down month four years in a row.)
Finally, while January's track record as a predictor of up or down years (especially the latter) is more myth than math, this year did add some credence to a more focused tendency: Exceptionally large January sell-offs have often led to bearish years, and exceptionally large yearly losses have often begun with negative Januaries.
Overall, a down January "predicted" a down year only 13 of 27 times since 1960—a less-than-impressive 48% accuracy rate. But 2022 will mark the eighth time out of 12 that the SPX ended a year in the red after a falling 4% or more in January. This year will also be one of the SPX's 11 biggest annual losses since 1960, and the ninth of those that began with a negative January.
Today's numbers include (all times ET): Weekly jobless claims (8:30 a.m.).
Click here to log on to your account or learn more about E*TRADE's trading platforms, or follow the Company on Twitter, @ETRADE, for useful trading and investing insights.
---
1 Reflects S&P 500 closing price data from 12/30/59–1/28/22. Supporting document available upon request.
What to read next...
12/14/22
As healthcare stock extends its year-long trading range, options volatility signals it expects a big price move.
---
12/13/22
Apparel retailer's options show why what happens after earnings can be just as interesting as what happens before.
---
12/12/22
Stocks pull back as traders await final Fed meeting—and CPI report—of the year.
---